BU Celebrates, Big-Time
Campaign kickoff bash a rousing, rollicking display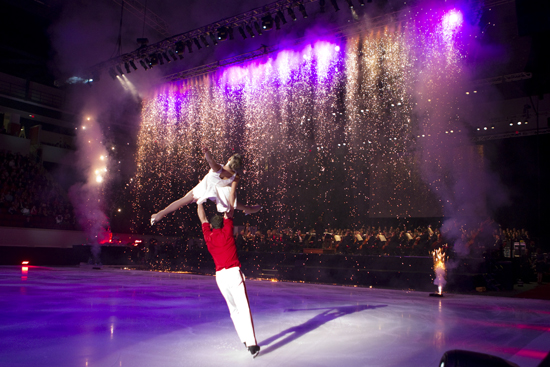 Let the campaign begin.
Billed as a "defining moment for the University," Saturday night's Celebration of BU delighted and dazzled with a pageant of student and alumni talent, from the captivating voices of the Symphonic Chorus to the breathtaking jumps and spins of the BU Figure Skating Club.
Featuring video of BU's groundbreaking history and music provided by the Boston Pops Esplanade Orchestra, the event was an adrenaline-infused public kickoff to the Campaign for Boston University, BU's most ambitious fundraising effort ever.
"We have come here to celebrate BU, and we have got a lot to celebrate," Kevin O'Connor (GSM'99) told the cheering crowd filling nearly three quarters of Agganis Arena's 6,300 seats. Among those who attended were President Robert A. Brown and Beverly Brown, BU trustees, alumni on campus for Alumni Weekend, and students outfitted in Terrier red. "Greatness comes from a vision, a dream of what the world could be, and should be," said O'Connor, host of the PBS show This Old House and one of several celebrities hosting the gala. The celebration marked the formal announcement of the unprecedented fundraising effort. With a goal of raising $1 billion for financial aid, faculty support, research, and facility improvements, the campaign places BU on a list of just 53 universities that have attempted a 10-figure fundraising initiative. Its success will elevate the University's academic standing, extend its global impact, and make BU more accessible to more students.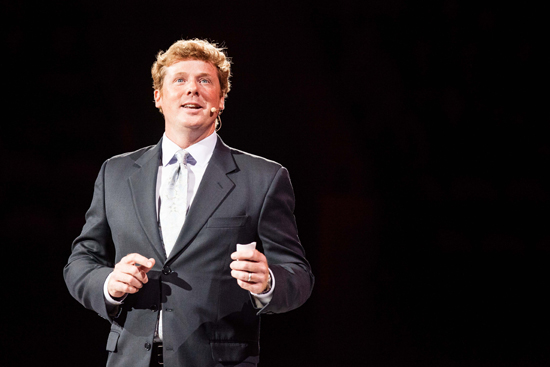 Opening with "Spirit of Greatness," the first of a series of videos and images projected onto the ice, the program's grander proceedings—including a performance of former Boston Pops conductor and Oscar-winning composer John Williams' "A Hymn to New England"—took a comic detour when a scarlet-jacketed Kenneth Elmore (SED'87), BU dean of students, presided over a college Jeopardy! match pitting BU mascot Rhett against some "folks from across the river." Elmore decided to give those students from you-know-where another chance on the assumption that they're still smarting from the November 2010 Jeopardy! contest carried away by BU's Erin McLean (CAS'13). And so, the crowd got to see Rhett make fast work of "Harvey William Higgins II," from Harvard, and "Smoot Klingerhoff," from MIT. The correct response to statements such as, "This university was the first to admit students of all races, genders, and religions," was, "What is BU?"—with Rhett needing only to point to his jersey.
BU's historic inclusiveness and history of giving back was a prevailing theme of the celebration, which included a surprise announcement by Alison Weltman (COM'13), Community Service Center events manager, that she and fellow undergraduates pledge to complete a million hours of community service by the end of the campaign in 2017. At that, Elmore urged all the students in the crowd to stand, and BU's Inner Strength Gospel Choir burst into a chorus of "Amen."
Over the course of the two-hour event, BU's praises were sung by several well-known alumni. Erica Hill (COM'98) a CBS News special correspondent, urged the crowd to "help to make BU an even better place tomorrow." Pops conductor Keith Lockhart (Hon.'04) asked the many BU alumni in his orchestra to stand and be recognized, and Andy Cohen (COM'90), host of Bravo TV's Watch What Happens Live, sported a BU sweatshirt and declared, "I'm so proud." Cohen later told the assembled crowd, "If you're over 21, the drinking word tonight is Terrier." And Mike Eruzione (SED'77), captain of the 1980 U.S. Olympic hockey "dream team" that beat the USSR and went on to win the gold, introduced photo montages showcasing BU's "Greatness of Mind" and "Greatness of Body," which treated the audience to a swing performance by the BU Figure Skating Club. "And you thought we only had ice hockey," said Eruzione, Development & Alumni Relations director of development for athletics, as the crowd roared with delight.
The Pops orchestra carried the event along with notes both poignant and jubilant, offering renditions of Stephen Sondheim's "No One Is Alone," from Into the Woods, as well as former Pops arranger Leroy Anderson's romp "Fiddle Faddle." For this piece, Lockhart invited on stage a special guest conductor—Peter Fiedler (COM'77), son of former Pops conductor Arthur Fiedler (Hon.'51). The orchestra and the BU Symphonic Chorus blew the crowd away with their finale, the resounding "Ode to Joy" from Ludwig van Beethoven's Symphony No. 9.
Joining them in setting off figurative fireworks were four aerial dancers provided by Feld Entertainment, courtesy of Kenneth Feld (SMG '70), a BU trustee and CEO of the entertainment giant that owns Ringing Bros. and Barnum & Bailey and Disney on Ice. As the music soared, and the dancers were lifted aloft to fly over the ice, actual fireworks erupted from the ice and rained down in front of the stage. And then the BU Marching Band appeared, bringing audience members to their feet as they waved light sticks and sang along to a no-holds-barred, tuba-honking rendition of "Hey Baby," its lyrics projected on the screen.
The campaign, which has raised $420 million to date, is off and running.