STEP 4: Send your advanced credits (AP or IB)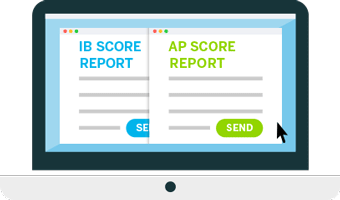 While you're waiting…
While we're evaluating your course syllabi, there's one more credential you need to submit for credit as soon as possible: your official score reports for your Advanced Placement (AP), International Baccalaureate (IB), or other international advanced credit examinations.
Scores must be sent directly from the testing agency
Only official test scores sent directly to Boston University from the College Board, International Baccalaureate Organization, or the examination board will be accepted. For more information and an overview of how many credits you may be awarded, see our Advanced Credit page.
Please note that International Baccalaureate and other international advanced credit exams will be evaluated by BU International Admissions. Advanced Placement is evaluated by the BU Registrar.
Note: Credits from the CLEP exam are not accepted by BU.
STEP 5: VIEW YOUR CREDIT AWARD DECISION
Learn more about how we transfer qualifying credits to BU.