BWWC Hosts 100% Talent Compact Data Training with Mayor Walsh
In early January, Mayor Martin J. Walsh and the Boston Women's Workforce Council (BWWC) released a first-of-its-kind 2016 gender wage report and announced a new academic partnership with Boston University, where the BWWC is now hosted within the Hariri Institute for Computing. This payroll data revealed that women working in greater Boston make just 77 cents for every dollar a man earns. That calculation was made possible by researchers at BU's Rafik B. Hariri Institute for Computing and Computational Science & Engineering, who came up with a secure way for companies to report the data anonymously. A total of 69 companies, representing 11 percent of the area workforce and almost $11 billion in annual earnings, had participated in the survey.
On July 18th, 2017, the BWWC celebrated the progress that the 100% Talent Compact has made over the past year and looked ahead to the upcoming 2017 data collection process, which will take place this September. The Compact is a first-in-the-nation, public-private partnership in which businesses pledge to take concrete, measurable steps to eliminate the wage gap in their company and to report their progress and employee demographic and salary data anonymously every two years. Over 200 businesses and nonprofits have signed on so far, including Fortune 500 companies, with new signers being added regularly.
The event commenced with a brief speaking program, including Boston Mayor Marty Walsh and Azer Bestavros, Hariri Institute Director and a Warren Fairfield Distinguished Professor of Computer Science, followed by training for the 2017 data submission, which was conducted by the Hariri Institute. The training session taught attendees how to submit their encrypted data through web browsers to a cloud-based service that runs an innovative algorithm software platform created by the BU computer scientists and BU's Software Application & Innovation Lab (SAIL) software development engineers.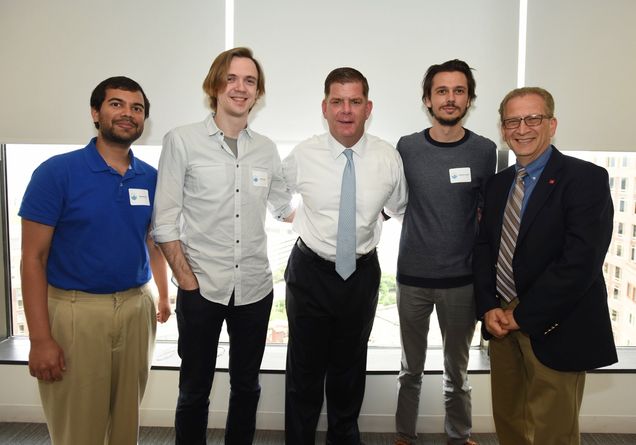 The BWWC will be hosting two more training sessions at the Hariri Institute for Computing on August 1st and August 8th. The data submission itself will be a week-long event this year, taking place from September 7th-September 13th.