GDP Center Hosts T20 Workshop and Public Panel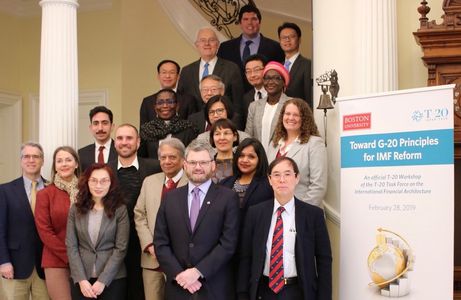 The Global Development Policy (GDP) Center, an affiliated center of the Frederick S. Pardee School of Global Studies at Boston University, hosted a February 28, 2019 official T-20 workshop entitled 'Toward G-20 Principles for International Monetary Fund (IMF) Reform.' 
The T-20 is an official group of parallel global 'think tanks' to the G-20 process. Japan hosts the 2019 G-20 Summit and has formed a T-20 Task Force on the International Financial Architecture that is co-chaired by GDP Center Director and Pardee School Professor of Global Development Policy Kevin Gallagher.
One of the main topics of focus is principles for reform of the International Monetary Fund (IMF) and the global financial safety net in general. The roundtable is a T20 Japan associated event.
Building on rigorous academic research and utilizing a process peer review, the task force will produce a brief policy paper for the G20 summit. An example from the 2018 T20, which was co-authored by Gallagher and was presented in Argentina earlier in December 2018, may be found here.
At the conclusion of the workshop, the GDP Center hosted a public panel discussion, entitled, "The Future of the International Economic Order: Perspectives from the Global South."
Thank you to all who joined for a candid conversation about the future of the int'l economic order w/ Rakesh Mohan (fmr Deputy Governor of Reserve Bank of India), Antoinette Sayeh (fmr Minister of Finance, Liberia), & Jose Antonio Ocampo (Co-Chair, Central Bank of Colombia) #GEGI pic.twitter.com/WZ80IWYo44

— GDPCenter (@GDPC_BU) March 1, 2019
The panel featured Rakesh Mohan, former Deputy Governor of the Reserve Bank of India, Antoinette Sayeh, former Minister of Finance for Liberia, and Jose Antonio Ocampo, former Minister of Finance and Public Credit for Colombia.
Formed in 2008 at the beginning of the global financial crisis, the Group of Twenty (G20) is composed of the world's 20 leading economies. The T20 is a network of think tanks in the G20 countries that provide formal advice to the G20 governments on a variety of key issues. G20 leadership rotates annually among the group's twenty members, with each year's host government setting an agenda for a year's worth of activities and discussions leading up to a summit for heads of state. The T20 thinktanks are requested by the host government to offer analyses and proposals to address its priorities for the year.
As the host country for 2019, Japan designated 10 issue-areas in which to commission T20 advice, including the Sustainable Development Goals, international financial architecture, climate change and the environment, infrastructure, cooperation with Africa, global governance, future of work and education, trade and investment, supporting small and medium-sized enterprises, and societal aging.