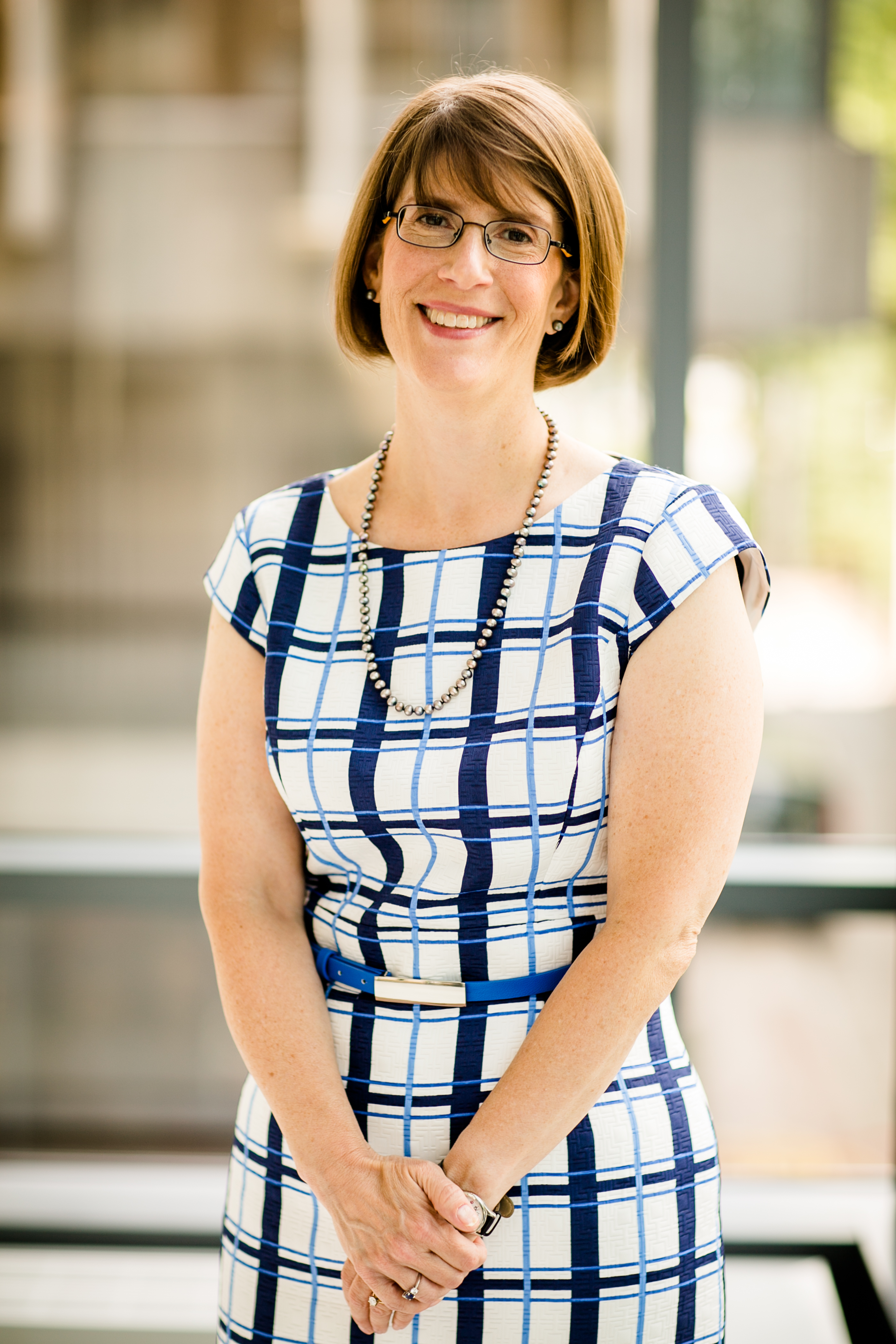 Maureen A. O'Rourke
Dean
Professor of Law
Michaels Faculty Research Scholar
BS, summa cum laude, Marist College
JD, Yale University
Areas of Interest
Corporate, Business & Transactional Law, Intellectual Property
Biography
As Dean, Maureen A. O'Rourke has overseen the construction of the five-story, state-of-the-art Sumner M. Redstone Building and gut renovation of the adjacent law tower. This project is the culmination of decades of planning and provides students with first-rate community spaces, high quality classrooms, and amenities.
Dean O'Rourke has also focused on improving the student experience to keep pace with changes in the legal marketplace. She has increased career development support for students through the Career Development & Public Service Office; expanded opportunities for students to obtain practical skills in clinics, externships, semester-in-practice and the transactional law program; and increased financial aid support for students. She has raised the school's public interest profile through adoption of the pro bono program, enhanced loan repayment assistance for young alumni, and spring break service trips. Under her leadership, the faculty has adopted innovative Lawyering Lab and Business Fundamentals requirements for all JD students, and launched new graduate programs including a blended Executive LLM in International Business Law, Legal English Certificate Program, and online version of the LLM in Taxation.
Dean O'Rourke joined the faculty of the School of Law in 1993 after working at IBM Corporation, where she handled a variety of issues surrounding software licensing. Her primary academic interests lie at the intersection of intellectual property law and other fields, such as contract and antitrust law, particularly in the context of software and high technology.
She is a co-author of one of the leading copyright casebooks in the US, Copyright in a Global Information Economy (Aspen Law & Business). She has published articles in the law reviews of Columbia, Duke, Iowa and Minnesota, the technology journals of Berkeley, Harvard and Boston University, and other publications including the Journal of the Copyright Society. She was the associate reporter on the American Law Institute's (ALI) Principles of Software Contracting project and is a member of the ALI.
Prior to becoming dean, she taught courses in commercial law and intellectual property law in addition to helping supervise the student-run Journal of Science and Technology Law. In May 2000, she became the School's sixth recipient of the Metcalf Award, the University's highest teaching honor. She served as acting dean for two years prior to accepting the post of Dean of the School of Law in 2006. She has lectured extensively and has been a visiting professor at Columbia University Law School and LaTrobe University in Australia.
Publications
Maureen A. O'Rourke, Julie E. Cohen, Lydia Pallas Loren & Ruth L. Okediji, 2015 Case and Statutory Supplement to Copyright in a Global Information Economy, 4th ed., Aspen Law & Business (2015).

Maureen A. O'Rourke, Julie E. Cohen, Lydia Pallas Loren & Ruth L. Okediji,

Copyright in a Global Information Economy

, 4th ed., Wolters Kluwer Law & Business (2015).

Publisher

Maureen A. O'Rourke, Julie E. Cohen, Lydia Pallas Loren & Ruth L. Okediji, 2013 Case and Statutory Supplement to Copyright in a Global Information Economy, 3d ed., Aspen Law & Business (2013).

Maureen A. O'Rourke & Robert A. Hillman, "ALI Principles of the Law of Software Contracts: Some Proposals for a Global Software Licensing Policy," in Research Handbook on Intellectual Property Licensing 54, Jacques de Werra, ed., Edward Elgar (2013).

Maureen A. O'Rourke, Julie E. Cohen, Lydia Pallas Loren & Ruth L. Okediji, 2012 Case and Statutory Supplement to Copyright in a Global Information Economy, 3d ed., Aspen Law & Business (2012).

Maureen A. O'Rourke, Julie E. Cohen, Lydia Pallas Loren & Ruth L. Okediji, 2011 Case and Statutory Supplement to Copyright in a Global Information Economy, 3d ed., Aspen Law & Business (2011).

Maureen A. O'Rourke, Julie E. Cohen, Lydia Pallas Loren & Ruth L. Okediji, 2010 Case and Statutory Supplement to Copyright in a Global Information Economy, 3d ed., Aspen Law & Business (2010).

Maureen A. O'Rourke, Julie E. Cohen, Lydia Pallas Loren & Ruth L. Okediji, Copyright in a Global Information Economy, 3d ed., Aspen Law & Business (2010).

Maureen A. O'Rourke & Robert A. Hillman, "Principles of the Law of Software Contracts," 53:9

Communications of the ACM

(Sep. 2010).

Publisher

Maureen A. O'Rourke & Robert A. Hillman, "Principles of the Law of Software Contracts: Some Highlights," 84

Tulane Law Review

1519 (2010).

SSRN

|

HeinOnline (BU)

|

HeinOnline

Maureen A. O'Rourke, Julie E. Cohen, Lydia Pallas Loren & Ruth L. Okediji, 2009 Case and Statutory Supplement to Copyright in a Global Information Economy, 2d ed., Aspen Law & Business (2009).

Maureen A. O'Rourke & David Nersessian, "Challenges and Opportunities for New Lawyers," 53

Boston Bar Journal

18 (2009).

Lexis Advance

Maureen A. O'Rourke & Robert A. Hillman,

Principles of the Law of Software Contracts

, Proposed Final Draft, American Law Institute (2009).

Publisher

|

HeinOnline (BU)

|

HeinOnline

Maureen A. O'Rourke, Julie E. Cohen, Lydia Pallas Loren & Ruth L. Okediji, 2008 Case and Statutory Supplement to Copyright in a Global Information Economy, 2d ed., Aspen Law & Business (2008).

Maureen A. O'Rourke & Robert A. Hillman,

Principles of the Law of Software Contracts

, Tentative Draft No.1, American Law Institute (2008).

Publisher

|

HeinOnline (BU)

|

HeinOnline

Maureen A. O'Rourke, Julie E. Cohen, Lydia Pallas Loren & Ruth L. Okediji, 2007 Case and Statutory Supplement to Copyright in a Global Information Economy, 2d ed., Aspen Law & Business (2007).

Maureen A. O'Rourke, Julie E. Cohen, Lydia Pallas Loren & Ruth L. Okediji, 2006 Case and Statutory Supplement to Copyright in a Global Information Economy, 2d ed., Aspen Law & Business (2006).

Maureen A. O'Rourke, "Being Yourself While Keeping Up with Everyone Else," in Law School Leadership Strategies: Top Deans on Benchmarking Success, Incorporating Feedback from Faculty and Students, and Building the Endowment 117, Aspatore Books (2006).

Maureen A. O'Rourke, Julie E. Cohen, Lydia Pallas Loren & Ruth L. Okediji, Copyright in a Global Information Economy, 2d ed., Aspen Law & Business (2006).

Maureen A. O'Rourke, "The Story of Diamond v. Diehr: Toward Patenting Software," in Intellectual Property Stories 194, Jane C. Ginsburg & R. C. Cooper, eds., Foundation Press (2006).

Maureen A. O'Rourke, Julie E. Cohen, Lydia Pallas Loren & Ruth L. Okediji, 2005 Case and Statutory Supplement to Copyright in a Global Information Economy, Aspen Law & Business (2005).

Maureen A. O'Rourke & Robert A. Hillman,

Principles of the Law of Software Contracts

, Preliminary Draft No.2, American Law Institute (2005). Presented at the American Law Institute Advisors' and Consultative Group Meetings (Sep. 2005); Boalt Hall, University of California at Berkeley (Sep. 2005); New York University Law School (Mar. 2006).

HeinOnline (BU)

|

HeinOnline

Maureen A. O'Rourke, Julie E. Cohen, Lydia Pallas Loren & Ruth L. Okediji, 2004 Case and Statutory Supplement to Copyright in a Global Information Economy, Aspen Law & Business (2004).

Maureen A. O'Rourke & Robert A. Hillman,

Principles of the Law of Software Contracts

, Preliminary Draft No.1, American Law Institute (2004). Presented at the American Law Institute Advisors' Meeting (Oct. 2004); the University of Michigan Law School (Dec. 2004); Georgetown University Law Center (Apr. 2005); Association of American Law Schools' Conference on Commercial Law at the Crossroads (June 2005).

HeinOnline (BU)

|

HeinOnline

Maureen A. O'Rourke, Julie E. Cohen, Lydia Pallas Loren & Ruth L. Okediji, 2003 Statutory Supplement to Copyright in a Global Information Economy, Aspen Law & Business (2003).

Maureen A. O'Rourke, "Bargaining in the Shadow of Copyright Law after

Tasini

," in Symposium Copyright in the Digital Age: Reflections on

Tasini

and Beyond, 53

Case Western Reserve Law Review

605 (2003). Conference sponsored by Case Western Reserve University School of Law, Center for Law, Technology & The Arts (Nov. 2002).

Westlaw

|

Lexis Advance

|

HeinOnline (BU)

|

HeinOnline

Maureen A. O'Rourke, "A Brief History of Author-Publisher Relations and the Outlook for the 21st Century," 50

Journal of the Copyright Society of the USA

425 (2003).

Westlaw

|

HeinOnline (BU)

|

HeinOnline

Maureen A. O'Rourke & Joseph Brodley, "An Incentives Approach to Patent Settlements: A Commentary on Hovenkamp, Janis & Lemley," in Symposium The Interface Between Intellectual Property Law and Antitrust Law, 87

Minnesota Law Review

1767 (2003). Conference sponsored by University of Minnesota School of Law (Feb. 2003).

SSRN

|

Lexis Advance

|

HeinOnline (BU)

|

HeinOnline

|

Westlaw

Maureen A. O'Rourke, "Common Law and Statutory Restrictions on Access: Contract, Trespass, and the Computer Fraud and Abuse Act," in Symposium Chicago International IP Conference, 2002

University of Illinois Journal of Law, Technology & Policy

295 (2002). Conference sponsored by the University of Illinois College of Law, University of Victoria Faculty of Law, and St. Peter's College, Oxford (Oct. 2002).

Westlaw

|

Lexis Advance

|

HeinOnline (BU)

|

HeinOnline

Maureen A. O'Rourke, Julie E. Cohen, Lydia Pallas Loren & Ruth L. Okediji, Copyright in a Global Information Economy and 2002 Statutory Supplement, Aspen Law & Business (2002).

Maureen A. O'Rourke & Joseph Brodley, "Patent Settlement Agreements: Preliminary Views," 16

Antitrust

53 (2002).

Westlaw

Maureen A. O'Rourke & Walter Miller Jr., "Bankruptcy Law v. Privacy Rights: Which Holds the Trump Card?" in Symposium 2001 Santa Fe Conference, 38

Houston Law Review

777 (2001). Conference sponsored by University of Houston's Institute for Intellectual Property & Information Law (May 2001).

Westlaw

|

Lexis Advance

|

HeinOnline (BU)

|

HeinOnline

Maureen A. O'Rourke, "Property Rights and Competition on the Internet: In Search of an Appropriate Analogy," in Symposium Beyond

Microsoft

, 16

Berkeley Technology Law Journal

561 (2001). Conference sponsored by Boalt Hall School of Law, University of California at Berkeley (Mar. 2001).

Westlaw

|

HeinOnline (BU)

|

HeinOnline

Maureen A. O'Rourke, "Virtual Trespass: An Apt Analogy or a Square Peg in a Round Hole?" in Symposium E-Commerce, Communications of the ACM at 98 (2001). Panel sponsored by Boston Bar Association Banking and Financial Services Seminar (Oct. 2000).

Maureen A. O'Rourke, "What the Future Holds: Policy Choices in a Global Marketplace," in Symposium Information and Electronic Commerce Law, Comparative Perspectives, 7

Roger Williams Law Review

151 (2001). Conference sponsored by Roger Williams University Ralph R. Papitto School of Law (Apr. 2001).

Westlaw

|

Lexis Advance

|

HeinOnline (BU)

|

HeinOnline

Maureen A. O'Rourke, "Evaluating Mistakes in Intellectual Property Law: Configuring the System to Account for Imperfection," in Symposium Keeping Pace with Change: Intellectual Property in the New Millennium, 4

Journal of Small & Emerging Business Law

167 (2000). Symposium sponsored by Northwestern School of Law at Lewis & Clark College, Portland, Oregon (Oct. 1999).

Westlaw

|

Lexis Advance

|

HeinOnline (BU)

|

HeinOnline

Maureen A. O'Rourke, "Shaping Competition on the Internet: Who Owns Product and Pricing Information," in Symposium Taking Stock: The Law and Economics of Intellectual Property Rights, 53

Vanderbilt Law Review

1965 (2000). Conference sponsored by Vanderbilt University Law School (Apr. 2000).

Westlaw

|

Lexis Advance

|

HeinOnline (BU)

|

HeinOnline

Maureen A. O'Rourke, "Toward a Doctrine of Fair Use in Patent Law," in Symposium , 100

Columbia Law Review

1177 (2000). Faculty workshops at Columbia University School of Law (Dec. 1999) and Northwestern University School of Law (Jan. 2000), the Engelberg Center on Innovation Law and Policy of New York University School of Law (Feb. 2000), and in a seminar on Intellectual Property in the New Millennium, Oxford University (Mar. 2000).

Westlaw

|

SSRN

|

Lexis Advance

|

HeinOnline (BU)

|

HeinOnline

Maureen A. O'Rourke, "Progressing Towards a Uniform Commercial Code for Electronic Commerce or Racing Toward Nonuniformity?" in Symposium on The Legal and Policy Framework for Global Electronic Commerce: A Progress Report, 14

Berkeley Technology Law Journal

635 (1999). Symposium sponsored by Boalt Hall School of Law, University of California, Berkeley, (Spring 1999).

Westlaw

|

HeinOnline (BU)

|

HeinOnline

Maureen A. O'Rourke, "Defining the Limits of Free-Riding in Cyberspace: Trademark Liability for Metatagging," 33

Gonzaga Law Review

277 (1998).

Westlaw

|

HeinOnline (BU)

|

HeinOnline

Maureen A. O'Rourke, "Reversing ProCD: H.R. 3048 and Copyright Preemption of Shrinkwrap License Terms," 1 Modern Trends in Intellectual Property 3 (1998).

Maureen A. O'Rourke, "Striking a Delicate Balance: Intellectual Property, Antitrust, Contract and Standardization in the Computer Industry," 12

Harvard Journal of Law and Technology

1 (1998).

Westlaw

|

Lexis Advance

|

HeinOnline (BU)

|

HeinOnline

Maureen A. O'Rourke, "Copyright Preemption After the

ProCD

Case: A Market-Based Approach," in Symposium , 12

Berkeley Technology Law Journal

53 (1997). Presented at annual meeting of the American Law & Economics Association in Toronto, Canada (May 1997).

Westlaw

|

HeinOnline (BU)

|

HeinOnline

Maureen A. O'Rourke, "Legislative Inaction on the Information Superhighway: Bargaining in the Shadow of Copyright Law," 3

Boston University Journal of Science and Technology Law

8 (1997). [Column]

Westlaw

|

Lexis Advance

|

HeinOnline (BU)

|

HeinOnline

Maureen A. O'Rourke, Ronald A. Cass, Steve Bauer & Pamela Samuelson, "Protecting Software and Information on the Internet," in Symposium on Internet Law, 3

Boston University Journal of Science & Technology Law

38 (1997).

Westlaw

|

HeinOnline (BU)

|

HeinOnline

Maureen A. O'Rourke & Michael Malinowski, "A False Start?: The Impact of Federal Policy on the Genotechnology Industry," in Symposium , 13

Yale Journal on Regulation

163 (1996). Presented at the annual Law & Society Meeting in Glasgow, Scotland (July 1996) and at a faculty workshop at Boston University School of Law (Oct. 1995).

Westlaw

|

Lexis Advance

|

HeinOnline (BU)

|

HeinOnline

Maureen A. O'Rourke, "The Law in Cyberspace: Challenges and Opportunities for Lawyers of Today and Tomorrow," 1996 Careers and the Minority Lawyer 22 (1996).

Maureen A. O'Rourke, "Copyright Liability of Bulletin Board Operators for Infringement by Subscribers," 1

Boston University Journal of Science and Technology Law

6 (1995). [Column]

Westlaw

|

Lexis Advance

|

HeinOnline (BU)

|

HeinOnline

Maureen A. O'Rourke, "Drawing the Boundary Between Copyright and Contract: Copyright Preemption of Software License Terms," in Symposium , 45

Duke Law Journal

479 (1995). Presented at the annual Law & Society Meeting in Toronto, Canada (May 1995), and reprinted in 29

Intellectual Property Law Review

389 (1997).

Westlaw

|

Lexis Advance

|

HeinOnline (BU)

|

HeinOnline

Maureen A. O'Rourke, "Proprietary Rights in Digital Data," 41

Federal Bar News & Journal

511 (1994).

Westlaw
Courses
An error occurred while trying to retrieve course data
In the Media
March 22, 2017

Maureen O'Rourke featured in "Office Artifacts: Maureen O'Rourke," BU Today.  read more

March 21, 2017

Maureen A. O'Rourke quoted in "Harvard Law is Now Accepting the GRE. Could Other Schools Follow?," Boston Globe. read more

July 27, 2016

BU Law Dean Maureen O'Rourke was quoted in the Bloomberg Law Big Law Business article. read more