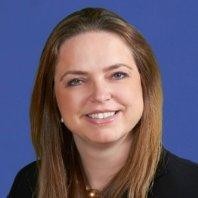 Rosamond Cosentino
SHA'97 Director – Digital Channels Global Product Management, Citi Treasury & Trade Solutions at Citi
2014 ALUMNI OF THE YEAR RECIPIENT
As CAO of Executive Services, Rosamond is responsible for developing strategy, establishing governance models to support responsible finance, and managing communications to align the global management team. In addition to these core focus areas, Rosamond manages reengineering projects, monitors performance metrics to identify business trends for process improvement and liaises with HR to create a succession pipeline for management.
Rosamond joined Citi in 1999 as manager of the Corporate Executive Dining operation at Citi's headquarters. Her role expanded to include oversight of conferencing services across multiple locations in midtown Manhattan. In 2005 she moved into the role of Operations Manager to support the overall Executive Services group. Since that time, she has led a number of initiatives including implementation of Virtual Event Management System (VEMS) for online space reservations, centralizing the multimedia service program across multiple regions and leading the expansion of Executive Services from functional oversight across North America to a global platform. In 2011, Rosamond led the integration of Executive and General Services to form Global Corporate Services Operations. Over the course of 18 months, Rosamond worked with the combined team to develop robust strategies for each product that optimized the expense base and increased service levels.
In addition to her role in Executive Services, Rosamond is the CAO of the O&T Women's Leadership Council (WLC) and Chairs their Communications Committee.  The WLC focuses on development and personal branding to support professional growth. From 2008-2011, she participated in the Corporate Center Women's Organization (CCWO) Steering Committee and co-chaired the 2007 CCWO Leadership Development Program.
Prior to joining Citi, Rosamond developed and managed the catering program at Mystic Aquarium in Mystic, CT.
Rosamond received her bachelor's degree from the Boston University School of Hospitality Administration in 1997. She  is an active member of the Boston University Alumni Council.  In 2009, she completed her MBA at New York University's Leonard Stern School of Business.
Read More About Rosamond Cosentino