Biomedical engineering is a broad, interdisciplinary field that applies the science and technology of engineering to problems in biology, medicine, and biotechnology. These problems include the design and analysis of physiologic measuring and diagnostic systems as well as quantitative analysis and experimentation directed toward obtaining a clearer understanding of the human body's normal and abnormal functions.
A Solid Foundation
The undergraduate program in biomedical engineering fuses engineering practicum and research with a life sciences education at a world-class, urban research institution. It incorporates a strong interdisciplinary component that combines the quantitative aspects of engineering analysis and design with a range of biology and physiology, from the molecular and cellular levels to entire systems and organisms.
Diverse Disciplines
The program focuses on providing students with the skills necessary to solve problems that impact a wide range of economic, environmental, ethical, legal, and social issues. A variety of advanced electives allow opportunities for specialization in instrumentation, sensory and neural systems, biomechanics, signal processing, biomolecular engineering and systems & synthetic biology. Virtually all premedical requirements can be satisfied within this program of study. Our graduates are well prepared for a variety of careers in the broad range of areas in engineering, science, healthcare, and business, as well as for advanced study in engineering, science, medicine, business, law, or other health-related disciplines.
Senior Design
The senior year culminates in a capstone design sequence that builds on previous coursework and in which small student teams work on major design projects. You will learn design methods, project management, team dynamics, communication skills, and legal and ethical standards for design.
Consistently ranked among the top BME departments in the nation by US News & World Report, the Department of Biomedical Engineering's undergraduate program provides students with the real-world tools necessary for innovative research and industry work in biomedical science. A supportive community allows undergraduates to grow as both scholars and individuals during their academic careers and works to help students find jobs after graduation.
Program Planning Sheets
Please see the Biomedical Engineering Program Planning Sheets for a detailed matrix of the four-year undergraduate curriculum.
How to Apply
Visit the BU Undergraduate Admissions site for more information.
Undergraduate Program Educational Objectives
A few years after graduation, we expect graduates of our program:
to become successful practitioners of biomedical engineering or other professions (e.g., medicine, law, management) drawing upon and guided by their knowledge of biomedical engineering;
to continue improving and expanding their technical and professional skills through formal or informal means (e.g., continuing education and training, attending conferences, learning new tools and methods); and
to contribute to community and professional groups using the unique competencies provided by their biomedical engineering educational experiences.
Graduates of the Biomedical Engineering Undergraduate degree program will have:
An ability to identify, formulate, and solve complex engineering problems by applying principles of engineering, science, and mathematics
An ability to apply engineering design to produce solutions that meet specified needs with consideration of public health, safety, and welfare, as well as global, cultural, social, environmental, and economic factors
An ability to communicate effectively with a range of audiences
An ability to recognize ethical and professional responsibilities in engineering situations and make informed judgments, which must consider the impact of engineering solutions in global, economic, environmental, and societal contexts
An ability to function effectively on a team whose members together provide leadership, create a collaborative and inclusive environment, establish goals, plan tasks, and meet objectives
An ability to develop and conduct appropriate experimentation, analyze and interpret data, and use engineering judgment to draw conclusions
An ability to acquire and apply new knowledge as needed, using appropriate learning strategies
---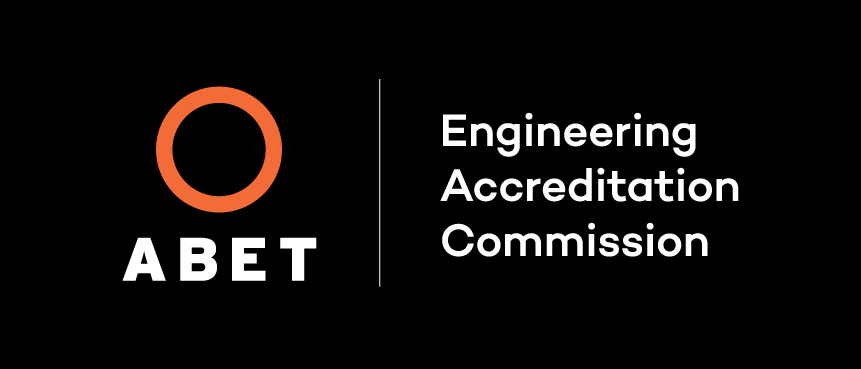 The BS degree program in biomedical engineering is accredited by the Engineering Accreditation Commission of ABET (www.abet.org).