Outreach and Diversity
Boston University has a long-standing commitment to the recruitment, advancement and support of a diverse community of faculty, staff and students in all of our educational and research programs and practices. By developing an extensive network ranging from K-12 outreach programs to faculty leadership training, the College strives to include historically underrepresented groups to create a talented and versatile engineering community that is supportive to all members.
K-12 Outreach Programs
Engaging the engineers of tomorrow is critical to our society's technological future. In order to increase the number of women and traditionally underrepresented groups' interest in engineering, the college of Engineering offers many outreach programs. The goal of these programs is to increase interest and excitement in engineering and show students how imperative engineering is to solve real-world problems.
We offer numerous outreach programs including
Our signature Technology Innovation Scholars Program (TISP): We train undergraduate engineering students to present lessons and lead interactive hands-on experiences at K-12 schools and community-based education organizations.
Our TISP students also help prepare local secondary students to compete in the Regional FIRST® Robotics competition, which we host on campus.

UDesign day camps for middle school aged youth: Each summer, we host four sessions of summer camps where participants learn about engineering through hands-on problem solving activities. Learn more about our U-Design program.
A brand new science museums outreach initiative: we are currently developing hands-on activity kits to engage museum visitors about heart tissue engineering research happening in our new Engineering Research Center, CELL-MET
The Boston University College of Engineering works with schools and other educational organizations to bring the excitement of engineering to young people.
Diversity Initiatives
One of the foundational goals of the office of Outreach and Diversity in the college of engineering is to increase the number of number of women and traditionally underrepresented groups who enter the field of engineering. Thus, our K-12 outreach efforts along with our university-based programs focus on supporting this development. We accomplish this goal through:
Supporting the development of affinity groups
Leading trainings around navigating and embracing difference
Spearheading the development of a research agenda in order to better understand how to support Engineering Identity development in undergraduate and K-12 students
2019 ASEE Diversity Recognition Program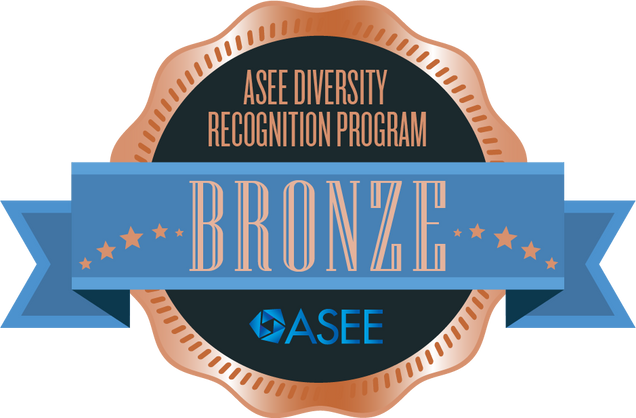 The College has been nationally recognized for its commitment to diversity by the American Society for Engineering Education (ASEE) with a Bronze Level award in the inaugural ASEE Diversity Recognition Program. This program was created to recognize engineering and engineering technology colleges that make significant and measurable progress in increasing the diversity, inclusion, and degree attainment outcomes of their programs. Learn More


Diversity Statement
Affinity Student Clubs
Our diverse students hail from across the US and around the world, and participate in many student clubs, including:
Women in Science & Engineering
Graduate Women in Science and Engineering (GWISE)
National Society of Black Engineers (Minority Engineers Society)
Society of Hispanic Professional Engineers
National GEM Consortium
The Society of Asian Scientists and Engineers (SASE)
Society of Women Engineers