Wong's Research Earns a Spot in STAT Madness
Get your brackets ready and vote
by Liz Sheeley
Assistant Professor Wilson Wong's (BME) research has been chosen by STAT, a Boston-based, health-and-science-focused news website, to participate in its bracket of scientific research projects called STAT Madness.
STAT Madness features 64 research projects from U.S. universities and research institutes in a March Madness-style bracket where the general public can vote for their favorite projects. The projects are selected from entries and judged based on the creativity, originality, and potential beneficial impact of the innovation. The first round of voting will open on February 26, closes on March 1, and the winners who will move on to the next round will be announced the following day.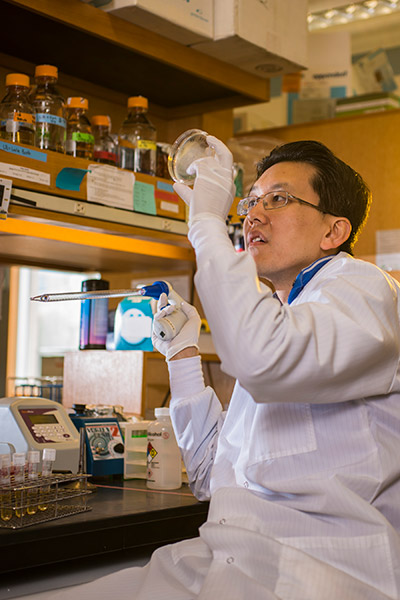 The research being highlighted focuses on a new method to make it easier for synthetic biologists to build new, complex genetic circuits that respond to environmental stimuli within a cell. This research has been published in Nature Biotechnology. Wong's method – called Boolean logic and arithmetic through DNA excision (BLADE) – has many applications within scientific research.
In addition to allowing synthetic biologists to build and test genetic circuits, BLADE can be used to engineer specific cell types to use in cancer and neurodegenerative disease research. To study a drug's efficacy, researchers must test that drug on the cell type it would treat — an Alzheimer's drug would need to be tested in brain cells, for example. But the current process to grow different cell types doesn't allow researchers to test whether every cell is engineered correctly. With BLADE, scientists can have the cells produce an output (like a function or signal) depending on whether their inputs (like switching a gene on or off) are all correct.
For example, if researchers wanted a cell type that has genes A and B turned on, but genes C and D turned off, they could use BLADE to tell the cells to do that, but they could also tell the cells to die if, say, gene A is actually turned off. This allows researchers to create purer cell populations so that when they test a drug, they know that if cells react differently it is because of the drug, not defective cells.
"With BLADE, we can now ask cells to perform complex computation," says Wong. "We plan to use the BLADE platform for engineering smarter or purer cells and tissues for drug screening applications."