The Light Stuff
Alumna's Startup Aims to Improve Health Through Lighting
By Sara Cody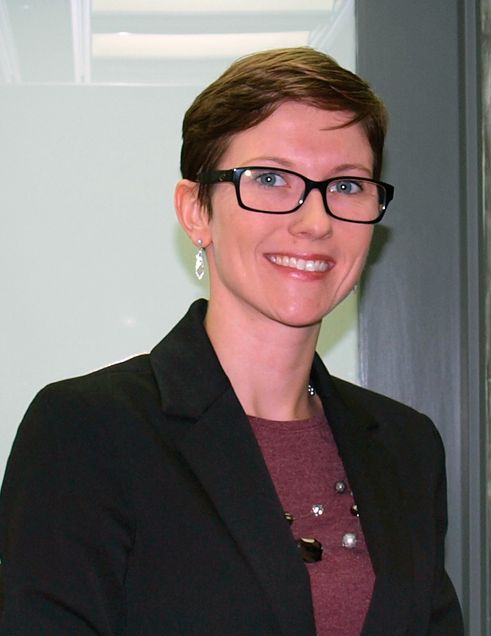 The invention of the light bulb paved the way for humans to conquer the darkness; effectively severing the dependence on the sun to provide productive working hours for humans. Recent advances in materials research are now providing new ways to render light that are healthier, more satisfying, and more energy efficient. Jessica Morrison (PhD'16) aims to change how people use light with her new startup company, Helux Lighting, by using these materials advances to tailor light color, intensity, and direction to meet personal needs.
"Light is something we take for granted and generally ignore because it seems like a fixed resource instead of something we can shape our lives around," said Morrison. "What I want to do with the company is move forward with state-of-the-art light technology that will allow for more personalized environments by directing it where it is needed." Adding directional controls to a light source would provide the users with the option to redesign their workspace to align with their personal preferences, inherently improving productivity and reducing energy consumption with targeted task lighting.
Morrison first learned about microelectromechanical system (MEMS) working as a PhD student under Professor David Bishop (ECE, MSE). As a postdoctoral researcher in Professor Thomas Little's (ECE, SE) laboratory, and as part of the NSF ERC for Lighting Enabled Systems and Applications (LESA), she integrated MEMS with advanced light sources. Her spinoff company, Helux Lighting, has created an innovative system using next generation light sources, including LEDs and laser diodes, and a deformable mirror, a device that uses microscopic actuators to change the mirror's shape. Morrison applied this technology to lighting by creating a device that electronically adjusts light position, brightness and illumination with the goal of creating healthy, energy-efficient environments.
"Dr. Morrison has been at the center of efforts to enable the directional control of lighting using MEMS within LESA and is the lead inventor of this enabling technology," said Little. "Her technology involves a variable focus, lotus-shaped mirror that can tilt, tip, focus, and 'piston.' These degrees of freedom can be computer controlled and thus allow integration into low-cost steerable lighting devices."
Today's typical office building is filled with rows of cubicles illuminated by fluorescent light, computer screens glaring. With Morrison's technology, she envisions a work environment that incorporates task lights that disperse light where it's needed automatically. This could decrease the cost for consumers, save energy, increase consumer wellbeing and productivity and alleviate light pollution that is harmful to plants and animals in the environment.
"Currently people are willing to put on a coat when they are cold, but wouldn't necessarily be willing to shell out extra money for a special light, even though it could improve their health or their environment because they aren't aware of the significant role that it plays," said Morrison. "Ultimately, we want to shift the conversation to get people thinking about the overall impact of light and provide options to improve their consumption of it."
It wasn't until she attended the Advanced Research Projects Agency-Energy Innovation Student Summit, a career opportunities and professional development summit, that Morrison realized commercialization would be the best path to get her technology out into society, and there were resources that would help her do that.
"After completing my PhD, I was looking for alternatives to a career in academia, and after talking to a few people at this event, it was suggested to me that I keep going because I had something that could really help people's lives," said Morrison. "I was hesitant at first because I never imagined myself starting a company, but once that seed of an idea was planted, it grew and now I can't wait to dive in."
In April, Morrison is heading to Lawrence Berkeley National Laboratory to join Cyclotron Road, a highly-selective incubator program focused on hard science innovation. The two-year fellowship, located in the heart of Silicon Valley, provides financial and logistical resources–like laboratory and office space, staff scientists, and program mentors– for new technology companies, as well as opportunities to attend industry conferences and other networking events.
"The Cyclotron Road program is such an incredible program that is such a perfect resource for me, at first I wondered if it was too good to be true," said Morrison. "But their goal is to invest in technologies that are in the gap between blue-sky research and the ones that are 'shovel-ready.'  Helux is based on research foundations that will need effort and expertise to shape into products; this expertise will be available through specialized resources offered at Cyclotron Road. I am very excited to get started."
Helux Lighting is still in the research application phase, which means Morrison will continue to refine the technology in the Cyclotron Road program to make it more efficient as she learns the business-side of running a company. Initially, Morrison plans on focusing on the architectural and artistic lighting industry to gather information about market needs, which will shape her approach in terms of research and development.