"The strong sense of community at CGS is unique"
Growing up, Andrew Ippolito (CGS '15) spent most of his time drawing. He was sketching any chance he had – especially in the Blues Clues notebook he carried around with him everyday at school. As a kid, he was enrolled in drawing lessons, and he then built upon those skills through introductory and advanced art classes in high school. He knew art was going to be a part of his future, but when he entered Boston University, the excitement of becoming a scientist took over, pushing him to study Computer Science. 
When Andrew completed his time at Boston University, he was not sure what direction he wanted to go in. Despite enjoying his studies in computer science, Andrew knew it was not going to develop into a life-long career. A few years and various jobs later, Andrew is now living in Venice Beach, California and preparing for his second gallery show in New York, where his illustrations will be displayed. We caught up with Andrew to talk about his artwork, his time at CGS, and what's next for him.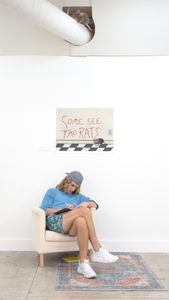 What have you been doing since you finished CGS? 
Post-CGS was a big transition period for me. I was struggling to find my purpose so I did a bunch of different things: floristry, being a barista, and even being a real estate agent. While I enjoyed my experiences, nothing seemed to truly click, until one day I got the spontaneous urge to start drawing again. This became a daily activity, just as it was when I was younger, and now I'm creating art full-time.
Why did you choose that pathway? 
It was an organic process. One day my father gifted me an iPad to help and since then I've been trying to post and create as much as I can.
How did your time at CGS help prepare you for what came later? 
The friends I made during my time at CGS were definitely the best part of the experience. Not only did they help through my period of self-discovery, they continue to support me now with my art showings. One of my friends, Michael Abrams, is sponsoring my upcoming gallery show in New York.
Professor Joshua Pederson also exposed me to important life lessons and themes in his Humanities class. We studied Gilgamesh and the Old Testament and they've both had an impact on the emotional meaning of my art and helped in the thought process of each work's backstory.
What are your goals and aspirations for your career? 
I want to shift toward animation, but it's been tough. I'm looking into going back to school to build upon my skills in film and storytelling, because just illustrating can be a bit limiting.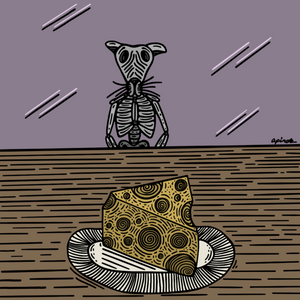 What extracurriculars, internships, or other out of the classroom experiences were most valuable to you as a CGS student? 
During my second year at CGS, Associate Professor Samuel Hammer brought my Natural Science class on a field trip to the Museum of Fine Arts. I enjoyed being able to combine my interest in science with my passion for art by examining the paintings like a scientist making observations. It was also really enjoyable to be able to experience that moment with my friends and peers. 
What was your favorite part about your CGS experience? 
The strong sense of community at CGS is unique compared to the other colleges at Boston University. Team system and smaller classrooms helped create a space for creative thinking. Everyone was there for each other every step of the way, and that is something I will always cherish from my time at CGS. 
Interview conducted by Natalie McKnight and compiled by Gabrielle Drillis