#My100Days developing my art portfolio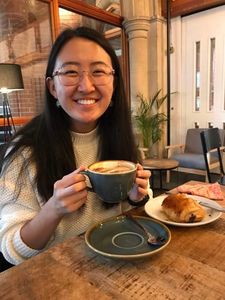 Julia Brown (CGS '23), a student from England who plans to study Biomedical Engineering, used her gap semester to develop an online art presence, hone her digital art skills, and curate a portfolio through her Instagram account @juliartsdigital. We caught up with Julia to discuss how she grew as an artist throughout her #My100Days experience.
Why did you choose CGS?
I chose the College of General Studies program because I was unsure of what path I should take and CGS offered me the perfect opportunity to explore my interests. I have a love for both art and science and during my gap semester I was hoping to see which one would suit me best.
How did you spend your gap semester?
I spent my gap semester working on digital art projects and volunteering at my church with cleaning and maintenance. I also created an online portfolio through Instagram which showcases all my art and the progress that I have made during this time. 
How did you decide on what to do during your gap semester?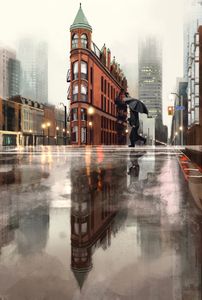 Art has always been a hobby of mine, so my first plan for my gap semester was to help at my high school's art department. Unfortunately, because of Covid restrictions, I was unable to. So for my own enjoyment, I started painting with my iPad, and I created a few pieces and posted them on my art account on Instagram (@juliartsdigital). At the time my account was private, so I turned the account public so that anyone around the world could see it. I'm usually not very active on social media so this was a big change for me to share my artwork with more people. From there, I wanted to post more consistently and develop my skills as an artist.
How has the time been valuable to you?
With this free time, I was able to paint every day and spend multiple hours working at my desk practicing new techniques. Each piece would take on average four to seven hours to complete, and I was able to finish 30 paintings in two months. This time was also valuable because I discovered that I wanted to continue art as a hobby as something fun and a way to relieve stress. Painting is very therapeutic to me, and I will always try to keep it in my life.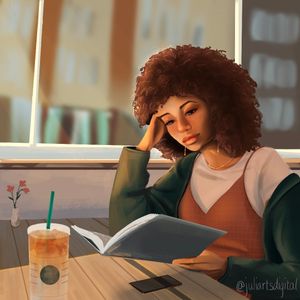 What were the most memorable moments of your gap semester?
To practice drawing and painting, I did a lot of photo studies, which is when an artist uses a photograph as a reference for their artwork. I picked free-to-use stock photographs from Unsplash and I tried to always tag the photographer of the original photo. Once or twice the photographer commented on my posts which made me so happy, and another even promoted my art on his story which surprised me even more. Another memorable moment was when one of my followers commented that I was an inspiration for them. I was so unbelievably shocked by this and thankful that I have met so many supportive artists that share the same enthusiasm for learning as I do.
What advice would you give to future CGS students when planning their gap semesters?
I would say do something that you love. Whether it be pursuing a hobby, learning, or volunteering, make sure that you are passionate about it. These days will fly by but they will be the most special if you enjoy what you are doing.
What were some of the skills you took out of the gap semester? What did you learn?
When making art on your own it is all about self-teaching. I needed a lot of self-discipline to stay on schedule to consistently practice, and I learned to use my resources more efficiently. If I was unsure about something, I would look to more famous artists and analyze their art process. I learned to experiment and explore different art styles which made every painting something new to try.
What are you most looking forward to about the next four years?
I am looking forward to meeting new people, and I am excited to see other people with similar interests as mine. I am also eager to live on campus and learn more about the U.S., as I have never lived there before.
— Compiled by Caroline McCord