Neuroscience for All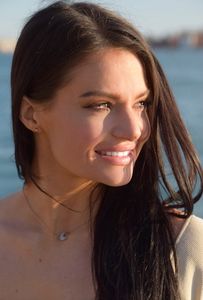 By Meghan Bohannon
When Liadan Gunter ('12, CAS'14) graduated from BU, she followed a traditional path for a science major, working as a research assistant in several different labs. But after working for a few years, she realized that being a full-time scientist wasn't for her. After years of gaining cultural experiences and realizing she wanted to help reduce inaccessibility of information in the science community, she changed her trajectory with the birth of her company, The Rewiring Lens. 
While pursuing her masters in primatology at Universitat de Barcelona, Gunter spent a lot of time thinking about how she could pursue science in a way that would have a tangible impact on the world.
"The pieces just started to sort of flow together where I started to realize that from a practical standpoint, if I want to be able to travel and have the freedom to choose where I go and what I do, then working in a research lab would not give me that, but I still wanted to be involved in the sciences," Gunter said.
The Rewiring Lens, which is currently in its start-up phase, is an educational and coaching company which promotes self-development using neuroscience, psychology, and anthropology. Open to anyone interested in improving themselves, the company offers brain coaching boot camps, classes, memberships, and even a podcast, hosted with collaborator Luiz Henrique Santana.
While she is now pursuing a life which combines her interests in culture and neuroscience, Gunter had her fair share of a more traditional academic path. She was inspired to stray from this path after realizing the importance of surrounding oneself with different cultures.
"I grew up in a lot of different places so I was exposed to a lot of different types of people and cultures and ways of doing things and I was really interested to learn about how people function and how external aspects can affect behavior. That's sort of where my interests evolved from," said Gunter, who moved to Australia when she was 4 years old.
After living in Australia until she was 9, Gunter moved to Argentina where she stayed until she was 12, and then to St Louis where she lived until she moved to Boston to attend BU. 
Gunter's first job after graduating was in a neuroscience lab at Brandeis University, where she worked for 9 months, before working for 3 years as a research assistant at MIT. 
During her time at MIT, Gunter was still figuring out what she wanted to do with her life and even considered a potential veterinary career. Eventually, she decided to work in biotechnology as an associate scientist at Biogen, where she participated in benchwork, worked with animals, and studied the brain. 
While working at Biogen, Gunter realized she wanted to explore science in a different way. It was then that she discovered a primatology master's program in Spain, where she could travel again and participate in field work.
For her master's with Universitat de Barcelona, Gunter was able to do field research in Uganda following and studying wild chimpanzees in collaboration with the primate research institute in Japan, which had a research base there. Once she completed her master's degree, graduating in November of 2020, Gunter was faced with the decision of pursuing a Ph.D. and eventual professorship or starting her own path. 
"I just started to realize this huge disconnect between the type of material that was available and people having access to it,"said Gunter, citing the large amounts of scientific discoveries and papers that were going unread by those outside of the scientific community. "And so I kind of just realized I could combine the two and I thought I could solve a real problem and I could also just decide for my own life perspective of what I was hoping to do."
In hopes of having more autonomy and avoiding the managerial limitations of a professorship, Gunter founded The Rewiring Lens so that she could disperse the information within the scientific community to the general public.  
Gunter, who is now working on expanding the company, has spent her time since graduating with her master's degree learning about how to start a business and turn a profit.
Gunter noted how the CGS curriculum helped expose her to different subjects and allowed her to explore her interests freely. She found that her journey, which was marked by a digression from a linear academic path, has brought her to a place where she is still using knowledge she learned from CGS. 
"There's things that I didn't end up actually using in my career initially in neuroscience but now that I'm starting a business, there's things that come back to me from the things that I was learning around my time at CGS that have now come back to help me in this aspect of my life," Gunter said. "So you never know how it will benefit you later, so I would say if you're interested in it, just try it out." 
Gunter can be found at @therewiringlens or www.therewiringlens.com.