Your authenticity is your power
Nancy Katz is a career coach & trainer, entrepreneur, authenticity advocate, CGS alumna and mother of two college graduates. On Feb. 18, she spoke to CGS students about navigating college to career, happiness, and well-being.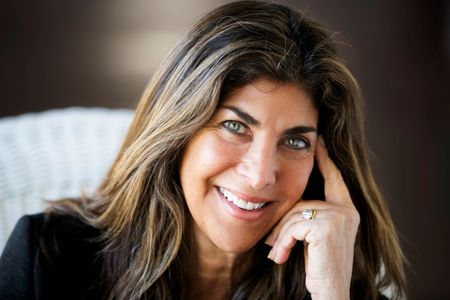 The Purpose of College
Katz began the workshop by challenging students to think about the purposes of attending high school compared to college. She introduced the concept of "1+1+1" thinking—a linear model where students get into a good school, pursue "the right major," and get "the right job." Katz said that while this is the way people often think and talk about college, a linear method like this can be limiting. "College is really about expanding and experimenting and finding out new things," she said, encouraging students to pursue the things that most interest them, rather than the things they think will be most helpful in getting a job. 
Discover Your Authenticity
Katz explained in order to discover your authenticity, you first must find out what you value and why it is important. She said that everyone has natural interests and if you enjoy an activity then your natural abilities and skills come to the surface. "When you do what you enjoy doing and get engaged, an amazing thing happens. Your natural strengths and talents naturally bubble up," she said.
According to Katz, discovering your own authenticity is critical in choosing a career path, but also in every day life. "People are attracted to people who are comfortable in their own skins, and who are themselves," she said.
Authenticity in Academics 
Katz encouraged students to think about important questions such as what they see as their best abilities compared to what others think their best abilities are. She said the way people figure out what they want is by exploring, experimenting, and experiencing while in college. Katz advocated for students to choose a major in something that they enjoy, rather than what others expect them to choose. 
Dena Ciampa (CGS'20, CAS'22), a student who attended the workshop, said that the exercise, "was a good way to reflect and make sure the characteristics that we want to be shared to those around us are the same ones that people see in us—that those two things equate". 
Developing Your Inner Navigation 
In the final section of the workshop, Katz advocated for self-awareness and being in touch with how you feel. If you become self-aware, then you have self knowledge, which ultimately helps you make better decisions and find your authentic self, she said. She emphasized the importance of understanding what you value most. "Know your why and know how it adds value to you. And then I promise you, anywhere that you want to go from there, you'll be able to repeat that story and your dots will always connect," she said.
Ciampa said the workshop was helpful and encouraging. "My favorite part was her emphasis on just being true to who you are. You don't have to compare yourself to everyone because everyone is different."
Nancy Katz is a member of the CGS Dean's Advisory Board.
—By Natalie Seara