Fellowships and Scholarships
ASOR offers fellowships and scholarships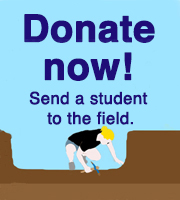 support for excavations and for participation in the ASOR Annual Meeting. Through our affiliated overseas research centers (ACOR, AIAR, and CAARI), financial support is provided for research in Cyprus, Jerusalem, and Jordan.
Read what previous fellowship recipients have to say on the "Where Are They Now?" page.

Excavation Support: In the summer of 2007, ASOR renewed its emphasis on providing funding for individuals to participate in excavations in the Eastern Mediterranean. Since 2007, ASOR has awarded 302 researchers and students with excavation grants and scholarships through the Dever, Harris, Heritage, Meyers, Meyers/Wright, MacAllister, Sheeler, Strange/Midkiff, and Platt, and Member Supported Fellowships.


Annual Meeting Fellowships: ASOR is committed to helping students attend the Annual Meeting. All students may apply for the Foundation for Biblical Archaeology Annual Meeting Scholarship, and students at institutional member schools may apply for Annual Meeting Travel Grants. ASOR also solicits gifts to help attendees with need. Please contact Britta Abeln if you have financial needs and do not see an available scholarship.


Study of Collections Fellowships: ASOR is pleased to announce two new fellowships of $2,000 each to support the study of collections by our members. The collections include museum and archival collections, repositories, or collections of national authorities. The fellowship funds may be used to support travel, per diem expenses, and other direct expenses.


Support ASOR's Scholarship Programs!
ASOR is fortunate to have limited endowments that support excavation fellowships and scholarships for the Annual Meeting. However, the largest support for these scholarships comes from individual donors. Please contact ASOR's executive director, Andy Vaughn, if you would like to support ASOR's scholarship programs. Gifts of all amounts are needed and greatly appreciated.