Harva L. Sheeler Excavation Fellowships
Established in 2014 by the Sheeler family,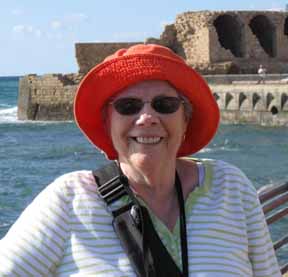 fellowship funds have been designated to support the participation of ASOR members as volunteers or staff on the Hesi Regiional Project. Harva L. Sheeler (1934–2013) was a long-time friend and supportor of ASOR (see her biography below). The Sheeler Fellowship celebrates Harva's life and is funded by annual contributions from her family. It is anticipated that there will be one award of $2,000 for the summer of 2017.
Application Deadline: February 15, 2017
Eligibility:
Applicants must be current members of ASOR or students enrolled at an Institutional Member School. Applicants also must be participants on the Hesi Regional Project, and should apply using the uniform application form. (See list of Institutional Members.)
Preference will be given to individuals that have not received support through the ASOR excavation fellowship program or other funding sources for the summer of 2017. Additional preference will also be given to applicants who would not usually receive funding (for airfare, lodging or a stipend) from the excavation. Preference is also given to applicants who have not received ASOR funding for excavations in the past three years. The final recommendation will be made by the directors of the Hesi Regional Project.
Grant recipients will be required to sign a waiver indicating that ASOR is not responsible for any injuries they might sustain during their time at the excavation they choose to participate in. They will also be required to sign a release of rights to ASOR for the inclusion of their report and photograph in one of ASOR's publications.
Upon completion of the field season, a report of 250-350 words and an appropriate photo (500 dpi resolution or higher) on site must be submitted to the ASOR office by August 15, 2017. Reports and photos should be sent via email with "Sheeler report" in the subject line. It is also expected that a letter or report will be sent to the Sheeler family (ASOR will provide the contact information).
Brief Biography of Harva L. Sheeler (1934–2013):
Harva loved to mark pottery sherds. That's because it takes precision and patience to write accurately all the information that annotation requires. Harva, a professional law librarian for more than 30 years, found a new calling for her cataloging skills when her daughter Kate began to dig at Caesarea Maritima in 1988. It was through Harva's subsequent travels with Kate to various excavation projects that she became well-acquainted with ASOR and its commitment to support travel opportunities for staff and student participants. Harva loved not only her own adventures in archaeology, but also enabling others the opportunity to experience the same.

In 2010 Harva established a Heritage Grant for the Hesi Regional Project and took great pleasure in meeting the grant recipients and learning about their research and courses of study. This fellowship celebrates Harva's curiosity, enthusiasm, and love of adventure. Fortuna audentem iuvat.