Nancy J. Sullivan, Ebola Vaccine and Treatment Pioneer, Named New NEIDL Director
Says priorities will include global engagement, strong science, and diversity, equity, and inclusion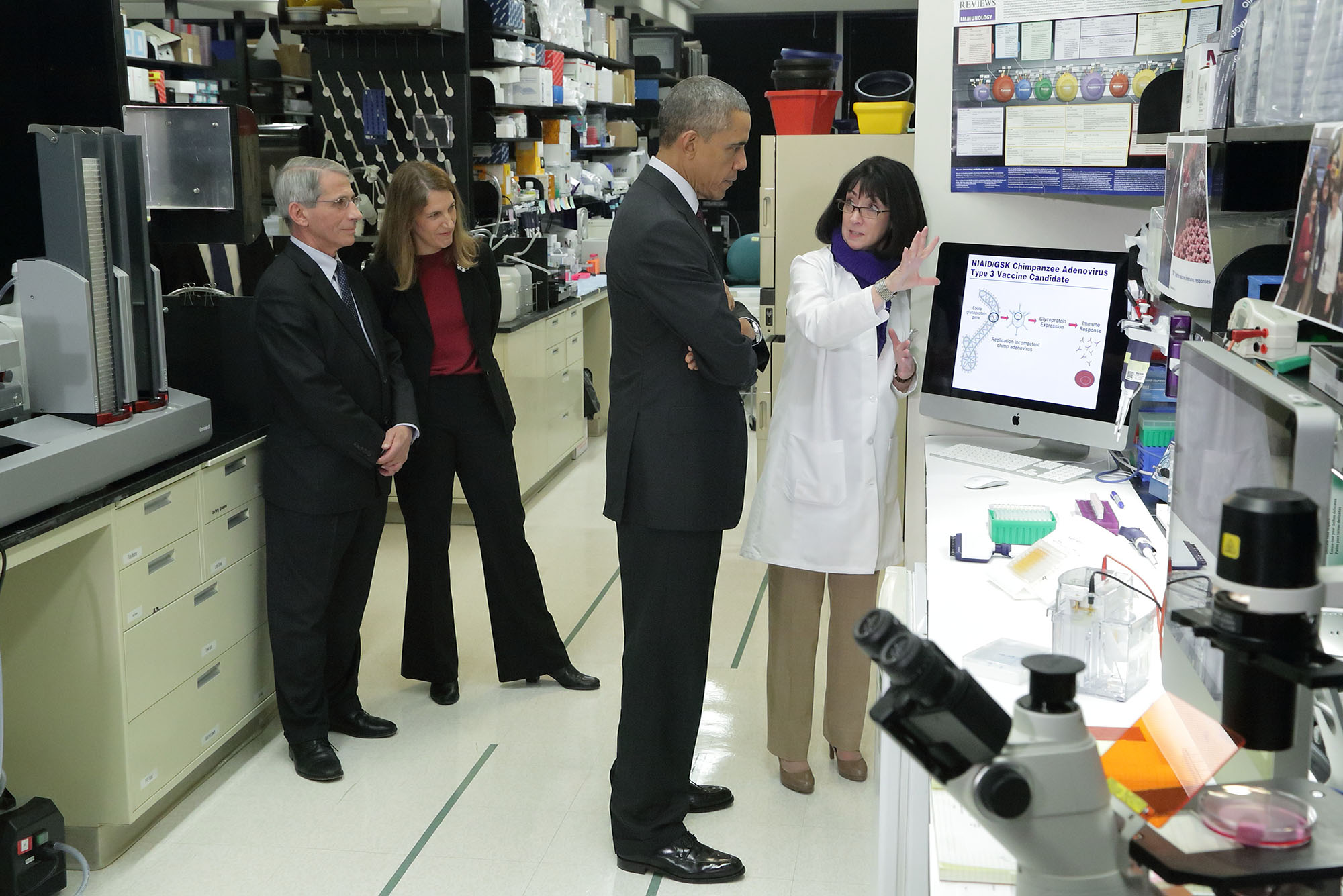 NEIDL Director
Nancy J. Sullivan, Ebola Vaccine and Treatment Pioneer, Named New NEIDL Director
Says priorities will include global engagement, strong science, and diversity, equity, and inclusion
Nancy J. Sullivan, a nationally renowned infectious diseases expert and chief of the Biodefense Research Section at the federal government's Vaccine Research Center, has been named the new director of Boston University's National Emerging Infectious Diseases Laboratories (NEIDL).
A cell biologist and viral immunologist by training, Sullivan succeeds Ronald B. Corley, a BU School of Medicine professor of microbiology, who has led the lab since 2014. Opened in 2009, NEIDL is a leading academic research center that allows scientists to study infectious diseases and pathogens, including SARS-CoV-2, Ebola, and Zika, in a protected environment.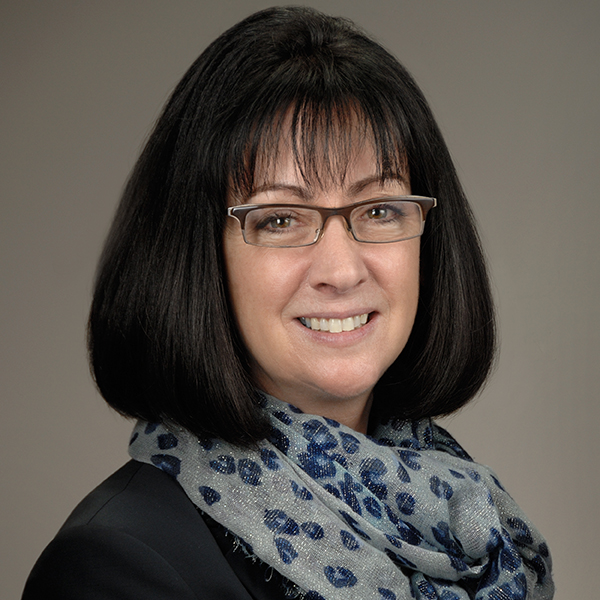 "The NEIDL is at a pivotal time with its capabilities and some of the challenges facing the world right now," says Sullivan, who will also hold joint appointments in MED and the College of Arts & Sciences following the successful completion of the appointment process. "I've had a long-standing interest in epidemic and pandemic preparedness; now, that interest is much broader than my own—people are appreciating the potential of viruses to act in unpredictable ways and the NEIDL is positioned to step in at this important time."
A founding member of the National Institute of Allergy and Infectious Diseases (NIAID) Pandemic Preparedness Working Group, Sullivan has been part of the US response to COVID-19. This year alone, she has coauthored more than a dozen COVID-related research papers, covering topics as diverse as neutralizing variants and vaccination in octogenarians. In 2021, she won three National Institutes of Health Director's Group Awards for her contributions to the development of COVID-19 vaccines and treatments.
"The NEIDL holds a prominent position in BU's Strategic Plan for 2030, as we know how important and timely it is to understand and develop coordinated responses to emerging threats to public health from infectious diseases," says Jean Morrison, BU provost. "Our ability to continue leading as one of the nation's premier academic research centers in infectious disease is of paramount importance to the University. Dr. Sullivan brings incredible experience and energy to the NEIDL in disease research and facility design, and we are thrilled to be gaining a director of her stature and record of accomplishment."
Although in recent years Sullivan has guided preparation, research, and outreach on COVID-19 and monkeypox, her longtime focus has been the fight against Ebola, Marburg, and other hemorrhagic fever viruses. At the Vaccine Research Center, which is part of NIAID, she conducted hands-on studies for the first successful Ebola vaccine in primates—later contributing to the launch of human clinical trials in the United States and Uganda—and also discovered a protective monoclonal antibody, mAb114, that's being used in Ebola treatment. In 2014, when Time magazine named "The Ebola Fighters"—the health-care workers and scientists who tackled an outbreak of the disease in West Africa—its Person of the Year, it called out Sullivan's vaccine contributions. In 2020, she was an honoree for the Partnership for Public Service's Samuel J. Heyman Service to America Medal.
At NEIDL, Sullivan will head one of the few labs in the United States that has Biosafety Level 4 (BSL-4) status, permitting researchers to work on the world's most dangerous pathogens, including Ebola, which has been studied at the lab since 2018. Current research projects include studies looking at how Ebola damages the liver, yellow fever mechanisms, and improving detection of the Zika virus. From the earliest days of the COVID-19 pandemic—when its scientists worked with samples from the United States' first diagnosed case—NEIDL has also been an epicenter of coronavirus research, investigating ways to arrest the disease's progress and testing potential treatments. Recent studies have pinpointed the genes that may help some people avoid the worst symptoms and answered questions about isolation periods.
"Given the resources at the NEIDL, BU has an enormous opportunity to make a significant contribution to our understanding of emerging infectious diseases, as well as to their diagnosis and treatment," says Gloria Waters, BU vice president and associate provost for research. "We are extremely fortunate to have Dr. Sullivan take on the role of director at this critical juncture for both the field and the NEIDL. I am confident that Dr. Sullivan's research excellence, collaborative style, and strategic vision will allow the NEIDL to continue its upward trajectory to a world-class center of scientific excellence in infectious disease."
Sullivan, who has conducted work at the US Army Medical Research Institute of Infectious Diseases BSL-4 facility and was part of the design committee for the BSL-4 Integrated Research Facilities at NIAID, says the NEIDL "is positioned to do everything from diagnostics to preventive and treatment strategies, understanding how viruses interact with human hosts, and how they jump between animals and humans. The NEIDL brings these unique capabilities to Boston and the region."
As well as supporting that work and the scientists performing it, Sullivan says, her goals include fostering a "vibrant environment, global engagement, and community big yet small." And, she says, "diversity, equity, and inclusion are really important."
Global engagement in particular has been a pillar of Sullivan's career and one she hopes to continue at BU. During her time with NIAID, she formed close partnerships with colleagues in Africa, notably the Democratic Republic of the Congo, where she founded a technology transfer and training program for scientists from the country.
"When countries are subjected to infectious disease and outbreaks, it is often international teams of scientists who lead the response," she says. "It's been my mission to enable this amazing group of scientists in the Congo to work independently and have some agency in determining their scientific priorities and outbreak responses."
The NEIDL currently supports MED's Emerging and Epidemic Virus Research Program, an education partnership with the University of Liberia, and Sullivan says such initiatives can only improve the quality and efficacy of solutions scientists develop. It was through her work in the Congo, she says, that she came to see that the approach to science in some higher-income countries—full of planning and focused goals—isn't necessarily the best fit for every context or culture.
"With one of the first trainees from the Congo, I remember being concerned that everything was reactive and not planned," she says. "Then I went to the Congo, and we were one hour into the work when the power went out. I realized you can't always plan in advance; you have to have that capability of acting and reacting very quickly to whatever is happening, that's the environment. It was a stark lesson for me, and I wouldn't have had that without diversity in my group."
A Boston-area native—she earned her undergraduate degree at Merrimack College and doctorate at Harvard T. H. Chan School of Public Health—Sullivan says she's excited to be returning home, and that her family is looking forward to having her back in Massachusetts.
"They're thrilled that I'm coming home," she says. "This was a convergence of opportunity and going home—all the pieces fell into place."