BU Wheelock College Charts a Revised Mission
Moving beyond teacher preparation and into human development
Higher Education
BU Wheelock College Charts a Revised Mission
Moving beyond teacher preparation and into human development
Linda Walker sits in a teacher's office, a cozy affair lined with African wall art, talking about her third-grade daughter, Lilly. "A shy girl on a good day" who's new to the school, Lilly seems to be overcoming a bumpy start to the year, Linda says. The teacher gently broaches Lilly's below-par reading scores.
"I'm a little bit concerned they don't seem to be at benchmark," the teacher says. "I'm wondering if we might want to provide some intervention."
Linda tilts her head, eyes closed, her body language conveying pensive concern. "You said an intervention? Is it really that serious?"
The teacher reassures her. "It might be an opportunity for us to provide a bit of extra support. We want to be able to boost her comfort and independence with reading." She promises to work with Lilly in small groups of students and perhaps one-on-one, a "seamless" situation designed to avoid embarrassing the child. Linda agrees to read more with Lilly at home to reinforce the in-class help.
"End simulation," says the teacher.
Linda and the office, both of them animations on a conference room flat screen at BU's Wheelock College of Education & Human Development, fade to black. The simulator—a tool that will expose aspiring teachers to various situations they'll encounter on the job—is a blend of virtual reality, artificial intelligence, and human input ("Linda" was voiced by an off-site actor in real time; the teacher was actually three Wheelock faculty members rotating in and out of the role).
This cutting-edge technology is part of the future of Wheelock—born out of the 2018 merger of BU's School of Education and Wheelock College. It's a future that's to include expanded research efforts, collaborating across disciplines at the University, and broadening the mission beyond teacher preparation and into human development.
The simulator, for example, is an initiative of the Earl Center for Learning & Innovation, which was part of the former Wheelock College. The merger also brought more than 30 new faculty to BU as well as an infusion of money. In an important step, at a time when a growing number of smaller colleges are merging with larger ones, BU reserved Wheelock College's $63 million endowment for the new college, rather than simply absorbing it into the University's overall endowment. That's in addition to $7 million the University committed to the school for faculty and research. Those two moves were critical in allowing the newly formed college to launch with a full head of steam.
The New Wheelock
The new money and faculty brainpower were a boost to a school that already had leapt ahead in the U.S. News & World Report national college and university rankings: in the report's 2018 scale of the best graduate schools, SED had jumped 9 notches, to 36th in the country.
Today, the new Wheelock College is "much stronger than either [predecessor] was separately," says Mary Churchill, Wheelock associate dean for strategic initiatives and community engagement.
An outside expert agrees. Guilbert Hentschke, dean emeritus of USC's Rossier School of Education, who has studied academic mergers, rates the BU-Wheelock transition a success. One reason, he says, is that rather than swallowing its financially troubled partner, BU retained some of Wheelock College's identity in the merged school. It gave a leadership role to David Chard, who had been president of Wheelock College and is now dean ad interim of the merged school, and maintained signature programs from that school.
---

We're not just education anymore. We even toyed with getting rid of Education altogether and just calling it the College of Human Development."

---
Wheelock College dean ad interim
Bottom line: in an institutionally identifiable way, Hentschke says, "There's a Wheelock that still exists." He adds that any school's reputation in academic circles hinges on a small, star percentage of its faculty, and by bringing over colleagues from the former Wheelock College, BU made a reputation gain for the new Wheelock much more likely.
Now, the college is setting its educational priorities. It is in the homestretch of a guide-star process, to conclude early in 2020, which has involved meetings with outside education experts and discussions among Wheelock leaders and faculty. Among the fundamental questions to answer, says Churchill: "Who are we going to serve? What difference are we going to make?"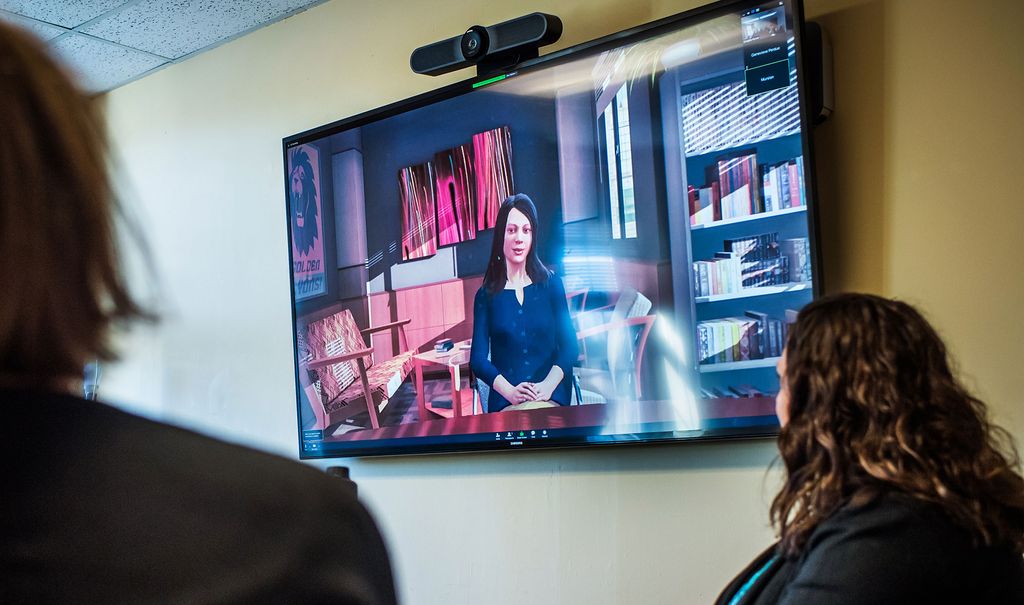 An Emphasis on Human Development
The discussions about the school's priorities almost led to a different name for the post-merger school. "We're not just education anymore," says Chard. "We even toyed with getting rid of Education altogether and just calling it the College of Human Development."
What's the difference? Broadly speaking, "education" prepares students to teach at the K–12 or college level. Wheelock isn't abandoning that work, as that teacher-parent simulator attests.
But Churchill says that other investments will be sure to target an expanded emphasis on human development, a catchall for professionals who foster the well-being of children and youth outside of classrooms, and even schools. Careers in human development will place future Wheelock grads in jobs at hospitals, social work offices, and even in police departments and research centers.
Emma Talebzadeh (Wheelock'20), a youth justice and advocacy major, has no plans to be a teacher. On a fall day, Talebzadeh and Brighton High School senior Anticious McGhee sit elbow-to-elbow, scanning a laptop for Boston-area plumbing programs that might launch the 19-year-old on his hoped-for career. "Seems like you're excited about plumbing?" Talebzadeh asks.
"Someone's toilet is always going to have to get fixed," McGhee replies with unassailable logic.
They're at More Than Words, where towering library shelves are stuffed with 100,000 books, part of its inventory. The Boston nonprofit operates bookstores, both brick-and-mortar and online, and staffs them with at-risk youth to teach them work skills. It also helps them search for jobs, which is why Talebzadeh spent a 200-hour internship here during her senior year.
She's thinking about a career as a juvenile probation officer, perhaps, or in nonprofit work similar to her internship. "I want to explore the field and figure out where I can be most helpful," she says. Her major taps her interest in both the court system and "understanding where the adolescent brain is developmentally."
In high school, Talebzadeh says, "I had a lot of friends that were going through some rough situations, and I saw that they didn't really have people there for them…because home wasn't giving them the right support."
Talebzadeh is not Ann Tobey's only student pursuing a nonteaching career. "I have two this semester who want to join the police force," says Tobey, a Wheelock clinical assistant professor and director of the college's undergraduate Youth Justice & Advocacy program. Students in the program have gone on to pursue law or social work degrees. And yes, some have gone on to work in the public schools.
Such is the palette of career options in Youth Justice & Advocacy, which studies adolescents' development, focusing on their strengths and supporting them in reaching productive, healthy adulthoods. "My students aren't learning to be teachers per se," Tobey says. "It's a little more holistic than just a school focus. Actually, a lot more holistic."
Degrees with this flexibility are "really more reflective of what we think undergrads are looking for today," Chard says. "They're not entering their freshman year thinking, I want to be a teacher or I want to be a counselor. They know they want to work with people, but they don't know in what capacity."
That openness to nonteaching jobs extends to graduate students, who are increasingly an important part of Wheelock's student body. For fall 2019, BU Wheelock welcomed just 45 freshmen; many who pursue teaching careers will probably stay to get their master's degree, a credential increasingly demanded by schools, Chard says.
Tobey's youth justice program is part of Wheelock's counseling psychology and applied human development department, the school's second largest. Chaired by Melissa Holt, a seven-year veteran of SED and a Wheelock associate professor, the department sits "outside of traditional teacher training," Holt says. One of its graduate programs prepares students for a nonteaching career introduced decades ago by Wheelock College: child life specialist, a professional who helps children cope with the stresses and fears of hospital stays.
Wheelock created the discipline in the 1960s; today, academic research, the American Academy of Pediatrics, and U.S. News rankings of hospitals support its importance. "There are 235 internships in the United States," Chard says, "and we have over a third of them—because we founded the profession."
Expanding Research
BU is a world-class research university—why shouldn't its education and human development college be a citadel of research into the best practices and technologies in those fields? Under Hardin Coleman, dean of SED from 2008 to 2017, SED's climb up the U.S. News rankings was largely based on a near tripling of research grants, awarded to faculty recruited by Coleman and the school. Building on that past, Chard envisions the possible hiring of a data scientist who would collaborate with the University's planned Center for Computing & Data Sciences.
That, he says, would address a crying need in Wheelock's backyard: the commonwealth of Massachusetts has collected school data for years, but doesn't have the resources to use it to analyze things like best teacher training practices. Chard notes that Wheelock already dips a toe in the online data sciences pond with the lexical database for American Sign Language developed by Naomi Caselli, a Wheelock assistant professor of deaf studies.
The parent-teacher simulator could be used as a research tool as well. "I would love to incorporate it into my classrooms," says Rebekah Louis, a Wheelock lecturer and faculty director of clinical education, "and then conduct a research study alongside that" to see how effectively the simulator trains budding teachers. "I think there are a lot of avenues we could explore that haven't been explored, like how this is being used to train program supervisors," who oversee teacher trainees in schools. Wheelock could also deploy it among alumni who are teachers, she says, to provide them with professional development.
But Teaching Still Matters
No college of education and human development run by Chard, a former teacher, would ignore the first half of that description. One of the college's priorities likely will be expanding Wheelock's work with Boston educators and students, says Chard. BU's School of Education did work in Boston, he says, but many connections with city schools were forged by individual faculty rather than by the institution-wide initiative that Wheelock brings to the task.
The University is making the cost of graduate education more affordable for Boston public school educators, announcing in December that Wheelock is discounting the cost of certain programs for the professionals.
In addition, one of the legacies from the former Wheelock College, the Aspire Institute, provides professional development to Boston educators "in the broadest definition" of that term, says Kenann McKenzie, the institute's director and an adjunct assistant professor of education leadership and policy studies. One Aspire mentorship program pairs retired educators with current teachers.
Laura Vincent is one of the 2019–20 academic year's 18 mentees. A third- through fifth-grade special education teacher at Boston's Samuel Adams Elementary School, she serves mostly autistic students, "increasing independence in behavior and academics," she says. One of Vincent's students struggles with reading and sounding out words, and her Aspire mentor, Lisa Besen, is helping her draft useful lessons and finding materials for the student. Besen brings more than three decades as a special educator and reading specialist for students with dyslexia and other learning disabilities.
---

My students aren't learning to be teachers per se. It's a little more holistic than just a school focus. Actually, a lot more holistic."

---
a Wheelock clinical assistant professor and director of the college's undergraduate Youth Justice & Advocacy program
"This is my second year teaching special education," says Vincent, who previously taught general fourth grade in another district and who was wait-listed for the mentorship program last year. Aspire has helped her learn "more about how to better support my struggling readers," she says. And Besen "has helped me with planning and implementing lessons to meet those specific reading skills, as well as modify the general education curriculum."
For Besen, mentoring for a second year through Aspire, the program taps a passion for helping new teachers that developed after she retired from teaching and began supervising student teachers. She says Vincent's "curiosity and continual desire to improve her teaching is energizing and inspirational."
Being a Thought Leader
Situated in the birthplace of the nation's public schools, Wheelock can leverage its location by aiming research and teaching at problems in its backyard, says Kevin Kruger, president of the National Association of Student Personnel Administrators. Kruger urged this think-locally strategy as a member of Wheelock's guide-star panels of outside experts in fall 2019.
"You have the opportunity to be a thought leader in this area," he told faculty and administrators in the audience. "You're in a technological innovation hub here in Boston."
Kruger noted that while other schools are undertaking self-reflection analogous to the guide-star process, Wheelock "can do this without the constraints of legacy- and low-performing program offerings." The merger, he says, "was not simply about absorbing students and forcing existing academic programs into the BU academic portfolio." The college's emphasis on human development reflects what the best colleges of education are doing, and "would allow a breadth of programs that meet the evolving needs" of the workforce.
Churchill says the institutions that merged to create Wheelock enjoy high regard among Beantown educators and human development professionals alike. "Both brands are very, very strong," she says. "Everyone knows BU, right? But I am struck, again and again, with how the community loves [the former] Wheelock."