Working for Equity in Boston Public Schools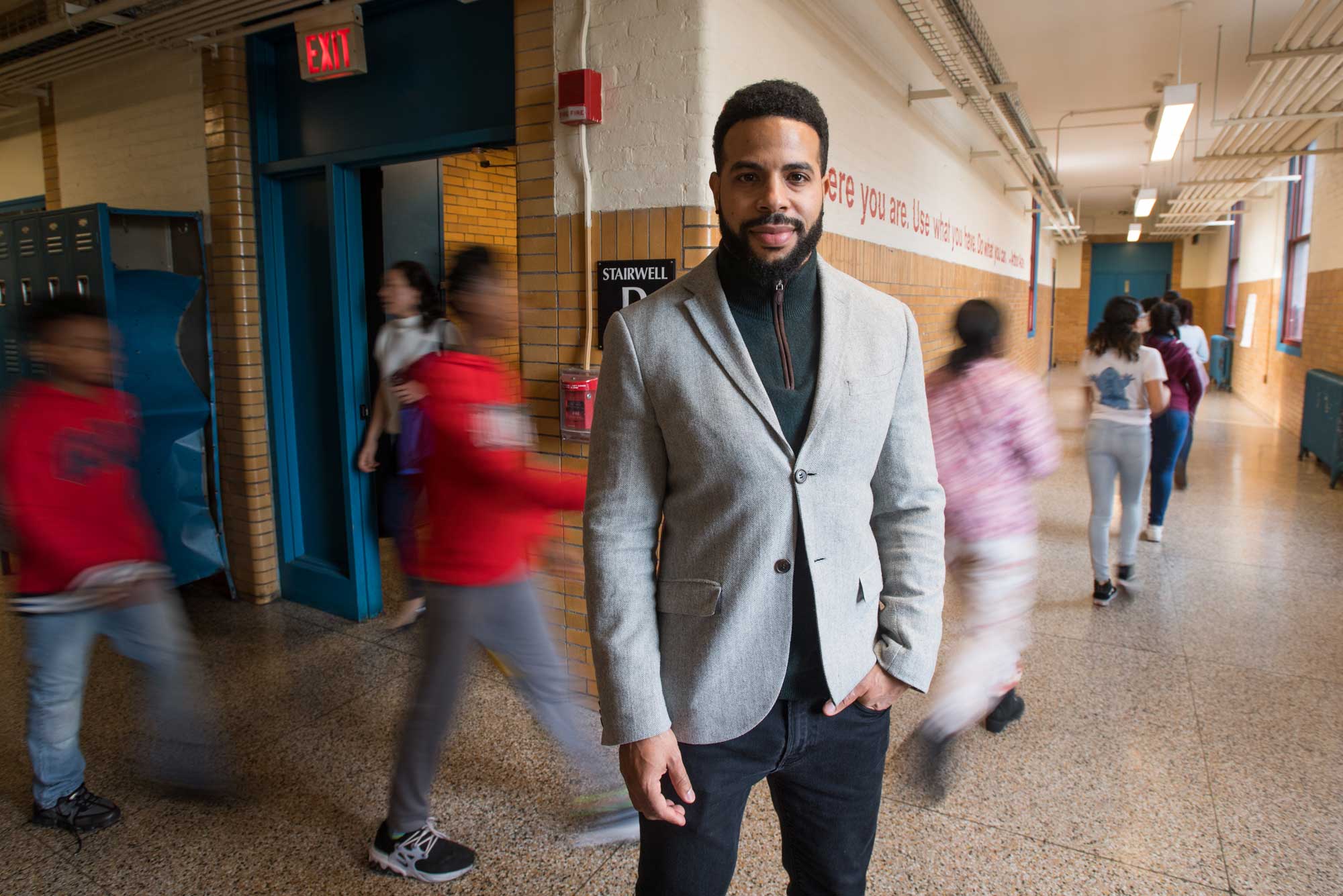 Public Education
Working for Equity in Boston Public Schools
Alum Colin Rose says closing opportunity gaps means cultural change 
Colin Rose was teaching middle-school math in Boston when he realized that his students needed a new equation for seeing themselves.
"When 80 percent of your students say, 'I'm not good at math,' then you have a problem," says Rose (CGS'01, COM'03, Wheelock'05), assistant superintendent in the Boston Public Schools (BPS) Office of Opportunity Gaps. "Especially with students of color, there's a fixed mind-set in our society that breeds the idea that math is not for us."
He set out to change that, not with more problem sets, but with a unit on identity, digging into how his students saw themselves and their relationships through lenses of race, gender, and culture. For example, he gave his students paper bags and asked them to mark the outside with what society thought of them. Then he instructed them to fill the inside with slips of paper telling things about themselves that only they or their best friend knew. The words on the outside helped start collective conversations around racism and stereotypes. The ones on the inside allowed students to get to know one another at a deeper level. Rose quickly learned a lot about the students from both.
"I had the highest growth scores in the city in mathematics on the MCAS [standardized statewide assessment] tests," says Rose, who taught for a decade before taking on his new role in 2016. "I could walk out of the classroom and come back 10 minutes later and know they'd be on task. But that was only possible with relationship-building on the front end. Those experiences have shaped the way I look at teaching and learning."
BPS leadership brought Rose to headquarters in Dudley Square to lead efforts to improve equity in student outcomes as head of what was then called the Office of Achievement Gaps. In a district of 51,000 students, nearly 75 percent of whom are black and Latinx—while faculty are 62 percent white—the move put him dead center in America's seemingly never-ending struggle with race and class.
---

I think we're at a point where people understand that it is important to talk about race and culture and infuse that into our educational practices.

---
Scores on MCAS tests highlight the scope of the problem. On the 2019 MCAS in English for grades three to eight, only 25 percent of black students and 28 percent of Latinx students were meeting expectations or better, compared to 62 percent of white students and 63 percent of Asian students. The disparities were slightly worse in math.
"We believe in the brilliance of all our students across the district, and if we are honest, achievement gaps are gaps in outcomes that are really manifestations of opportunity gaps," says Rose. "We didn't provide the experience necessary for students to hit whatever bar we're looking at. How do we tailor our practices and policies to match the aspirations and the brilliance and the needs of our students, instead of trying to fit them into boxes that many times weren't created for them?"
One of the first things Rose did was to change the name of his office, from "Achievement Gaps" to "Opportunity Gaps," to better frame the problem. And he led a group that created a sophisticated Opportunity Index, taking a granular look at students in 177 census areas in the city, examining factors from educational attainment to median income, crime statistics, and family transience. "It's for an awareness of the social and political context in our world and this city," he says. "Are you building authentic relationships with our students and their families and communities?"
Now he runs a staff of six and oversees a list of major initiatives and pilot programs within a framework of culturally and linguistically sustaining practices. He helps guide how $11 million is apportioned to the schools that need it most, where school leaders can decide how to use it. Two high schools, one with many disabled students, sent groups of students of all abilities together to an outdoor program of hiking and kayaking, opening new vistas for both groups. Another school is providing van service to get students safely across gang territory in the morning and afternoon.
The majority of students selected for the district's long-standing accelerated program for gifted and talented students, Advanced Work Class (AWC), are white or Asian. To expand the supposed rigor in AWC to more students, a former superintendent built a new model, Excellence for All, which ups expectations for all students and provides them with access to different kinds of learning. A pilot program now in 16 schools, Excellence for All offers 21st-century enrichment programs, such as coding and robotics, and includes a capstone project at the end of the year. Last spring, more than 1,000 students presented their capstones on topics like mass incarceration and climate change in an event at BU's George Sherman Union.
The overriding goal is to understand the students' lives so the district can help them thrive.
"When I came in, the best schools in the district were color-blind. There was no talk about race or culture in reference to education," Rose says. "It was, 'I don't see color, I treat all kids the same.' Which is not even arriving at awareness. It has been a big undertaking to change that. I think we're at a point where people understand that it is important to talk about race and culture and infuse that into our educational practices."
Professional development can help, encouraging teachers and staff to think about cultural differences. Just as important are initiatives pushed by Rose to increase the number of black and Latinx teachers in Boston Public Schools. One way to change how kids think about themselves is to give them teachers who look like them.
"As a black male teacher, I understood very well the perceptions of our boys of color. A lot of times I felt the expectations—or lack of expectations—in my school career," he says. "I know some of the things they are dealing with in society outside the school walls. My ability to truly empathize with what they're going through gave me a different lens that other folks might not have."