Hardin Coleman
Professor
Dean Emeritus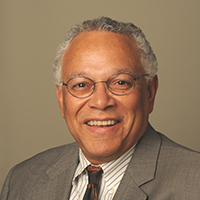 Hardin L.K. Coleman, Ph.D., is a Professor of Counseling Psychology and Applied Human Development at Boston University Wheelock College of Education and Human Development. He is also a Dean Emeritus of the College. As Dean, Dr. Coleman focused on how a school of education within a research university can use research to refine the practice of education, primarily through training educators and partnerships with schools.
Dr. Coleman's scholarly interests include the socio-cultural factors in minority student achievement and the use of developmental guidance to promote social and emotional intelligence in children. His work has been published in The Counseling Psychologist and The Professional School Counselor, and has co-edited several handbooks including The Handbook of School Counseling and The Intersection of Race, Class, and Gender in Multicultural Counseling.
As a teacher, Dr. Coleman is focused on the preparation of professional school counselors. His civic engagement includes serving as Vice Chair of the Boston Public School Committee, and as the Faculty Director for the Center of Character and Social Responsibility and for the Center for School Improvement at Boston University. He is also the editor of the Journal of Education. He has served on the Board of Governors for English High School in Boston, MA, the Westtown School Committee in Westtown, PA., Beijing City International School, Ten Strands in San Francisco, Edvestors, and the Home for Little Wanderers and Inversant in Boston, MA. He has also served as a consultant and trainer for numerous schools and mental health agencies.
Dr. Coleman was educated at Germantown Friends School ('71), Williams College ('75), University of Vermont ('80), and Stanford University, ('92).  He has worked at the George School, Abington Friends School, Westtown School, Shanghai Teachers University, Cambridge Hospital, and is a Professor Emeritus at the University of Wisconsin-Madison. His "North Star" is creating equitable access to high quality learning experiences for all children.
Videos, Talks, and Commentaries
News
Interviews
Recent News
Education
Ph.D. in Counseling from Stanford University, 1992
M.Ed in Counseling from the University of Vermont, 1980
B.A. Williams College, 1975
Courses
SED CE 737 Counseling Theory and Philosophy
Selected Publications
Casey-Cannon, Shannon L. , Coleman, Hardin L. K. , Knudtson, Laura F. and Velazquez, Carmen C. (2011) 'Three Ethnic and Racial Identity Measures: Concurrent and Divergent Validity for Diverse Adolescents',
Identity, 11: 1, 64 — 91
Coleman, H.L.K., & Yeh, C.A., (2008) Handbook on School Counseling.  Earlbaum Press, New Jersey.
Coleman, H.L.K, Morris, D., & Norton, R.A. (2006). Developing multicultural counseling competence through the use of portfolios. Journal of Multicultural Counseling and Development.
Coleman, H.L.K. (2004). Toward a well-utilized partnership, The Counseling Psychologist, 32, 216-224.