Kenann F. McKenzie
Director of the Aspire Institute
& Adjunct Assistant Professor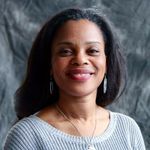 At Wheelock
Dr. Kenann F. McKenzie is the Director of the Aspire Institute and their primary goal is to support the Pre K-12 educational sector with professional development based in a social justice framework, and community engagement. She also teaches Research Methods at the college, and serves as the Educational Leadership & Policy Studies' faculty representative to Wheelock's Equity, Diversity & Inclusion Committee.
To learn more about the Aspire Institute, please click here.
Biography
Dr. McKenzie immigrated to the United States at the age of 7 to New York City and has a multinational, multicultural framework that shapes her approach to education and research. Based on her own childhood experiences, she made a decision at 12 years old to devote her future life's work to improving the lives of children and families through education and community wellness — to which the mission and vision of Wheelock College of Education & Human Development is a perfect complement. For the last 20 years, she has worked in the higher education sector as an academic counselor, researcher, lecturer, policy analyst and administrator. In addition, she has also worked in the K-12 sector and in the U.S. Department of Education as an administrator. In her most recent post prior to joining Wheelock, she served for several years as the Executive Director for the National Board of Education Sciences (NBES).
Dr. McKenzie has a BA in Africana Studies from Cornell University, M.Ed. from the University of Virginia in Social Foundations of Education, and a Ph.D. in Politics and Education from Teachers College, Columbia University. She is most proud of being the mother of two amazing young women who inspire her daily.
Appointments: 
City of Beverly School Committee
3-year appointment to the Racial Imbalance Advisory Council (RIAC) of Massachusetts
Board Member of Mikva Challenge-DC
2-year appointment to the local School Site Council within Brookline Public Schools (2018-2020)

Co-Chair, Town of Brookline Reopening Task Force: Panel on Equity and Excellence
Recent News