Consulting and Support for IS&T Services
The Educational Technology team works with faculty and academic staff to enhance use of:
Please let us know if you would like Instructional Support from an Educational Technologist on the Charles River Campus or on the Medical Campus. We will respond as quickly as possible. Meanwhile you can also…
Collaboration with CEIT
There is a close collaboration between IS&T's Educational Technology team and the Center for Excellence & Innovation in Teaching (CEIT), which supports teaching and the professional development of faculty and graduate-student teachers.
Training
Training is provided year-round. Please check both the IS&T training calendar and the list of CEIT workshops for course offerings and registration information. Online training is also available.
The Educational Technology Team

Domenic Screnci, Ed.D., Executive Director for Educational Technology, Training and Outreach
Domenic serves the University as an educational technologist, instructional systems designer and integrator, instructional designer, and a producer of curriculum materials for traditional and new media based educational projects. Domenic is currently the co-director of Boston University's online Master of Science Health Communications Program. He teaches an instructional design course at the School of Public Health, and is also on the faculty at the University of Massachusetts/Boston in their master's level Instructional Design Program, teaching a Visual Literacy and Information Design course.
Kacie Cleary, M.A., Educational Technologist
Kacie works with faculty to support their use of BU's learning management systems, focusing on the use of Blackboard across both campuses. She teaches best practices and offers monthly training sessions to demonstrate effective course design. Kacie has been working with educational technology in higher education for five years and holds a Master's in Adult Education and Communications Technology.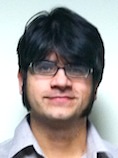 Amod Lele, Ph.D., Educational Technologist
Amod helps faculty navigate a wide array of technologies for use in their classes and professional life. His specializations include e-Portfolio, WordPress, Google Apps and NVivo. He also runs the educational technology blog to share BU faculty innovations. He holds a PhD from Harvard in religious studies and has eight years of college and university teaching experience. In the spring semester of 2014 he is teaching a course on Indian philosophy in BU's philosophy department. He has always loved working with information technology and is excited to combine the two fields. In his spare time, he writes a weekly updated blog (in WordPress) on cross-cultural philosophy: loveofallwisdom.com

Arti Sharma, M.Ed., Educational Technologist
Arti leads initiatives around applications of mobile technologies and e-publishing in teaching and learning. In addition, she is working to enhance and streamline support for vendor-provided solutions such as Echo360 for lecture capture, TurningPoint for interactive audience response systems (clickers) and iTunesU for a mobile-friendly and more interactive alternative to course management. She holds a Bachelor's in Communication and a Master's degree in Educational Media and Technology, both from Boston University. Arti's professional experience includes working in educational technology outreach at the Massachusetts Institute of Technology and digital product development at Pearson.