Gallagher Presents GEGI Study at Columbia University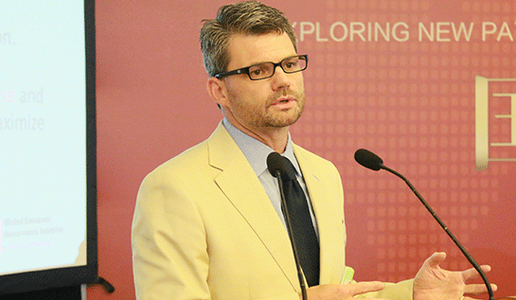 Kevin Gallagher, Professor of Global Development Policy at the Frederick S. Pardee School of Global Studies at Boston University, recently presented a recent study by the Global Economic Governance Initiative (GEGI), a research initiative at the Pardee School, at The Center on Global Energy Policy at Columbia University on October 24, 2016.
Gallagher, along with ConocoPhillips Petroleum Professor of Chinese and Asian Studies and Assistant Professor of International and Area Studies at the University of Oklahoma Bo Kong, presented studies on China's global developmental finance institutions, China's policy bank lending to foreign governments for energy and  the extent to which the Chinese state has facilitated the globalization of Chinese energy companies.
You can listen to the entire presentation below.
Columbia | SIPA Center on Global Energy Policy | China's Role in Global Energy Finance (10/24/16)
The GEGI study was also referenced in a Nov. 1, 2016 article in Forbes entitled "China Is Now The World's Leading Energy Financier — What Does That Mean For Climate Change?"
From the text of the article:
According to a new study by Boston University's Global Economic Governance Initiative, China is now the world's largest provider of development finance for energy. Its twin policy banks, the China Development Bank (CBD) and the Export-Import Bank of China (CHEXIM), hold $2 trillion in assets. That's almost three times the $700 billion held together by six Western-backed development banks. From 2007 to 2014, on average, CDB and CHEXIM together provided $13.5 billion a year in energy finance to foreign governments compared to $10 billion a year loaned by the World Bank.
You can read the entire article here.
Kevin Gallagher is the co-chair of the Task Force on Regulating Capital Flows and has served as an advisor to the Department of State and the Environmental Protection Agency in the United States, as well as to the United Nations Conference on Trade and Development. Gallagher has been a visiting or adjunct professor at the School for Advanced International Studies at Johns Hopkins University, the Fletcher School of Law and Diplomacy; El Colegio de Mexico in Mexico; Tsinghua University in China, and the Center for State and Society in Argentina.