Keylor in the Media: Princeton and Wilson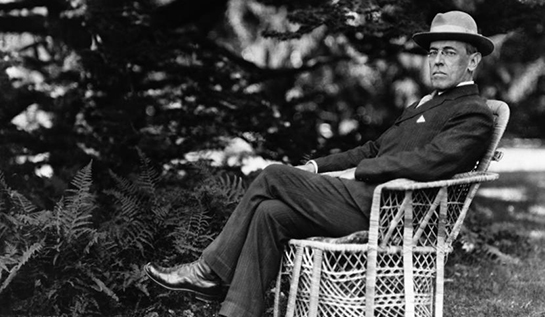 William Keylor, Professor of International Relations and History at the Frederick S. Pardee School of Global Studies at Boston University, was in high demand as reporters across the nation followed the developing story of protests at Princeton University against the continued use of Woodrow Wilson's name on school buildings.
Keylor, a former Woodrow Wilson scholar, has spoken at length on Wilson's legacy as a progressive President whose achievements are tarnished by racism.
Here are a selection of Keylor's recent media appearances on the topic:
The issue of Wilson's racial views and policies then virtually disappeared from the public discourse until students at Princeton University occupied the president's office two days ago and demanded that all references to the university's most famous faculty member and President be erased from the campus. As of this writing, the university has agreed to consider the renaming of buildings and organizations at Princeton that bear Wilson's name.

My 2013 piece recalled the many examples of President Wilson's abhorrent policies concerning race relations. He acquiesced in the resegregation of federal agencies that had been integrated during Reconstruction. Thenceforth, African-American federal workers were required to use separate dining facilities and restrooms and were prohibited from working alongside their white colleagues.
– Op-Ed published Nov. 20 on CNN.com, "Should We Scrub All Memorials to Woodrow Wilson?"
William R. Keylor, a professor of history and international relations at Boston University who has written critically about Wilson's record on race in the past believes that while the protests against the 28th president can be a "teaching moment," it would be a mistake to try to expunge his name from our institutions. "You have to look at the whole person, you can't just focus on the negative," Keylor told MSNBC.

Keylor argues that Wilson's muscular progressiveism was a precursor to the New Deal of Franklin Delano Roosevelt, and not unlike that president, he believes his insensitivity on race should be noted but not be allowed to entirely overshadow his accomplishments — such as creating the Federal Reserve Board and the federal income tax. Keylor says he thinks the move to remove Wilson's name from buildings could be problematic because several other historic figures, like Abraham Lincoln, could arguably receive the same treatment.
– Article published Nov. 23 on MSNBC.com, "How Do You Solve a Problem Like Woodrow Wilson?"
The topic of President Woodrow Wilson's segregationist values and whether to do away with his name on Princeton University has become hotly – and nationally – debated over the past week.

But some, including historian William Keylor, say ridding the campus of the former university president's name may not be the answer to the question of how to recognize his racist history.

Keylor, a professor of history and international relations at Boston University, spoke about Wilson Tuesday following a series of protests last week by a black student group, who want Wilson's name removed from campus.
– Article published Nov. 24 on NJ.com, "Woodrow Wilson Expert: Taking Name off Princeton School 'Going Too Far'"
Wilson, U.S. president from 1913 to 1921, was a leader of the Progressive Movement who introduced liberal reforms in the U.S. and fought to establish the international League of Nations following World War I. He was also a native Southerner who supported racial segregation and, as president, reversed a police of racial integration in the federal civil service, according to an article by William Keylor, international relations professor at Boston University. Keylor also reported that Wilson held a private screening at the White House of the film "Birth of Nation," which hailed the rise of the Ku Klux Klan.
– Article published Nov. 20 on Al Jazeera America, "Princeton Will Consider Excising Woodrow Wilson's Name Over Racism Charge"
Keylor served four consecutive terms as Chairman of the Department of History at Boston University (1988-2000) and been Director of the International History Institute since 1999. At Boston University, he has received the Metcalf Award for Excellence in Teaching and the Methodist Scholar-Teacher Award. Learn more about him here.