Goldstein Keynotes Scottish Monarchy Conference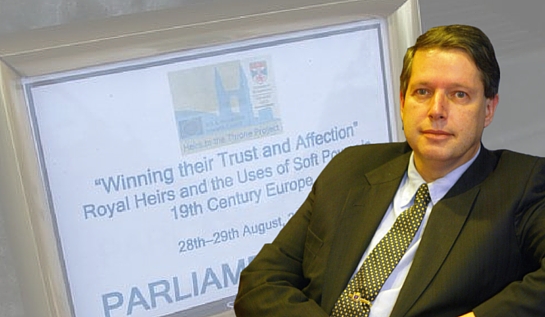 Erik Goldstein, Professor of International Relations and History at the Frederick S. Pardee School of Global Studies at Boston University, gave the keynote address at a conference in Scotland on the history of the British monarchy.
Goldstein's address was the centerpiece of "Winning their Trust and Affection: Royal Heirs and the Uses of Soft Power in 19th Century Europe," which took place August 28 – 29 at the University of St. Andrew's in Scotland – long an alma mater for British royals, including Prince William.
"I spoke on 'Royal Ambassadors – Monarchical Diplomacy and the United States,'" said Goldstein. "It was part of a project on 'Heirs to Thrones' funded by the United Kingdom Arts & Humanities Research Council."
The conference was dedicated to an exploration of the uses heirs to the throne in Europe's monarchies made of different forms of soft power – how their activities and strategies were conceived, designed and implemented; whether they were successful or not; and how they contributed to a transformation of the nature and perception of monarchy.
Goldstein is a Fellow of the Royal Historical Society (of Britain) and a member of the Advisory Board of the Center for Global Change and Governance, Rutgers University, having previously served as a member of the Advisory Board of the Centre for the Study of Diplomacy at the University of Leicester (UK). Learn more about him here.