Student Research Opportunities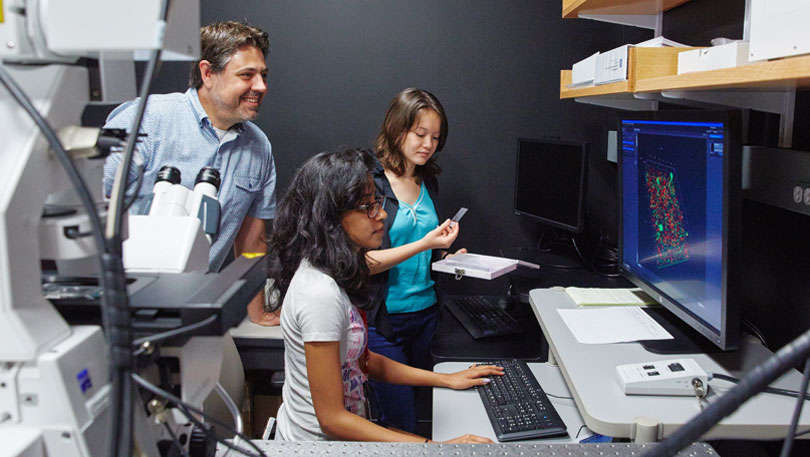 Research at Sargent College covers the full range of biological and behavioral exploration related to human health, disease, and disorders – including autism, language disorders, stroke, neuroscience, physiology, nutritional epidemiology, sports-related injuries, and many more. Our students have the opportunity to get involved in research early, working alongside faculty on a daily basis to build the foundations for evidence-based practices in the health and rehabilitation sciences.
Thesis for Distinction
Interested students may also consider completing a Senior Thesis for Distinction. This is an opportunity for undergraduate Sargent College seniors to complete an in-depth research experience within your major or minor field of study. Under the supervision of a faculty mentor, you'll have the opportunity to develop and execute a personalized research project while also collaborating in your mentor's lab or research group. Learn more.
Research Specialties
What areas of research interest you? Take a look at the list below which features a variety of research topics and faculty expertise here at the College. We encourage you to review faculty's research and lab websites and to reach out to professors directly to ask about research opportunities. You can send them a professional email expressing your interest, and it can also be a good idea to share any previous research experience (including coursework), practical or clinical work with a population or age group, and send a copy of your resume.
Aphasia
Arthritis
Autism & Developmental Disabilities
Brain & Musculoskeletal Imaging
Children and Youth
Global Health
Human Physiology
Hearing Sciences
Language
Mental Health
Mobile Health & Technology in Rehabilitation
Movement Science
Muscle Physiology
Nutrition
Parkinson's Disease
Pain
Speech
Stroke