Program Learning Outcomes Assessment at Boston University provides faculty a means to ask a fundamental question about the programs they design and teach: by completing a given set of courses and other requirements, do students actually acquire, in the end, the particular knowledge, skills, habits of mind, and attitudes faculty intend? If not—or if not fully enough—what pedagogical and curricular reforms can be undertaken to improve student learning? A similar question can be asked of the co-curricular and extra-curricular programs that contribute so significantly to a well-rounded education at BU.
Program Learning Outcomes Assessment at Boston University is overseen by the Council of Deans. It is coordinated and facilitated by Russell Stone, Assistant Provost for Academic Assessment. University Working Committees, comprised of representatives from the schools and colleges, meet regularly with the Assistant Provost for Academic Assessment to share information and best practices, and to coordinate the University's effort.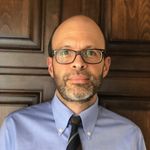 Russell provides leadership and support for academic units in their ongoing assessment of student learning and consideration of curricular and co-curricular learning opportunities.  His primary responsibility is ensuring that the BU community has the necessary information and guidance to reflect on what and how students learn.
Prior to coming to BU, Russell served as Assistant Vice Provost for Assessment & Accreditation at the University of Nevada, Reno, where he led a number of projects related to student learning and achievement, general education, and community engagement.  He also served as a peer evaluator and Mission Fulfillment Fellow for the Northwest Commission on Colleges and Universities.
Aside from recent publications on assessment and general education, Russell is a medievalist and has published a number of books, articles, and reference works on the medieval reception of Alexander the Great.
---
Staff Contacts
Russell Stone
Assistant Provost for Academic Assessment
crstone@bu.edu
Roger Taylor
Associate Director of Academic Assessment
Joe Viola
Administrative Coordinator
jviola95@bu.edu