Through invention, artistry, and the forging of exciting new frontiers in scholarship and research, Boston University faculty are making their mark on the world each day and earning national and international distinction for their achievements. The following pages represent both news coverage and a growing list of major honors BU faculty continue to receive recognizing their contributions to their fields of study.
Whether working to alleviate hunger in impoverished regions, authoring award-winning poetry, plays and journalistic efforts, or harnessing the power of light to discover new treatments for disease and methods for producing sustainable energy, BU faculty are making news every day.
---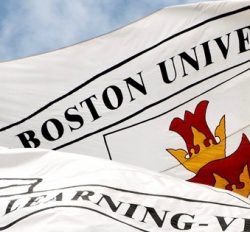 BU is proud to count a growing number of national and international award winners among its faculty, including Nobel Laureates, Pulitzer Prize winners, National Academies members, as well as hundreds of international honorees in medicine, mathematics, engineering, genetics, and the humanities to name a few.