Pardee School Students Create Students for the UN Group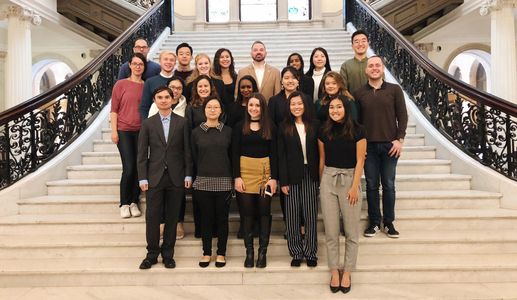 The Frederick S. Pardee School of Global Studies at Boston University recently supported the creation of the new student group Students for the United Nations (SUN). Founded by Raina Kadavil (Pardee '19), SUN is part of the International Affairs Association and serves as a chapter of the United Nations Association of the United States of America — a national organization dedicated to engaging Americans in understanding and support of the UN and its work.
"I founded Students for the UN on three basic principles: local service, global service, and engaging with the United Nations," said Kadavil. "It ties directly in with the UN's theme of 'local leaders, global goals.' We dedicate ourselves to hosting at least one local volunteering event, one fundraising event for a global cause, and one United Nations-themed event each month."
In their first semester as a group, the more than 30 students comprising SUN have raised over $300 to aid Syrian refugees, collected nearly 100 food and toiletry items for the Boston Food Pantry, and made 263 sea creatures which will be matched by $526 from the Bezos Family Foundation to help clean the world's oceans. They have hosted a number of fundraising and service events including a yoga class and a hiking trip to pick up trash and clean up pollution, and sold over 100 reusable metal straws across campus to bolster their fundraising efforts and promote sustainable practices on BU campus.
SUN has also worked closely with the United Nations Association of Greater Boston to volunteer at a number of Model United Nations conferences for local middle and high schools and engaged students in a text-to-tweet campaign to support the Universal Declaration of Human Rights. In celebration of the 70th anniversary of the founding of the United Nations, they hosted United Nations Day at the Massachusetts State House Hall of Flags with keynote speaker Micah Spangler, Director of Advocacy at the Better World Campaign, and a panel of students discussing their own jobs and internships related to the UN. They have also partnered extensively with another UN-related organization on campus, He-For-She, and will be partnering with the business fraternity Delta Sigma Pi in the future.
Next semester, SUN members plan to lead a trip to the United Nations to participate in the Global Engagement Summit, organizing a collaborative networking event with other groups on campus, continuing their fundraising efforts, and more.
"We could not have accomplished all that we have without the support of the Pardee School," Kadavil said. "Most of our members are Pardee students and are often inspired to undertake the service work that we do and aspire toward careers at the United Nations because of the impact that their Pardee courses have on them. A big part of our goal is to translate the passion for the world that our members gain in their classes into thoughtful action."
To learn more about Students for the United Nations, reaching out to sundirector@buiaa.org or follow them on Facebook, Instagram and Twitter.