Research at the Elie Wiesel Center
Our faculty are active in many different areas of research, ranging from uncovering new archeological discoveries from the Maccabean era to examining the evolution of modern day Judaism. The Elie Wiesel Center for Jewish Studies is proud to facilitate and support these diverse and rich projects. Students are encouraged to explore these research areas and become involved with projects. EWCJS frequently holds events related to these research projects, which can be found on our events page.
Invited speakers include visiting and resident faculty, graduate students, and recent graduates from a wide range of disciplines.
 The Elie Wiesel Center has hosted or sponsored international conferences covering a wide range of topics.
Modern Mediterranean Identities Series 
Medicine and the Holocaust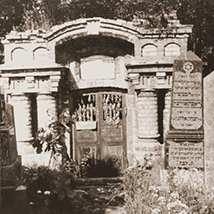 A joint project of the Elie Wiesel Center for Jewish Studies and the Department of Health Law, Bioethics & Human Rights of the Boston University schools of Public Health and Medicine.
Shtetl Economic History Project
 The goal of this project is to enhance the historical understanding of the shtetl (the small and mid-size Jewish communities of Eastern Europe)
 A complete list of Elie Wiesel Center for Jewish Studies faculty publications.