Energy and Climate
International flows of finance and technology from China are shaping the global landscape of energy infrastructure, with profound implications for climate change, the environment and local livelihoods. The Global China Initiative's program on Energy and Climate conducts research on the composition and impacts of China's overseas energy projects. This work sheds light on political and economic factors determining energy choices by China and countries that borrow or receive financing from China. The program also aims to identify regional, country-level and institutional opportunities for shifting development finance and overseas engagement towards renewable energy sources.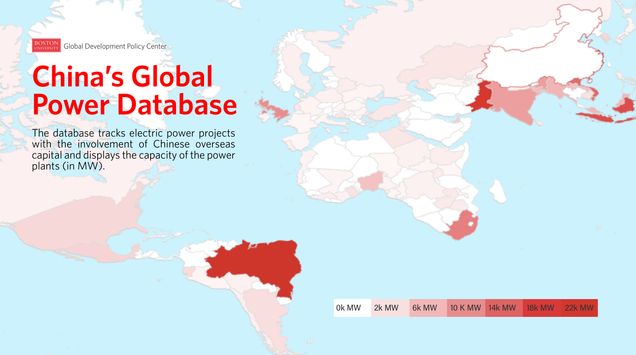 China's Global Power Database documents all overseas power plants financed through Chinese foreign direct investment (FDI) and/or China's two global policy banks, the China Development Bank and the Export-Import Bank of China. The database maps these projects by estimated CO2 emissions, lender, deal type, technology, capacity and operating status of the power plants. At the end of 2018, Chinese capital has involved upwards of 777 power plants overseas, providing a total 186.5 GW of power generation capacity. Among these power plants, Chinese participation ranges from debt finance to FDI, including mergers and acquisitions and greenfield investments.
Suggested citation: Gallagher, Kevin P., Li, Zhongshu, Chen, Xu, Ma, Xinyue (2019), "China's Global Power Database," Global Development Policy Center, Boston University.
Explore the Interactive Read the Policy Brief  Read the Methodology Note Read the Blog Read the Journal Article
---
Energy and Climate – Latest News and Publications