GLOBAL CHINA INITIATIVE
The Global China Initiative (GCI) examines the extent to which China's overseas economic activity and engagement with international institutions fosters a more stable, socially inclusive and environmentally sustainable world economy.
GLOBAL CHINA RESEARCH SPOTLIGHT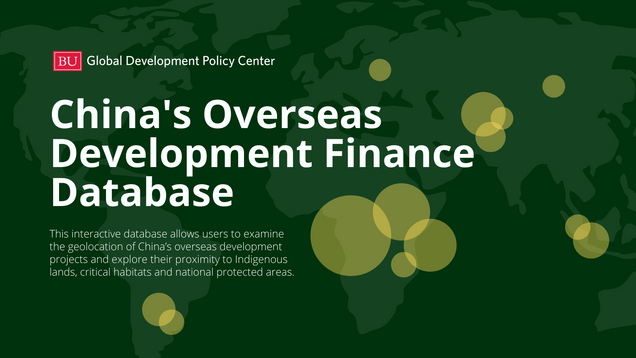 After providing a staggering amount of finance for overseas development projects in the wake of the global financial crisis, Chinese overseas development finance has been on a general downward trend for several years.
What is the status of China's overseas development finance in the COVID-19 era? And looking forward, how likely is China to return to large scale lending levels?
The China's Overseas Development Finance (CODF) Database, managed by the Boston University Global Development Policy Center, recorded 28 new loan commitments in 2020 and 2021 worth a combined value of $10.5 billion, the lowest in recent years.
A new policy brief shares insights on the state of China's overseas development finance from 2008-2021 and how borrowers, sectors and loan types have changed over the years.
Explore the Data
Read the Policy Brief
Explore the research
Latest News & Publications
Subscribe to the Global China Newsletter
订阅"中国与全球发展项目"定期中文邮件更新