At Last: 2020 Grads Get an In-Person Send-Off
By Patrick L. Kennedy
Bringing some long-delayed closure to an important chapter in their lives, more than 200 graduates of ENG's Class of 2020 returned to Boston University to don scarlet robes and walk across a stage as their names were called to loud, live cheers, during BU College of Engineering recognition events on Saturday, October 2, 2021.
Extraordinary circumstances occasioned the 17-month postponement of this ritual, which doubled as an early reunion for many members of the '20 class, who had their final year at BU disrupted by COVID-19.
"I wrote a speech last year," student speaker Matt Boucher told 186 bachelor's and master's graduates and their families and friends seated in the George Sherman Union's Metcalf Hall. "I wrote most of it before the events of last spring."
The topic? "It was about how plans change. It was about adaptability. Little did I know, right?"
But, the belated ceremonies gave the graduates—including the 30 PhDs who also gathered on campus that day—a "unique opportunity to basically time travel," said Boucher, who earned his degree in mechanical engineering. "To share this graduation moment from the perspective of someone who is already over a year past that threshold."
Boucher guessed that few of his classmates were following their previous plans to the letter. "I'm willing to bet that we see a whole lot of nonlinear paths. But, we prepared for that. That Societal Engineer mantra that was the cornerstone of our education was not about entering society as an engineer," he said. "It was about taking this diverse and varied educational platform and shaping it into a path by which we can eventually impact society in a way that's meaningful to us."
Boucher's classmates learned how to learn as they go, he said. "To discover what drives us toward a positive impact, even if that means doing the steps a little out of order. Many of us might still be putting those pieces together, but that ability to create our own value, even in the face of an uncertain future—that's what makes us all Societal Engineers."
Dean Kenneth Lutchen reminded the graduates that they have a responsibility to fill a gnawing gap in the leadership of a science-challenged society.
"As we emerge from the pandemic," Lutchen said, "we can and will need to turn our attention to another massive threat to humanity," climate change. "We cannot depend on our politicians nor on our corporate leaders of companies providing fossil fuel energy to lead us in solving this grand challenge. Most of them never majored in STEM."
Instead, Lutchen said, "We will depend on you either to explicitly help design and deploy technologies to solve the challenge, or at the very least to spread the word of how science and technology works and needs to be respected and resourced to solve the challenge."
These sobering thoughts were balanced out by the buoyant mood that took hold in the hall once the graduates began filing across the stage, where Lutchen handed each a BU-red folder symbolizing the diplomas they earned in May 2020.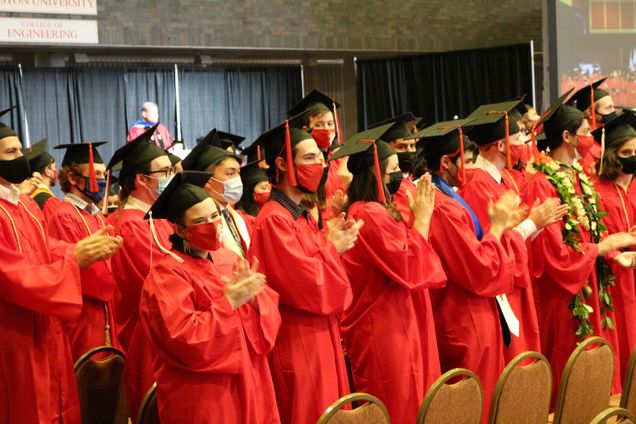 Afterwards, the young engineers and their guests poured outside into the GSU plaza. On a glorious fall day, mothers and fathers, sisters and brothers, spouses and significant others hugged graduates, snapped photos, and shouted congratulations in languages and accents from all corners of the globe.
"After all the adversity," said materials science engineering graduate Anubhav Wadehra, "it feels good to be celebrated, even if it's a little late. It feels awesome."
"It's really good to be back," said mechanical engineering graduate Carly Hattrich. "It's exciting. It does feel like a bit of closure, which is nice. And I think part of it is the reunion aspect, being able to see a lot of people I haven't seen in a while."
Those sentiments were echoed earlier in the day, when a joint ENG-GRS doctoral hooding took place in the Burke Room in Agganis Arena.
"It was five or six years of working towards something and then…" said Emily Lam, alluding to the pandemic pause and pivot as she earned her doctorate in electrical engineering. "But it's a good feeling to be back: Finally, we got through this."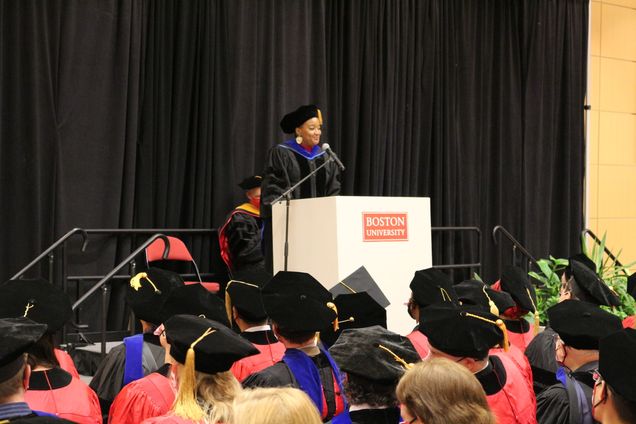 "I'm incredibly proud of you for completing your degrees under the most challenging circumstances," said GRS Associate Dean Malika Jeffries-EL (Chemistry, MSE), addressing the PhD recipients. "You all have tenacity, which in my opinion is one of the most important traits for success."
As for the chance to come together and stride across the stage in the ancient ceremonial garb?
"In the words of the blues legend Etta James," said Jeffries-El, "At last!"
The full University Commencement was held on Sunday, October 3.