POV: Anxiety and Exhilaration: ChatGPT challenges us to think about teaching and learning in an AI ecosystem
Since Open AI launched ChatGPT on November 30, 2022, we have been inundated by information and opinion about this generative Artificial Intelligence (AI) tool. With over 100 million users around the world, ChatGPT and adjacent, similar tools are rapidly growing in size, improving in function, and further challenging our understanding of what it means to teach and learn in an AI ecosystem. Have we reached a "tipping point," as Ethan Mollick argues in his Harvard Business Review article in December 2022?
To my mind, this tipping point is not unlike our collective experience as educators during the early days of grappling with the parameters of remote and hybrid teaching during the Covid-19 pandemic. Although Blackboard, our Learning Management System (LMS), had been in use for decades before we switched to remote teaching in March 2020, the platform and many other educational technologies suddenly became necessary for us to understand and utilize in ways we previously could not have imagined. Teaching and learning in remote and hybrid contexts during the pandemic was not always a positive experience for instructors or students, but neither was it all negative. Many of the strategies and lessons have stayed with us, from thinking more about community and belonging in classrooms, to expanding active learning approaches for student engagement, to integrating external guests into the class through technology, and much more.
We are accustomed to using minor AI tools, such as autocorrect and automatic completion of search engine requests, without much thought; now we must contemplate how current generative AI tools challenge our thinking about learning in higher education in a much more comprehensive way. A tipping point suggests an image of a dramatic fall down a steep slope: more than a bit scary, but maybe exhilarating, too? I am overwhelmed by the amount of information circulating on ChatGPT and other generative AI tools, and anxious about their impact in the classroom. A short list of those anxieties would include how generative AI challenges the way we approach and produce intellectual work, issues of privacy for student and instructor information, and the potential for unequal access to these tools as companies begin to monetize their products.
Yet, I am also thrilled that generative AI is making me think more about essential ideas of teaching and learning: for example, creating inclusive learning and assessment activities based on a nuanced understanding of the intersections between individual, collective, and hybrid (with technologies) demonstrations of knowledge; the expansion of academic integrity as an ethical framework that recognizes the complexity of learning within an AI world; and the potential for exciting course design changes that emphasize critical thinking and digital literacy in response to AI. A collaborative and innovative mindset will be key as we seek to incorporate generative AI into our curriculum in a meaningful and thoughtful way to best support student success and learning.
Given how quickly the AI landscape is shifting, it's no surprise that we don't have answers for the many questions that have already arisen and will continue to emerge. BU educators are certainly thinking about these issues (see, for example, BU Today articles by instructors from Wheelock College of Education and Human Development and the CAS Writing Program, as well as Prof. Wesley Wildman's exploration of ethical frameworks with his "Data, Society and Ethics" students). These conversations will and should continue. We look forward to the iterative process of participating in these conversations with colleagues to deepen our understanding of what it means to teach and learn in this complex educational ecosystem.
To support these conversations, Digital Learning & Innovation and the Center for Teaching & Learning will host "ChatGPT and Other AI Tools: Challenges, Opportunities, and Strategies for Teaching," a symposium for faculty on Monday, March 27. In this symposium, we will bring together faculty from across our campuses to share not only the concerns, approaches, and policies they have been discussing in their departments, but also their classroom experiments with ChatGPT. We look forward to seeing you at the symposium! 
---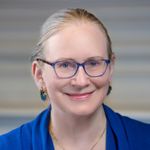 About the Author: Dr. Deborah Breen is the director of Boston University's Center for Teaching & Learning. Deb is focused on developing and expanding partnerships at BU that highlight and strengthen significant learning experiences for all students. She encourages research into learning experiences, collaborations with faculty and staff in initiatives that support teaching and learning, and opportunities for undergraduate and graduate students to contribute to an understanding of BU's learning environment.