POV: Artificial Intelligence Is Changing Writing at the University. Let's Embrace It
"If we want to dissuade students from using AI to help produce their writing, we need to treat writing differently," says CAS writing program senior lecturer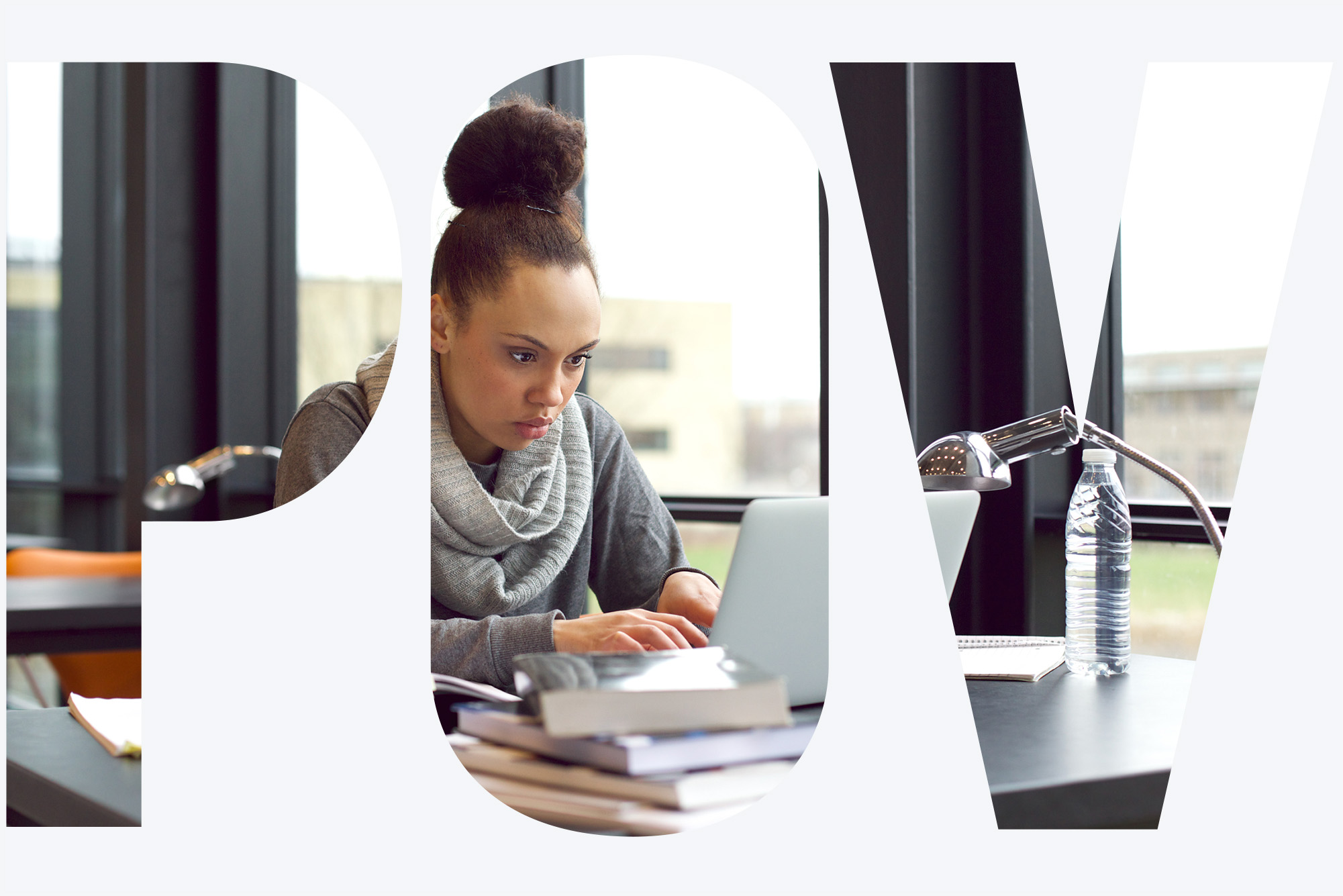 Higher Education
POV: Artificial Intelligence Is Changing Writing at the University. Let's Embrace It
"If we want to dissuade students from using AI to help produce their writing, we need to treat writing differently," says CAS Writing Program senior lecturer
Writing is a cornerstone of a university education, and for good reason. It is not only a form of communication, but a means of discovery, recalling the old adage, "How do I know what I think until I see what I write?" What could be more central to the examined life? What skill could be more predictive of postgraduate career success than the ability to write well?
Many are beginning to worry, however, that writing in the university is under threat. Technological innovations have long been associated with the replacement of manual labor, but now—like the zombies in the postapocalyptic literature class I teach—they are coming for our brains. As noted by Slate, artificial intelligence (AI) programs that generate text have become so widely available and affordable that many are beginning to suspect students are using AI to write essays for their university classes. Jeff Schatten, an associate professor of business administration at Washington and Lee University, recently prophesized the coming plagiarism apocalypse in an article for the Chronicle of Higher Education titled "Will Artificial Intelligence Kill College Writing?"
How worried should we be? There is limited data on how often students make use of such software, but Schatten's concerns seem justified. These new services generate content that is not traceable to any source and cannot be identified by current plagiarism-checking software. And the content AI can produce is startling in its specificity and organization. It makes piecemeal plagiarism—in which students casually copy writing from other sources into their own work—both efficient and fun.
For example, I recently used Sudowrite to see what would happen after prompting it to help me compose an essay about E. M. Forster's 1909 short story, "The Machine Stops," in which humans, living in a series of underground tunnels because the surface of the planet is no longer ecologically habitable, have become totally reliant upon an omniscient Machine. After I typed a few sentences to begin an essay on the story, Sudowrite generated the following suggested text to complete my paragraph: "While the Machine is the 'handmaid' that helps deliver things to the people, they have become so reliant on it that if the Machine shut down, they would die…. We find solace in the presence and use of these machines to help us with everything—they are our servants, our caretakers. We have stopped thinking for ourselves and simply rely on technological devices to do so for us." Open the pod bay doors, Hal.
Undoubtedly, tools like Sudowrite will change the way that writing is assigned in our classes. But, speaking as a college writing instructor, I don't think this is necessarily a bad thing.
Many college classes assign writing as a product-based endeavor: students complete an essay, turn it in, and receive a grade. But writing assessment is not synonymous with writing instruction, and the writing-as-product model does little more than punish or reward students for writing skills that they likely already had before even beginning the assignment. If we want to dissuade students from using artificial intelligence to help produce their writing, we need to treat writing differently. If we want to teach writing in our classes, if we want students to use writing as a deliberative, reflective space to facilitate critical thinking, innovation, and self-awareness, we need to move away from framing writing assignments as primarily product-based endeavors.
Writing programs across the country, like the one here at Boston University, have been at the forefront of this work for decades. Integrated into our classes is an emphasis on the writing process, including the intellectual work that happens before ever putting pen to paper (or finger to keyboard). We require students to develop drafts, to workshop their writing with other students, to meet with us individually in conferences to discuss their ideas and find a language to best convey them. Students always seem to have flashes of insight at 2 am, and no machine can replace me when they show up, bleary-eyed and unannounced, at my office door early the next day, eager to try out their ideas in conversation or to share the new paragraphs they wrote just as the sun was beginning to rise.
Recognizing that the kinds of writing skills students need extend well beyond the traditional academic essay, we are assigning new genres and new media: TED Talks, public intellectual essays, podcast episodes, video essays, and even live action role-playing to practice debate. Our newest courses emphasize design thinking as their central pedagogical orientation: students develop projects, individual or collaborative, that use writing across many media forms to experiment, innovate, and explore.
Some professors might complain that they do not have time for these kinds of assignments, that it is impossible to engage with students about their ideas over the course of multiple drafts. But, if this is true, why assign writing at all? If we regard writing as nothing more than a demonstration of proficiency, then our students will do the same, and will likely turn to AI to help them get the job done. If, instead, we dedicate ourselves and our assignments to something more—valuing writing as a messy and generative encounter with the self, a space in which we encourage students to discover what they think rather than only communicate it—then our students will, too. Writing at the university is changing. Let's embrace it.
"POV" is an opinion page that provides timely commentaries from students, faculty, and staff on a variety of issues: on-campus, local, state, national, or international. Anyone interested in submitting a piece, which should be about 700 words long, should contact John O'Rourke at orourkej@bu.edu. BU Today reserves the right to reject or edit submissions. The views expressed are solely those of the author and are not intended to represent the views of Boston University.