Albert V. Danielsen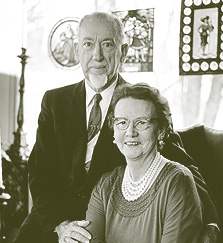 Because the vision of Albert V. Danielsen guides the Institute in its objectives and mission, it is fitting to look more closely at his life and philosophy.
Albert Danielsen was born in St. Croix, Virgin Islands, on January 19, 1893, and was descended from Scandinavian and French Huguenot stock. Once wealthy and with some titled members, the family faced serious disarray by the time of Albert's birth. His mother died when Albert was four and his father died a year later, leaving as his grandmother commented, "not even a pound of sugar."
His grandmother in St. Thomas took him in until he was seven. Then his Aunt Esther in Baltimore offered him a home. Albert Danielsen carried a petition around St. Thomas to raise money for his passage. The move to Baltimore proved to be a bitter one, and the boy became the victim of cruel treatment by his unhappy and disturbed aunt.
In 1904, Albert Danielsen won admission to the McDonogh School for Orphan Boys. For Albert, the "lightest and youngest" boy there, life was brutal, lonely, and once again abusive. "No matter what I did," he recalled, "it managed to get me in trouble." Later, in summing up his youth, he compared it to "a scenario from a Charles Dickens novel." McDonogh released each student upon his sixteenth birthday. At sixteen, Albert was on his own.
The first job Albert held was in a military shop's stock room for $4 a week. Determined to advance, to learn, to work hard, and to prove himself, he moved from job to job—clerk, bookkeeper, stenographer, timekeeper, and buyer. Finally, he decided that the best person for whom he could work was himself. Albert was immediately successful in real estate and securities, and demonstrated an extraordinary earning capacity.
This earning capacity proved to be only one part of Albert Danielsen. He was a lifelong seeker of truth, faith, and spirit. According to Homer Jernigan, professor of pastoral psychology, "he was a man always open to growth, always questioning, probing, and searching." In his eulogy, John Silber, then president of Boston University, noted that "Albert was the most intensely self-reflective, self-examining, and self-critical person I have ever known."
Perhaps because of his early life, Albert Danielsen had a strong desire to help people in need and alleviate human suffering. He felt a need to share his wealth and became a philanthropist of the first order. Not only Boston University, but Brandeis University, Bethune-Cookman College, and many other institutions and individuals came to know the generous spirit of this remarkable man.