Spiritual Diversity in Psychotherapy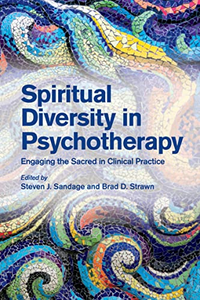 Spiritual Diversity in Psychotherapy is a now available. The volume is co-edited by the Danielsen Institute's Director of Research, Steven J. Sandage, and Brad D. Strawn of Fuller Seminary.
About the work:
Although once marginalized in the field of psychotherapy, spirituality and religion have now become established ethical considerations in clinical research and practice.
Drawing from diverse spiritual and religious backgrounds, this book offers clinical guidance for addressing a vast variety of traditions and complex diversity considerations in psychotherapy.
This text uses strategies and in-depth case descriptions to serve as a guide for therapists and clinical professionals to effectively integrate spirituality and religion into clinical practice.
Contributors include
Pratyusha Tummala-Narra
Kenneth I. Pargament
Pilar Jennings
Phillis Isabella Sheppard
Shamaila Khan
Brad D. Strawn
Karen E. Starr
Theresa Clement Tisdale
Ruben A. Hopwood
Sarah H. Moon
Steven J. Sandage
Katy Barrs & Carrie Doehring
Neil Altman
Spiritual Diversity in Psychotherapy is available for purchase through apa.org.