Opportunities for BU Undergraduates
Are you an undergraduate student at BU engaged in our social science curriculum? Take a look at our opportunities to enhance your studies and research.
Check back here for our full roster of opportunities open to undergraduate students.
Rolling Deadlines
February 2023 Deadlines
The Campus Climate Lab is an opportunity to use the BU campuses as a living laboratory to advance sustainability practices. The Boston University Institute for Global Sustainability (IGS), in collaboration with BU Sustainability and the Office of Research, invites research proposals from student and mentor (faculty or graduate student) teams to generate new knowledge on the impacts, adaptation, and/or mitigation of climate change that can be implemented at BU and beyond. Funding ranges from $1,000 to $10,000, including student stipends. Applications are due Wednesday, February 8, 2023. Visit here for more information.
The IDEA Conference (February 11, 2023), presented by Boston University's Innovate@BU, is a one-day innovation extravaganza for students and recent grads to connect with fellow movers and shakers and experience entrepreneurship and leadership hands-on. IDEA Con is perfect for you if you're new to the innovation space, a seasoned founder, or somewhere in the middle. Register today! The deadline to register is February 9th, 2023, for more information click here.
Innovate@BU's New Venture Competition (NVC) welcomes all Boston University students and class of 2022 alumni to take their idea to the next level. Qualifying teams get access to coaching, feedback on their idea and pitch, founder and team skill-building, media exposure, and more. Plus, all semi-finalists and finalists will receive a piece of the $72,000 prize. While the teams that most often advance are those who have made significant progress on their venture, teams with all levels of experience are welcome to apply! Students of all backgrounds, schools, majors, and education levels are encouraged to participate. The deadline to apply is February 13 at 11:59pm. Visit here for more information.
Enlight Social Impact Incubator & Summer Internships Deadline In this 8-week, fast-paced summer incubator, you'll be guided through the process of coming up with a social venture or nonprofit while gaining practical business skills through an internship with a local nonprofit or social benefit organization. Please note that the internships must be unpaid by the host organization, though you will be given a $5,500 stipend. The application deadline is February 13, 2023. Learn more and apply here.
The Boston University School of Hospitality Administration's $50k Poyiadjis Hospitality Innovation Competition offers Boston University students an opportunity to pitch ideas for new ventures within the hospitality industry that embrace innovative ways to solve problems and create value for all stakeholders. The Innovation Competition aims to assist students in thinking innovatively and entrepreneurially about hospitality. The top team will receive a cash prize of $25,000, the team in second place will receive $15,000, and the team in third place will receive $10,000. The deadline for applications is February 20, 2023. Learn more here.
Undergraduate Urban Studies Minor Students Class of 2023: Apply for the Initiative on Cities Student Prize The Initiative on Cities Student Prize is awarded annually to an outstanding undergraduate urban scholar. The $1,000 prize will be presented to one BU senior graduating with a minor in Urban Studies. Applications Due: Sunday, February 26, 2023 by 11:59 PM ET. Apply here.
Boston Equity & Inclusion Cabinet Summer Internship The Boston University Initiative on Cities and the Howard Thurman Center for Common Ground seek an outstanding undergraduate student for a summer internship with the City of Boston's Equity and Inclusion Cabinet. The Intern will work directly with the Senior Advisor on Racial Justice, Ms. Lori Nelson, and the team to support activities overseen by her office. The intern will be paid approximately $4,500 for a full-time internship (35 hours per week), which will run for 8 weeks between June and August 2023. Lori Nelson and her team will determine the exact start date as the summer approaches. The deadline to apply is February 26, 2023. Read more here.
The Peter A. Krueger Summer Internship Program offers undergraduate students the opportunity to gain professional skills and learn about museum practices at Cooper Hewitt, Smithsonian Design Museum. Cooper Hewitt is the only museum in the United States that is exclusively devoted to historic and contemporary design. Interns will acquire in-depth knowledge and develop an enriched understanding of how the museum fulfills its mission to educate, inspire, and empower people through design. All Peter A. Krueger Internships will be hybrid in 2023. Interns will be required to work onsite at Cooper Hewitt located in New York City a minimum of three (3) days a week. ($5,000 stipend). The deadline to apply is February 28, 2023. Click here for more.
March 2023 Deadlines
April 2023 Deadlines
Academic Supports
Sociology Undergraduate Mentoring Program. Are you a sociology graduate student looking for a mentor? Or a graduate student hoping to become a mentee? The BU Sociology department is launching a mentoring pilot program in January 2022.  Learn more here.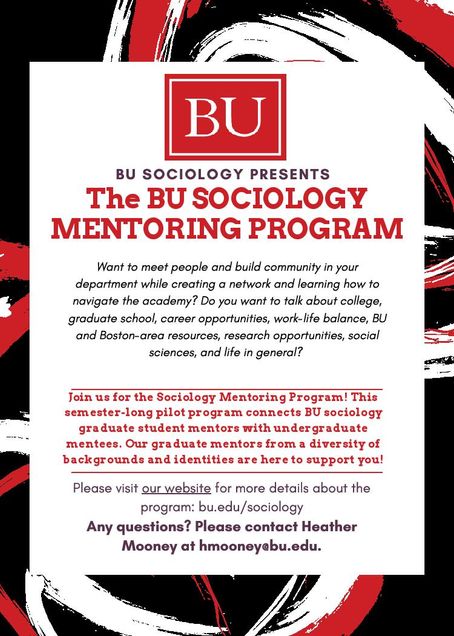 Sociology Peer Writing Support program. Writing a paper in Sociology? Work with Sociology Peer Writing Support to talk through your writing assignment, to work on your thesis, evidence or organization, or simply to get another set of eyes on your paper! From brainstorming to making those final edits, our tutors are available to help. Make an appointment here.