CITL Opportunities
The Center for Interdisciplinary Teaching & Learning (CITL) recognizes that undergraduate students learn best when they reflect upon how and not just what they are learning, when they have excellent teachers, and when they view learning as a life-long process. CITL is proud to offer research opportunities to current students, development opportunities for faculty and aspiring teachers, and more.
Opportunities
Undergraduate Research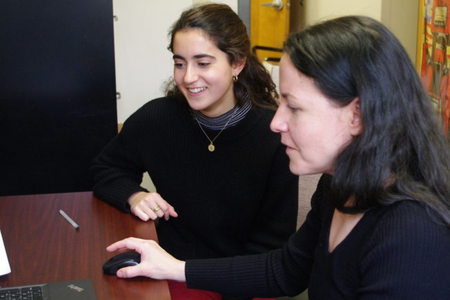 Directed Studies
Directed studies provide academic credit for undergraduate research. Work with Student Services at the College of General Studies to discuss directed study options.
Apply
E-portfolio Information
During the two-year Boston University College of General Studies (CGS) program, CGS students record their learning journey on an e-Portfolio where they publish assignments, interdisciplinary reflections, self-assessments, and their final Capstone project. Below, find more information on how to use e-portfolios and past student e-portfolio award winners.
E-Portfolio Mentor: E-Portfolio tutor Christina Chow will be available during the following time slots for the Spring 2022 semester:
In-Person at CITL, Room 215G: Monday and Wednesday, 10-11:30 a.m., Tuesday, 10:30 a.m. to 12 p.m.
Zoom Drop-In: Wednesday, 6-7:30 p.m. at this link (password: eport)
Opportunities
Faculty Development and Lifelong Learners
Latest Updates
CITL News and Events