By Meghan Bohannon
Since the first day of his college experience, Diran Shahrik ('21 QST'23) has embarked on a journey to pursue two very different interests. As he began his first semester at BU, Shahrik launched a startup with the Build Lab and produced a short film when the COVID-19 pandemic hit. For both projects, CGS has served as the backdrop.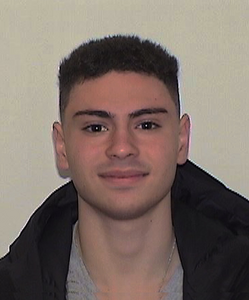 From the start, Shahrik was committed to utilizing as many BU resources as possible, beginning with BU's Build Lab. When he arrived on campus in January 2020, he met with Oliver Pour (CGS'20, COM '22), BU's SGA President at the time, to learn more about how to get his idea for a business off the ground. That was the beginning of his journey as the founder of a meal planning platform called Savor, which uses a program to formulate a grocery list and meal plan for families, with the goals of both eliminating food waste and maintaining a budget.
During his gap semester, Shahrik, who is now majoring in finance at the Questrom School of Business, began researching entrepreneurship opportunities at BU when he found the Build Lab and BU Spark. Once he got to campus, his CGS academic advisor, Jeffrey Sierra, connected him to the Build Lab.
Shahrik's idea for Savor came to be when he noticed his aunt had to buy a large container of coconut flakes to make a cake, even though she only needed a small amount. His idea was to create a program that would outline the cost per ingredient of certain recipes and then recommend recipes which use similar ingredients, allowing users to foresee ways they could use up everything they purchased. In order to get his idea up and running with the Innovation Pathway, a program through the Build Lab that works alongside students as they bring their ideas to reality, Shahrik pitched a proof of product to receive a $1,000 grant.
After he enrolled in BU Spark's X Lab Program, Shahrik was assigned a team of computer science students to help him assist with his project. Each Saturday during a typical week for the startup, Shahrik met with his team. He also met with a UX Designer from BU Spark who designed the look of Savor.
The sustainability startup is just one of the passions he has pursued since arriving on campus.
In March of 2020, when the COVID-19 pandemic hit, Shahrik explored his passion for writing through a screenplay turned short film, which was released in June 2021.
The film, "Picking Daisies", is built on the premise of finding happiness from within, rather than through external wealth. A passion project born from his inclination to write, the film's first scene came to be when Shahrik decided to write about how a song he heard at Pavement Coffeehouse made him feel.
"What this whole project has taught me is you're not going to further yourself believing what other people think of you, and should focus on your own passions, your own goals," said Shahrik, who hopes that audiences of his film will take away the message to make authentic decisions for themselves.
After writing the script from September to January of 2021 and simultaneously working on his startup with BU Spark, Shahrik and his team began filming after winter break. Due to the time difference with his team members in Los Angeles, Shahrik's daily schedule involved editing the film from midnight to 3 a.m while taking spring semester classes during the day.
Shahrik attended a premiere for the film in August in Cambridge with about 70 people in attendance. The film was also a selection at the Official Latino Film Festival this year, winning Best Edited Film and earning a nomination for Best Drama.
By prioritizing his diverse interests, Shahrik has been able to do it all—from sustainability to film to business. He credits his CGS professors and Sierra for helping to put him into contact with groups and people who could help him actualize his ideas.
Together, the film and the startup have provided an opportunity for Shahrik to explore his diverse interests.
"The common theme between the two projects were I always wanted to do them, I just never really believed in myself that I could do them," Shahrik said. "And so now, it's kind of a testament that I have brought them to fruition kind of, and I've been able to trust myself and have confidence in myself."
Shahrik encourages other CGS students to take advantage of BU resources to pursue their ideas and get involved on campus.
"Trust your gut, trust your own skills, take advantage of the opportunities that the university has, and run away with it," Shahrik said.