Capstone Diaries: Mass Incarceration in Massachusetts
Capstone Diaries is a feature where CGS sophomores share their Capstone experience week by week, from choosing an idea to completing their oral defense. This installment is by Meghan Bohannon (CGS '21, COM '23), a student on Team T whose project focused on mass incarceration in the state of Massachusetts.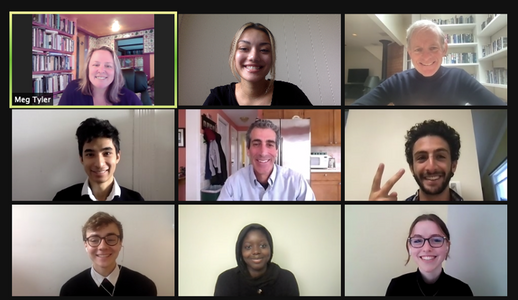 Week 1: Choosing and researching a topic
Week 1 consisted of choosing topics, being initiated with the Capstone kickoff, and getting organized as a group. My group did not hesitate to start meeting to discuss what we wanted to research. Because of our promptness, we were lucky to have chosen our number one research topic – mass incarceration. The Capstone Kickoff, which officially marked the start of the 6-week research project, was very informative and packed with everything we needed, from tips on how to stay organized and productive as a group to detailed advice on things like citations and sources.
The most surprising piece of advice from the Capstone Kickoff was Professor Whalen's advice to meet every single day as a group. Now that week 1 is over, I can definitely see why meeting every day is necessary. Considering the nature of our project, which requires extensive research into the background, problem, and solutions to mass incarceration, it has been helpful for our group to meet every day to check in with each other.
We spent the first few days drafting a group contract that would help us stay in check. On our contract, we assigned roles to each group member, such as the content editor, the grammar editor, the primary interviewer, and even the devil's advocate. We also outlined participation requirements for our group, which I believe is necessary considering the pandemic and the fact that our entire project must be communicated about through Zoom.
---
Week 2: Preparing an initial outline
Our first deadline was approaching fast, and at the end of week 2, we were expected to have a roughly 1-2 page outline and bibliography. While it seemed odd at first to be expected to have sources and a rough outline so soon, my group realized that the outline would undergo immense changes. By creating an outline early on, we were able to break the ice of what we thought would be a scary and complicated project.
In order to create our first outline, the members of my group took on different research roles that corresponded to a different aspect of our topic, mass incarceration. For example, two of us researched the racial aspect of mass incarceration, two of us researched the economic aspect, and two of us researched the social aspect. When we came together, we allocated our findings into the appropriate background, problem, and solution portions of our outline.
I will admit that at first, I was intimidated by the idea of having weekly meetings with the team professors. However, the meetings turned out to be very beneficial, light-hearted, and efficient. The professors are basically there to monitor each group's progress and answer any questions, and my group used it as a time to evaluate whether or not we were headed in the right direction. During our first meeting, the professors advised us to focus on mass incarceration in a specific location, so we chose Massachusetts.
---
Week 3: Researching and developing an abstract
This week was a heavy research week. Every Capstone topic is built differently. Some involve policy changes just on Boston University's campus, while others are nationwide issues. The more my group and I researched, the more we felt just how heavy and complex of an issue mass incarceration really is. From documentaries to peer-reviewed articles to interviews we conducted with experts in the field, we slowly but steadily built a large database of information. By organizing our work in a Google drive with clear labels, my group created a system in which we could easily read each other's findings and potentially use sources that other members had found for our own portions.
To expand our outline, we created umbrella categories under the background, problem, and solution sections. For example, instead of just having a section with our "solution", I suggested to my group that we separate this section into "before", "during", and "after", sections. In other words, we would divide our solutions to address mass incarceration before incarceration, during incarceration, and after release. I recommend creating umbrella categories like this because it helps the group stay on track, and if anyone wants to add to the outline, they can easily do so by finding the proper umbrella category.
Lastly, the abstract, or a short recap of the research paper, was due this week. My group had it pretty easy because during our weekly meeting with the team professors, one of the professors noted that something we had said perfectly encapsulated our paper's purpose. From there, we were able to quickly draft an abstract.
---
Week 4: Conducting interviews and writing the paper
This week has been one of my favorites. Previously in this process, one of my group members suggested that we conduct interviews with experts on mass incarceration. She not only conducted an interview with a woman in charge of a rehabilitation organization for inmates upon release, but she also interviewed a currently incarcerated person. These interviews made the research feel very real and purposeful, because we were connecting what we had learned to the real world.
This week a few other members and I interviewed Christopher Hardy Zoukis, who is the founder of Zoukis Consulting Group and the author of many books on prison reform. The interview lasted almost two hours, both because he was very engaging and entertaining to listen to and because he was very passionate about helping my group. One of his books ended up being a useful source in our paper. While the interview was for a serious assignment, it made the research process fun, and for this I definitely would recommend conducting interviews for the Capstone project.
By this week, my group had also drafted a few pages in writing. We covered the background on both the federal and state level and added a little bit of insight as to why we chose to focus on Massachusetts. While Massachusetts is known as a very progressive state, we were shocked to learn that the state still incarcerates more people than most of the world.
This week we also had our first meeting with Paul Thur at the CGS Writing Center, something I highly recommend. My group really appreciated Thur's insight, as he went sentence by sentence through our writing, giving us advice on both our content and writing style.
---
Week 5: Editing, editing, editing
Although I know this is not the case for every Capstone group, my group did not experience any last minute procrastination. We decided for ourselves that we wanted the paper to be done a day before the actual due date, so that we would not be stressed. In fact, we finished our paper by the beginning of the week and spent the whole week editing. The editing process is definitely the most important part of the process to me, because while the ideas may be good, they are worth nothing if they are not portrayed well through words. My group had a long process, but we knew it was important to scan every last bit of the paper.
First, we read through the entire paper out loud, with each member reading the sections they wrote. As members of the group read aloud, other members put comments on the side of the paper. Later, each group member combed through their sections and addressed comments which ranged from grammatical errors to places where more analysis was needed.
It is definitely important to save time before the paper is due because there are a few tedious things that need to be done after the writing is finished, such as the endnotes, the table of contents, and the bibliography. Each group also has to create a cover page for their project. I decided to take this task, because I enjoy graphic design, and I had fun making the cover page with Canva.
By Friday, April 23rd, all groups' Capstone projects had been turned in. As a team, we gathered virtually for the "Capstone Turn-in Ceremony," where each group read their abstracts and presented their papers. However, the work is not yet finished, since next week we have our oral defenses.
---
Week 6: Preparing for the oral defense
The oral defense was this week and although it seems like a scary and daunting hour or so, it went by so quickly! I would not recommend going into it blindly, however. My group spent the week reading up on the paper, taking notes on other member's sections and making sure we could each individually defend our entire position. We also created a document with questions that the team professors could potentially ask us and created potential rebuttals.
During the actual oral defense, my group showed off our strength in cooperation. Anytime a question was asked that pertained to something a specific member had researched, we let them answer first. Then, we each took turns offering our own insights. Since the Capstone project is something that you work on for weeks, researching and writing, you should naturally already be an expert by the time the oral defense comes around. Rather than being grilled with hard questions, the oral defense actually felt more like a time to share what we had learned, and have an insightful conversation with the professors.
All in all, the Capstone experience went by much quicker and smoother than I expected, especially considering the pandemic. Although all meetings were virtual, we kept up good communication and honored our responsibilities, ultimately leading to a successful finished product.
— By Meghan Bohannon