#My100Days Running a Nonprofit
Sarina Zaparde (CGS'22) used her gap semester to work on her non-profit, Dress to Learn, while also working at two internships. We spoke with Sarina about her #My100Days experience, why she chose CGS, and why she's committed herself to giving back.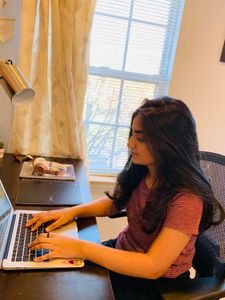 Why did you choose CGS? 
I chose CGS because it was a great opportunity to study abroad and still have flexibility about what I want to study, since that's still unclear.
How are you spending your gap semester?
I'm spending my gap semester working on a non-profit I started in 2016 called Dress To Learn, an organization that provides uniforms to orphaned girls in rural India so that they can resume their education and break out of the vicious cycle of poverty. I've been doing high school outreach in that capacity and working towards getting more funds for the cause by empowering students in the U.S. to help their less-privileged counterparts halfway across the world. I've also been working two internships: as a product manager intern at a mental healthcare startup and in product marketing at a broadcasting startup.
How did you decide on what to do during your gap semester? 
I knew that I wanted to do two things: learn something and continue something. My non-profit was the perfect base to build from and I feel that it is creating real change the more that I work on it, so it's been great to watch the development. The two internships are teaching me a lot about how to deal with people and the skills that are necessary beyond just school. It's been great working with different people in different fields and creating effective and unique contributions to the respective companies. 
How has the time been valuable to you?
I feel that I've gained so much confidence from this time because I have faith in my abilities. It's been amazing getting to do so many things at once without being worried about maintaining school grades. 
What have been the most memorable moments of your gap semester so far?
Memorable moments have certainly been receiving both of my first job offers and spending time with my parents. Getting to spend time with my family and work at the place I want to is a unique asset of working from home that I wouldn't have normally gotten.
What advice would you give to future CGS students when planning their gap semesters?
I would give the advice to just go and do something, anything. It's really important to stay in the habit of working hard and wanting to learn, otherwise it really just is a waste of time.
What were some of the skills you took out of the gap semester? What did you learn? 
I've learned how to work with people of all ages, backgrounds, and skills, as well as the professional skills that come with my non-profit and internships. 
What are you most looking forward to about the next four years?
I'm most looking towards making new friends and deciding what I want to do career-wise. I feel like those are the two aspects that I haven't gotten to really explore being at home so I'm looking forward to connecting with peers and seeing what classes touch my interests. 
— Compiled by Natalie Seara