#My100Days Completing My Eagle Scout Project
For Joseph Carey, a CGS student from New Jersey, the gap semester provided value time to work, save money for college, and complete an Eagle Scout project building a library garden at his elementary school. We caught up with Joseph about what he learned from his #My100Days experience.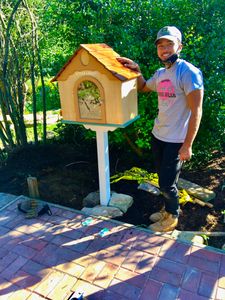 Why did you choose CGS? 
I didn't actually choose CGS, CGS chose me. I applied during the regular decision application process, and I was admitted into CGS instead of starting in the fall. I wasn't aware of what CGS was, but upon being admitted I learned that it was perfect for me. Being able to take a gap semester, study abroad, and still complete a degree in four years? I was sold.
How are you spending your gap semester?
I've spent my gap semester working and saving money, as well as preparing to head up to BU in January. At the start of the gap semester, I spent a lot of time finishing out my Eagle Project for Boy Scouts. Due to COVID-19, I wasn't able to finish it during the summer, so the BSA granted me a time extension into the fall. This was perfect as I had a gap semester to finish the project and achieve the rank of Eagle Scout. Currently, I am working two jobs, one at my town library during the week, and another as a pizza delivery driver on weekend nights.
How did you decide on what to do during your gap semester? 
Since the summer, I knew I generally wanted to spend the semester working and saving up my own money to bring to college. Eventually, I started working two jobs and saw this time as good training in time (and money) management.
How has the time been valuable to you?
This time has been valuable in that it gave me, well, time to get things done. I was able to achieve my Eagle Scout, save up some good money, and spend time with my family and friends here at home. I am able to spend the holidays right at home, which, to me, is a good bonus before heading up to Boston.
What have been the most memorable moments of your gap semester so far?
A big highlight for me this semester was putting the work in with fellow Scouts to get my Eagle Project finished. There's a certain satisfaction in seeing a project go from its planning stages all the way to its completion. My biggest highlight came soon after with me being granted the title of Eagle Scout. It's something I'll always be proud of and happy that I stuck with it for almost a decade.
What advice would you give to future CGS students when planning their gap semesters?
Before the semester began, I was worried I wouldn't be as productive as students already starting their semesters at BU in the fall. I soon realized that the gap semester is meant to be personal time. There is no tried-and-true way to spend the semester, no bullet points you must meet in order to be fully prepared for the spring. Spend the gap semester how you feel is right. You'd be surprised how much you can do in only a few months. 
What were some of the skills you took out of the gap semester? What did you learn?
I definitely improved my skills in time and money management, as well as being a responsible employee in a work environment. I'm glad I was able to get a few more months of work experience this semester.
What are you most looking forward to about the next four years?
I'm definitely looking forward to being on campus right in the middle of Boston. I can't wait to explore not only BU, but the city of Boston as well. I'm also looking forward to meeting other students in CGS as well as all around campus. Truthfully, I just can't wait to head up there and start my classes.
— Compiled by Esther Paik