#My100Days as a photographer and teaching assistant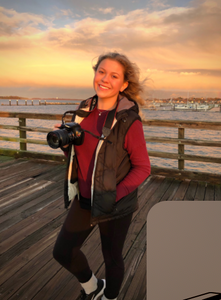 Jennifer Small (CGS'22) has spent her gap semester working at a local elementary school and developing her photography skills. We spoke to Jennifer about why she chose CGS, why working with kids is important to her, and the skills she's learned this semester.
Why did you choose CGS? 
I chose the College of General Studies because I think it offers a valuable opportunity to explore one's various interests. In CGS, you do not have to immediately commit to one singular program or major. Instead, you have the opportunity to explore your interests before entering into a specific college. I also liked the idea of having a gap semester before I started college. A whole gap year seemed a little daunting to me at first, but I also did not want to start school immediately. The College of General Studies program seemed perfect for me.
How are you spending your gap semester? 
I am spending my gap semester as a teaching assistant for a second grade class at a local elementary school. I help the class with both in person and remote learning for the fall semester. I am also using this time to work on my photography skills and expand my portfolio. 
How did you decide on what to do during your gap semester? 
Throughout high school, I was a tutor for kids in kindergarten through 8th grade. I have always loved working with children and wanted to continue in the fall. The second grade assistant teaching position seemed perfect for me, as it allowed me to both work with kids while expanding my photography portfolio on the weekends.
How has the time been valuable to you?
This time has been valuable for me in many ways. I am very thankful for the opportunity to learn about different skills outside of a classroom setting. I think my real world experiences have proved themselves to be just as important as academic experiences. I have also learned about myself and my interests a lot more due to quarantining during the pandemic as well as my gap semester.
What have been the most memorable moments of your gap semester so far? 
The most memorable moments of my gap semester have come from getting to know the children in the second grade class I am working with. They are all so energetic and excited to learn and see their friends after being out of school for so long this spring. I never have a boring day in the classroom; the kids always keep me on my toes and make me laugh. 
What advice would you give to future CGS students when planning their gap semesters? 
Plan ahead. Don't start planning your gap semester at the last minute in September when people are already at college. Planning out your gap semester before it starts will be a big relief for you in the future.
What were some of the skills you took out of the gap semester? What did you learn? 
I did a lot of self-teaching during my gap semester. I wanted to improve both my photography and editing skills so I did a lot of learning on Adobe Photoshop, Adobe Bridge, and Lightroom. I also focused on how to enhance both my landscape and portraiture imagery through practice.
What are you most looking forward to about the next four years? 
I am most looking forward to making connections with everyone on campus and participating in BU's performing and visual arts programs. Can't wait to be on campus in January!
— By Natalie Seara