Alumni Spotlight: Onyemaechi Onyekwu Fulfills Childhood Dream of Becoming A Midwife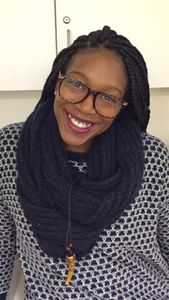 For Onyemaechi Onyekwu (CGS'10, SAR'12), the College of General Studies was one step on the path toward fulfilling a lifelong dream. The CGS alumna just passed the boards to become a certified midwife (CNM), which she adds to her Master of Science in Nursing (MSN) and her Advanced Practicing Registered Nurse Certification (APRN). We spoke to Onyemaechi about how her time at Boston University's College of General Studies prepared her to reach her goals.
Can you start by telling us a little bit about yourself? Where are you from, when were you in CGS, etc.?
I am Oneymaechi Onyekwu, and I have a Bachelor's in Health Sciences, a Master's in Nursing, and am officially certified to be a midwife and nurse. As for my background, originally, my family is from Nigeria. We immigrated officially when I was born and we stayed here. We've lived in Boston for as long as I can remember. We go back and forth in Nigeria every year to stay rooted in our culture and stay in touch with the people who are there. I graduated from CGS in 2010 so I was there from 2008 to 2010. Then, I continued into Sargent College of Health and Rehabilitation Sciences and graduated in 2012 with a degree in Health Sciences.
What have you been doing since you attended CGS?
After CGS, I continued into Sargent College. There, I studied abroad in Ireland through the Health Science Programs. I studied Health Sciences and worked at the National Maternity Hospital in Dublin. I was able to learn about the healthcare system, specifically in Ireland. Ireland is known for its amazing midwifery program and to already know that I wanted to be a midwife and have access to those resources was incredible. I also joined the Irish National Basketball team to fill up my time there and got to see all of Ireland.
After BU, I went to Bay State College and received my ADN (Associate Degree in Nursing). After passing my nursing boards and becoming a Registered Nurse (RN), I worked as a Community Health Nurse for a few years before going to Frontier Nursing University for my Master's in Nursing (MSN) to become a midwife. I was granted the ability to do my integration/clinical rotation at Boston Medical Center with their amazing team of midwives and healthcare professionals. Now, I have graduated, passed the American Certified Midwifery Boards, and I'm officially a board-certified nurse midwife!
What made you want to become a midwife? 
When I was about nine or ten, I developed an interest in helping women and families. Because I wanted to help women and families of all kinds, I knew I wanted to get into healthcare. I knew I needed to do all that I could to help as many women and families as I could, especially those that looked like me.
When I started high school, I attended a Summer Enrichment program sponsored by the Boston Public Health Commission called the Boston Area Health Education Center (BAHEC). Immediately, I was hooked. I went there and learned as much as I could about the healthcare system and its various fields. There, I met Dona Rodrigues, a nurse midwife from Boston Medical Center. She was teaching our Anatomy course for the summer, and she also gave a history of what she does at Boston Medical Center and how she helps the community. It was then that I realized that she gave a name to exactly what I wanted to do: become a midwife.
After that, I volunteered at the BAHEC program every summer of high school and in preparation for college. When I graduated and started at Boston University, I had the honor to be a part of the Birth Sisters Program, directed by Dona. I was assigned to help women of color, immigrants, and those of low-income who received care at Boston Medical Center throughout their pregnancies. While in the Birth Sisters Program, you are paired with individuals who match your demographic starting from 36-38 weeks pregnancy and we guide them through this life changing time. We are there for them throughout the whole process. We are the liaison between the patient and the medical team in case they have any questions or concerns. Here, I was able to see all sides of pregnancy: prenatal care, intrapartum care, and postpartum; I learned so much in such a short amount of time. I made sure to do this program all four years I was at Boston University, all while being a full-time student.
What were some of the challenges in preparing for the boards?
I feel like I was very very well prepared. Frontier Nursing University provides you with a Midwifery Comprehensive Review course in your last semester there. It prepares you for the exam by focusing on the different components of the exam. They don't give you the answers or anything, but it gives you a guide for what to expect. I feel like that helped me the most with preparing for my exam.
So I wasn't too nervous about the content on the exam, but I was terrified of the exam itself. Even if you're the most prepared, you still have test anxiety going into a big exam like that. After my four-hour exam, I came out thinking the worst. Then, I turned around and the woman who gave me my exam had the biggest smile on her face. Immediately, I knew my life was going to change for the better.
Any tips for students who also want to become a midwife?
It's an amazing profession. If this is what you want to do, go full steam ahead. Learn as much as you can as early as you can. Midwifery is not just about helping women, it's about helping families. It can be done by everybody and needs to be done. Start early and learn as much as you can. You can fill a room with the knowledge that midwives, like myself, have and we're happy to tell you about it. So, reach out to people like me for more information on what you can do.
During COVID-19, how have you been able to use your midwifery skills? 
Since I passed my boards, I officially have my midwifery license, which is amazing. With that, I am able to officially practice as a Midwife in Massachusetts and even with the mayhem of COVID-19 going on, I am still able to move forward in the credentialing process on to being a Midwife at Boston Medical Center. Dreams do come true!
What was your favorite part about your CGS experience?
My favorite part would have to be the connections that we had for the team-based classes. Being in such a close-knit group initially made my transition from high school to college a lot easier. I was also able to make a close connection with Dean Godnick. She was an emotional support that I could not have done college without.
In terms of academics, I loved the Capstone project! It allowed me to see the overlap between multiple disciplines. Mine focused on social science across natural sciences and it was amazing to be able to tap into that part of my brain and come together with others on such an important topic. I am grateful to have that experience because it taught me so much about how to think. My group even got the Capstone award that year and it was so rewarding.
What made you choose BU?
It was a very family-oriented reason. I was raised in Boston, my immediate family is in Boston. Of course, I applied to multiple places but I applied to BU because it was close to home. It's in my backyard and people come across the world to go here, so why not do it here? Boston has so much to offer, and I was going to learn a lot more about what was on the other side of the bridge for me, and I do not regret it.
I originally applied to Sargent right away and was admitted to CGS, but it opened me up to a variety of opportunities that I did not expect.
Did you do any student activities at BU? 
I was a Student Advisor for CGS and a year later, I was the sole Student Advisor for the Metropolitan College. At the time, the Metropolitan College had an immense number of International Students and I worked with all of them since I was international and eager to help!
I also was a Multicultural Weekend Host and a Residence Advisor (RA) except for the semester I was in Ireland! I really tried to be all over the place and in fact, some people called me the Mayor of BU as a joke. I just thought I might as well take advantage of all these opportunities put before me.
If you could give one piece of advice to the new first-year CGS class, what would it be?  
Enjoy everything about CGS. There's no other experience like it.
How do you think CGS has prepared you for success after college?
CGS helped me prepare by giving me a general education that all individuals should be learning. That's the one component that I am most grateful for, the tools CGS provides you with. If you can find a common ground, you can make it pretty much everywhere. CGS gives you the skills to find that common ground with individuals across every discipline. They give you the tools to be a chameleon so you can blend into any crowds and become the best you that you can be.
— By Kirthana Iyer