2018 Capstone Award Winners
On October 19, Boston University College of General Studies celebrated the outstanding students who received awards for the Capstone projects they completed last May. The Capstone project is a 50-page research term paper that CGS students complete in their sophomore year. Students draw on two years of interdisciplinary studies, working together as a team to synthesize data into a meaningful whole. The Capstone award is given annually to the team of students who present the best overall Capstone paper and defense. It is the highest honor bestowed upon a College of General Studies student for an academic project.
Team R: Creating A Sustainable Boston Public Transportation System: An Examination of the MBTA System and a Plan to Make it Work Now and in the Future
Team R's winning Capstone group–Nicole Bourke, Elena Desanti, Kevin Ho, Jacquie Jakimowicz, Justin Lee, and Coco Ocker–constructed a thorough plan of action for the MBTA to improve its service and plan for the future. The project focused on both short-term and long-term solutions for a transit system currently experiencing severe economic and technological challenges. To make their case for what might and might not work in Boston, they examined subway systems in London, San Francisco, and Hong Kong. Drawing on these comparative studies, they outlined a well-conceived plan of action that stretches 50 years into the future. Team R faculty wrote that the winning group "combined a passionate commitment to a sustainable future with a keen understanding of the economic and environmental costs that accrue from poor transit planning."
---
Team S: The Joint Committee Report on the STEM Act (Screen Time Exposure and Mitigation Act)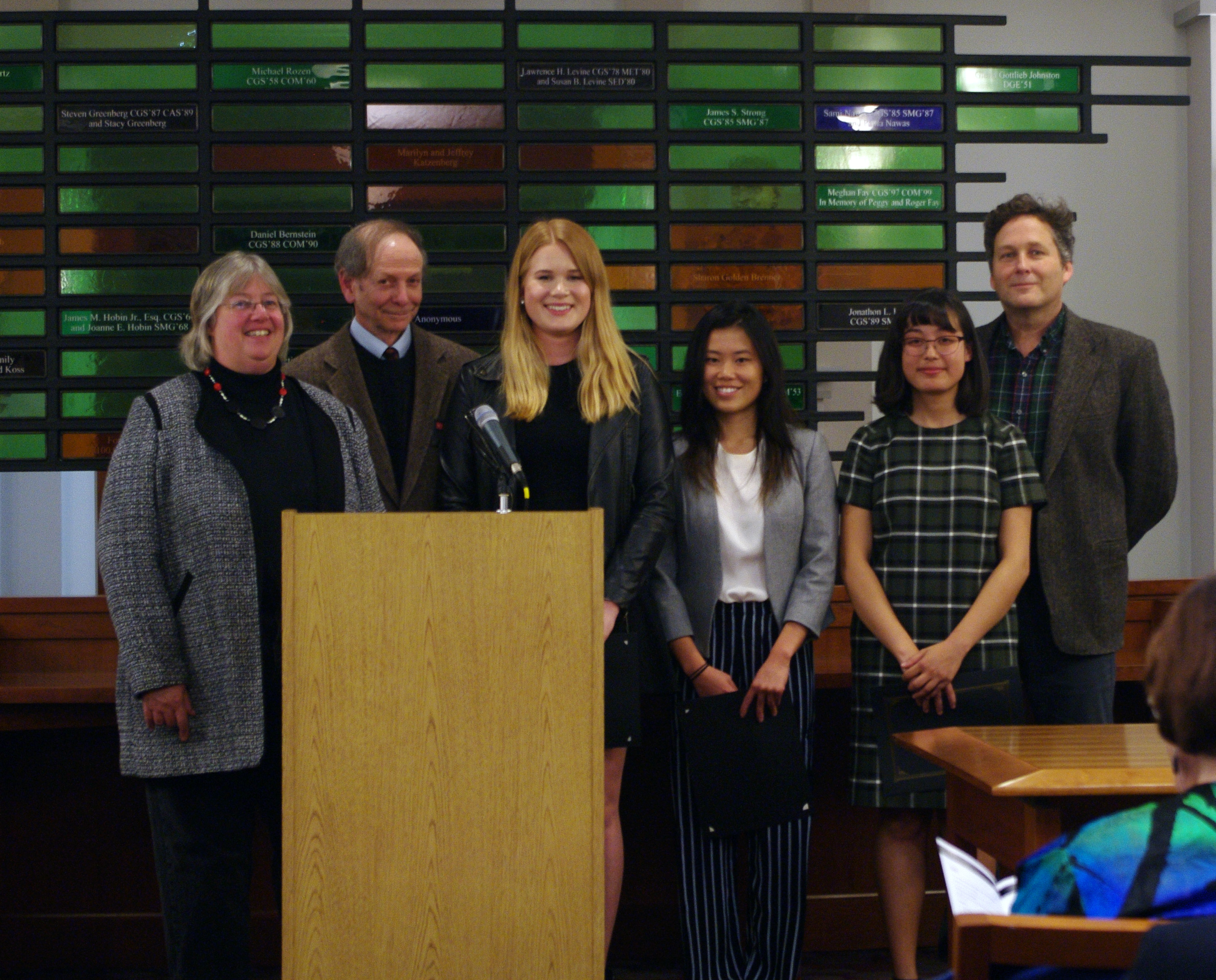 Team S's winning Capstone group–Sofia Chavez, Sydney Christianson, Grace Golder, Jeanne Ilano, Yiyuan Li, Junfeng Liu, Yingjie Zhang, and Yichen Zhou–created The STEM Act, an imaginary and imaginative bill which aims to limit screen time for the young but to do so in accord with American constitutional and cultural norms. The project had its source in a comparison between Chinese and American approaches to the issue of overexposure of the young to computers, the internet, and screens in general.
---
Team T: Project H.E.A.L (Healthy Eating Active Living)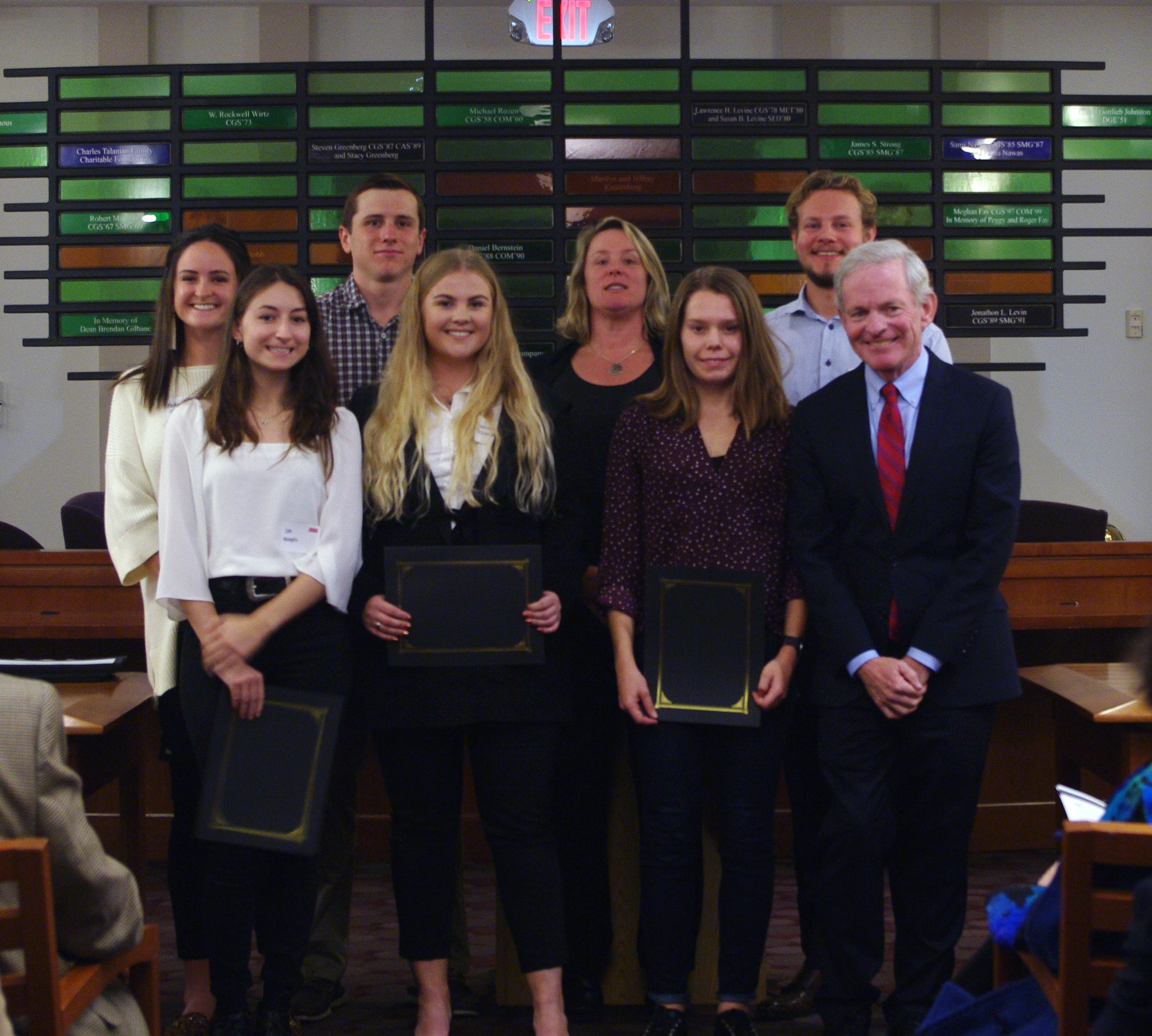 Team T's winning Capstone group– Deziray De Sousa, Max Enholm, Tommy Hagerty, Jen Margolis, Ciarra Nafus, Saeros Oskarsdottir, and Abigail Parsons–worked towards improving the overall health and wellness of students in public high schools in the Boston Area. Through an interactive mentor program partnering with Division One Boston University athletes and top ranked Sargent College Nutrition majors, they carefully plotted out how they'd improve the health of students in Somerville and Brookline High School. Team T faculty wrote of this group, "Well-researched, pragmatic, thoughtful and clear, their Capstone soared above the rest."
---
Team U: Sustainable Green Spaces: A Reality for Boston University and Wheelock College?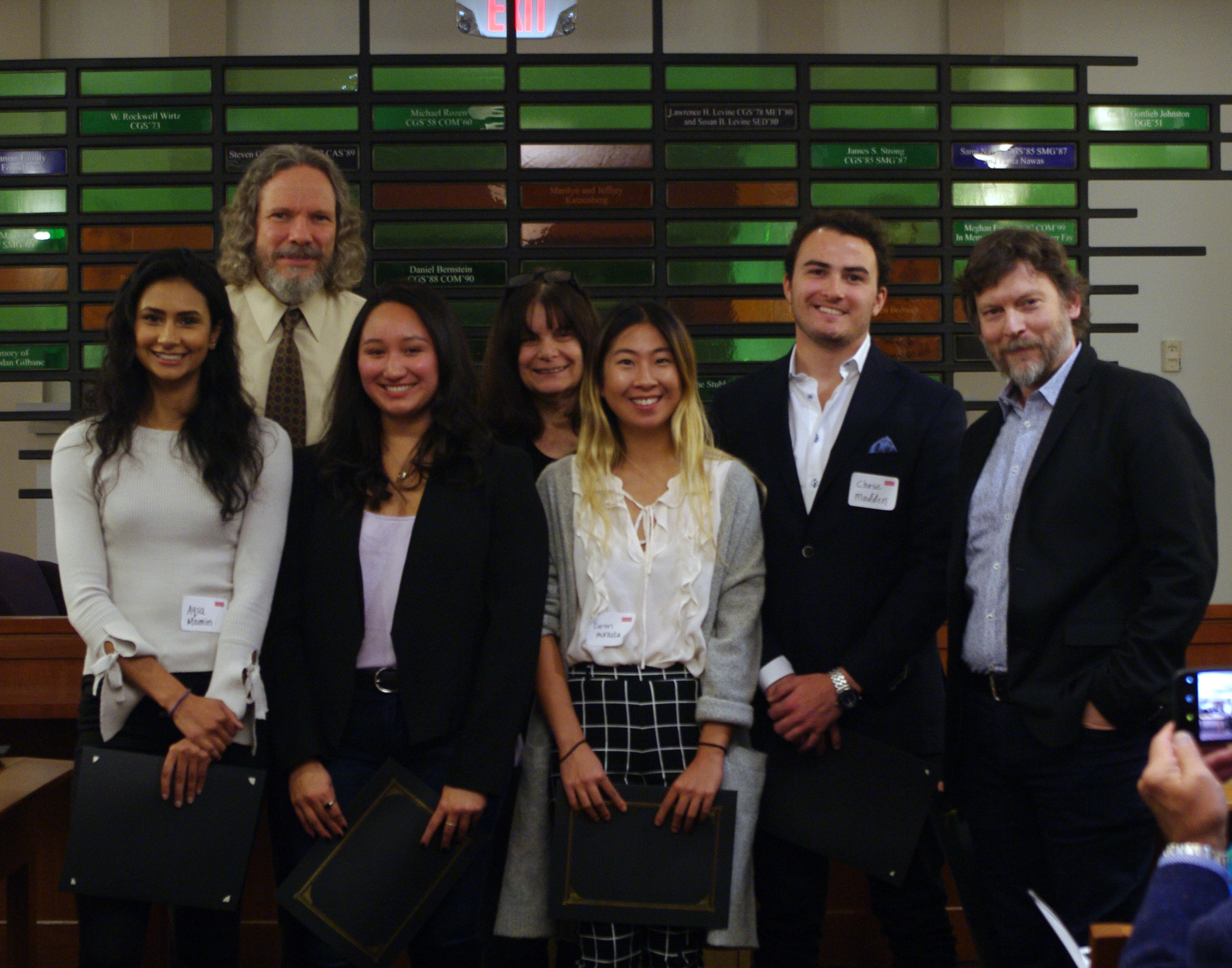 Team U's winning Capstone group–Pablo Jimenez, Vivian Kim, Chase Madden, Kristyn Mize, Aqsa Momin, Karen Muraoka,Chiara Rolland, and Lena Washington–conducted a fine-grained analysis of existing green spaces in the two institutions. Considering such things as plant density, biodiversity and sustainability, the students provided photos, maps, and information from student surveys. Team U faculty wrote, "They were so thorough that they even identified individual plants by taking pictures with their phones and using a special app."
---
Team V: Pay for Play Controversy: Addressing the Issue of Compensation for Collegiate Athletes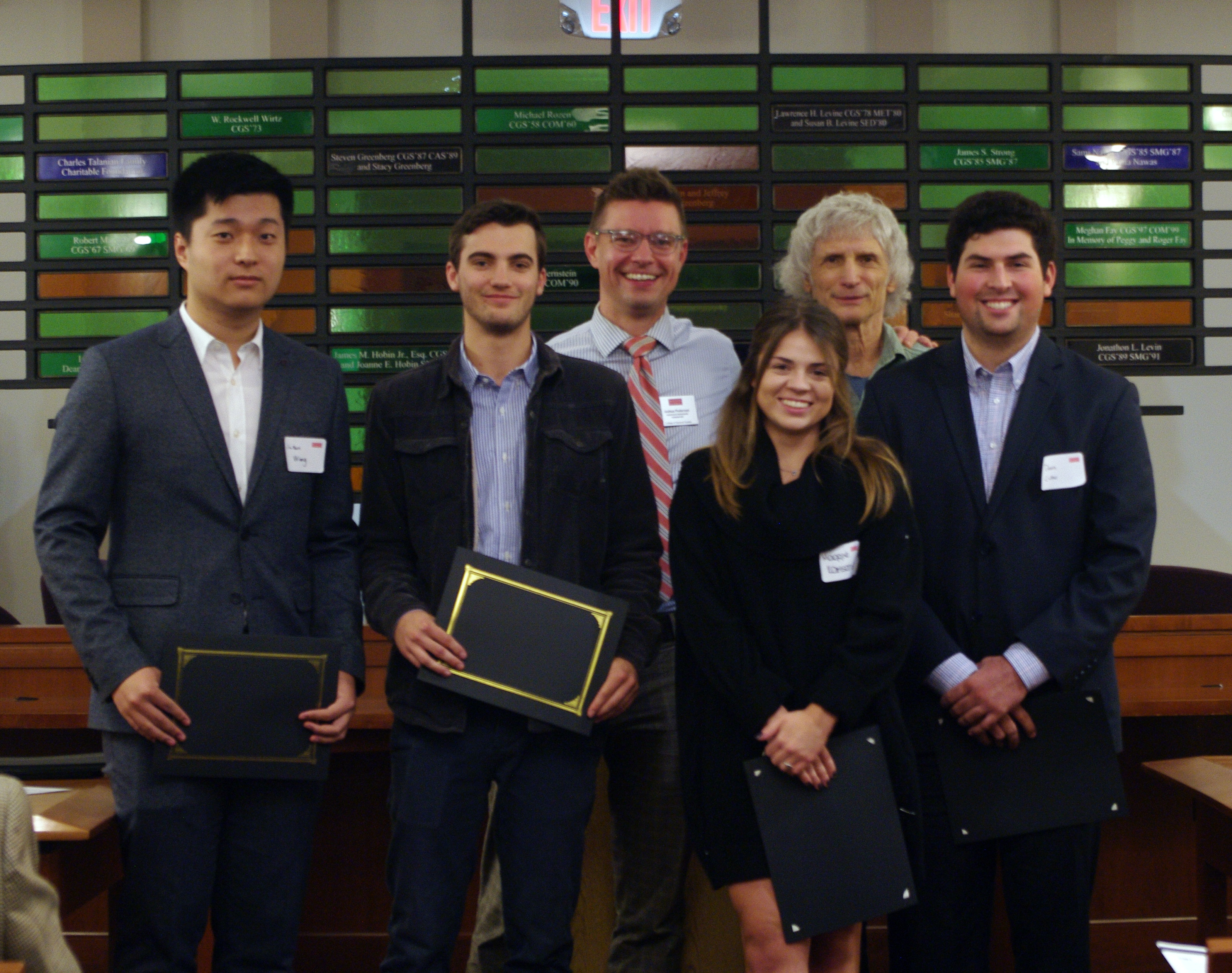 Team V's winning Capstone group–Emma Bianculli, Amanda Boucourt, Devin Collins, Maggie Kartsonis, Mark Pogue, Jianan Wang, and Zeyi Wang–decided to tackle a difficult question: should college athletes be paid? This group tackled this challenge by writing in the challenging adversary format, presenting the most compelling claims from each side. The group proposed a novel solution to the problem that is modest without seeming timid: a "laundry fund" that would make need-based stipends available to some student athletes. Team V faculty wrote, "For all these reasons and more, this group is an exceedingly deserving winner of the Team V Capstone Award."
---
Team W: The South China Sea Dispute: De-escalation Via Collaboration
Team W's winning Capstone group–Caolan Disini, Alexis Doreste, Richard Duncan, William Estrada, Janice He, Jack Valentine, and Sam Weiner–created both short-term and long-term solutions while also providing an impressive balance between direct American diplomacy with their Chinese counterparts and the construction of a multi-pronged Asian-Pacific alliance system that encompasses the host of countries fearful of China's rising power in the region. In sum, said Team W faculty, one of the best projects they've seen in years: "Their research is thorough, their prose clear and precise, and the policy a rare and welcome combination of breadth and depth."
---
Team Y: Meltdown In The Middle East: An Analysis And Policy Recommendation For The U.S.-Iran Nuclear Deal
Team Y's winning Capstone group– Rahim Barrie, Christina Bissereth, Melissa Chan, David McCarthy, Matthew Schaffner, Maria Teresa Talbott, and Alec Vaughn– created a sophisticated policy paper designed "to prevent, at all costs, Iran from developing nuclear weapons." The team focused on the U.S.-Iran nuclear deal of 2015  (also known as the JCPOA), and argued the U.S.should "follow the JCPO whenever it has to while increasing economic and occasionally military pressure everywhere else." Team Y faculty wrote,  "This Capstone paper is thorough, penetrating, sober, very well-written, and, as a whole, highly commendable."
---
Team Y: CRISPR: A Revolutionary Technology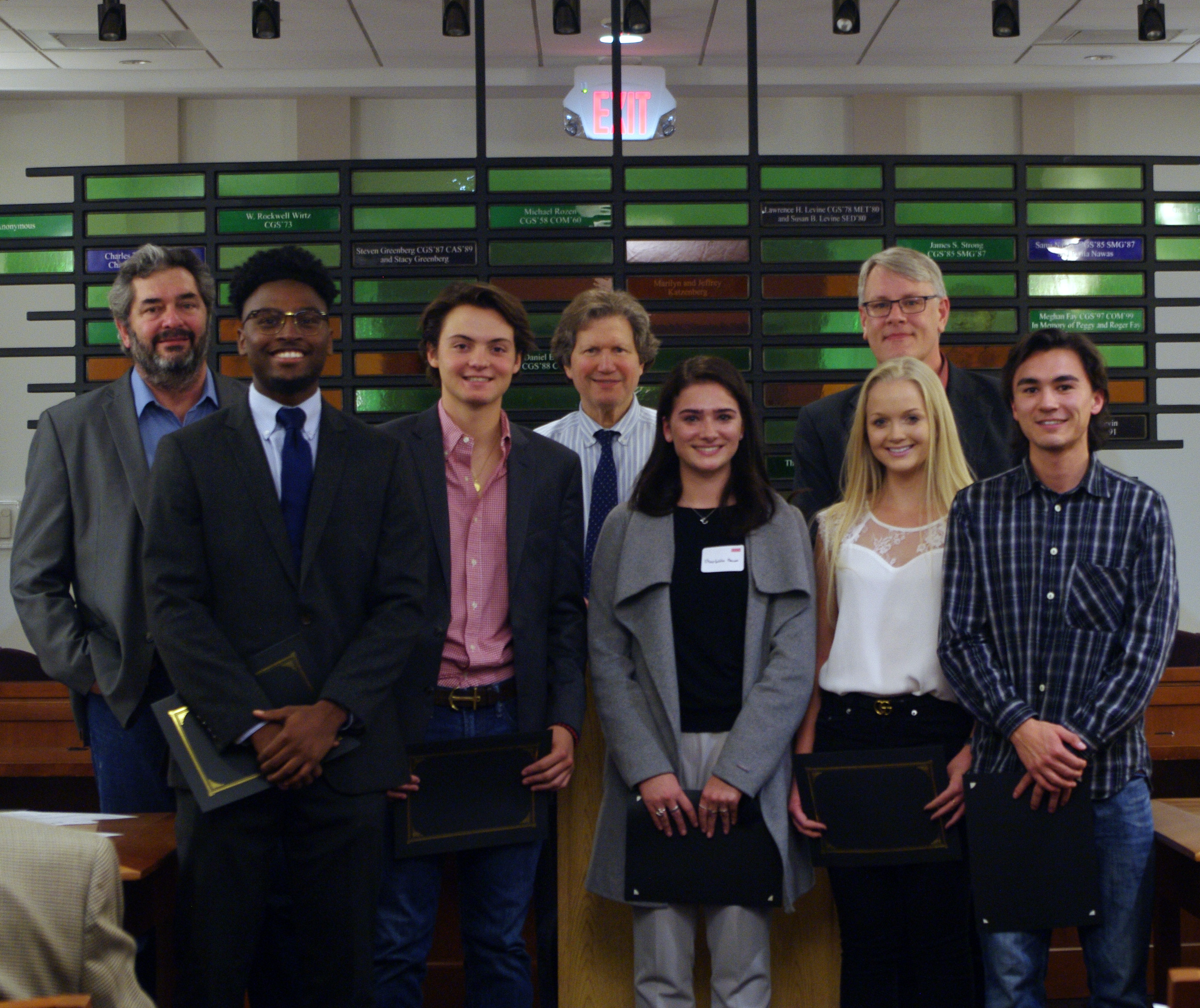 Team Y's winning Capstone group–Samuel Agate, Charlotte Bacon, Allyson Buehler, Josh Nam, Emmanuel Reid, John Wetzel, and Maura Woods–argued for new regulations and legislation regarding the use of CRISPR, the novel and revolutionary gene-editing technique. A review and thorough understanding of current legislation, both here in the USA and abroad, leads the reader to the important need for more regulation and oversight by our own DHHS. Team Y faculty wrote, "To go with their all-encompassing introduction to and understanding of the the problem, the authors' thoughtful, well reasoned, and extensive solution would end up benefiting all Americans concerned about the future of biotechnology."
---