A Look at Undergraduate Research: First Wives and Marriage in British Novels
This post is part of a series that profiles the faculty-undergraduate research partnerships offered through the Center for Interdisciplinary Teaching & Learning. To learn more, please contact the Center at citl@bu.edu.
A married woman abandons her husband and child to elope with a suitor who jilts her. A woman suffers hallucinations after she is suspected of burning her stepson to death. A mistress curses the young bride whose marriage will disinherit her son. Reading sensational nineteenth–century stories like these are all part of Kerry Sadlier's work with Joellen Masters, senior lecturer of humanities at Boston University College of General Studies. With Sadlier's invaluable help, Masters is studying marriage and the first wife as a narrative trope and genre strategy in the British and early modernist novel.
Sadlier (CGS'17, COM'19) became interested in participating in the CGS Undergraduate Research Experience when Associate Dean Megan Sullivan mentioned the program in a meeting: "I decided to pursue it when I realized how much I enjoyed the research aspect of my RH102 research paper." Funded by the Center for Interdisciplinary Teaching & Learning, the CGS Undergraduate Research Experience gives CGS students a stipend for their research work with a CGS faculty member. When she learned about Masters' research focus, Sadlier said it "seemed like a perfect fit for me" given her own interest in Victorian literature and women's rights.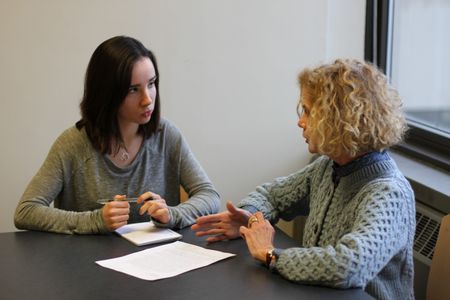 As a research assistant, Sadler hunts for scholarly articles, essays, and contemporary reviews of the novels Masters is studying. Sadlier and Masters meet each week to review the materials and, as Masters puts it, "set up her next foray into the stacks and the databases." Sadlier also gives comprehensive annotations for many of the critical works important for Master's research.
Before the fall semester began, Sadlier was jumping into the Victorian era by reading Ellen Wood's East Lynne (a wildly popular novel published in 1861) and St. Martin's Eve (1866), and George Eliot's Daniel Deronda (1876).  Sadlier found some excellent information to help Masters expand on a draft about East Lynne. "She found articles and books that were fabulous, particularly those on Daniel Deronda and Lydia Glasher's key place in Eliot's plotting as well as story," Masters said. Sadlier also tracked down unpublished dissertations and articles that have helped Masters learn more about Netta Syrett, a little-discussed playwright, novelist, and children's story writer who was part of a high profile fin-de-siecle literary and artistic circle.
"This experience has been incredibly exciting and challenging," says Sadlier. "The most exciting part of this job is the opportunity to discover new information about an author or character and contribute to telling their story."  Masters says Sadlier has tackled the research with an "enthusiasm, diligence, and commitment that stimulated my own energies with the project."
Learn more about student research opportunities—including directed study, stipends for research work through the Center for Interdisciplinary Teaching & Learning, and the Undergraduate Research Opportunities Program. Contact CITL at citl@bu.edu for more details.