BU Center for Computing & Data Sciences
Opened on December 8, 2022, the center provides an exceptional work space. The 19-story structure features convention-bending design inside and out that promises to make it an iconic presence on our Central Campus. That design is state of the art in every way: striking architecture, advanced resources, environmental sensitivity, and open, flexible interior spaces.
The Faculty of Computing & Data Sciences (CDS) will serve as the anchor tenant, sharing the center with our Departments of Mathematics & Statistics and Computer Science, and the renowned Rafik B. Hariri Institute for Computing and Computational Science & Engineering.
Designed for collaboration.
For all its daring exterior, the center's interior is what really excites. More than just facilitating collaboration, the design actually encourages it. The building is conceived as a vertical campus that connects a "CDS public square" on the lower floors with classrooms and labs on the middle floors, which transition seamlessly into flexible, dynamic collaborative research spaces of the CDS and the Hariri Institute. The abundance of open spaces, gathering spaces, meeting spaces, and shared spaces practically assures frequent interaction among colleagues.
A literal and symbolic crossroads.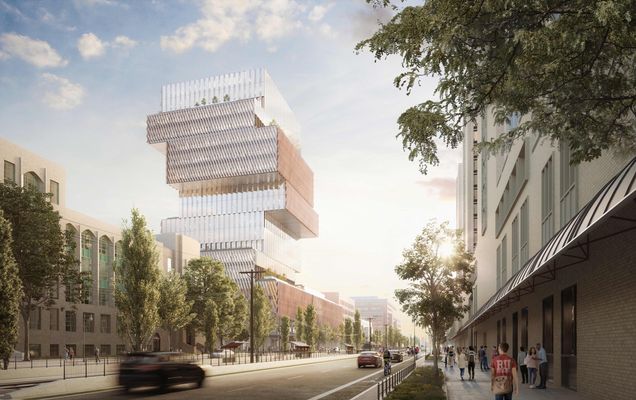 The new building is at a central location on BU's Central Campus: a literal crossroads connecting the physical locations of BU's 17 schools and colleges and various centers and labs. At this spot, paths cross from arts and sciences to business, from the fine arts to communications, and from law to engineering — to name but three. Even more, the new building represents a physical embodiment of Boston University's commitment to computing and data sciences, and to the many ways they intersect with every academic discipline across our schools and colleges.
Worth exploring further.
The new Center for Computing & Data Sciences is like nothing you've ever seen. If you'd like to learn even more about it, from architectural renderings to plans to render it free of fossil fuels, please click the link below.