---
The Infant Screening Project is a longitudinal study that aims to map early development and identify risk markers for autism spectrum disorders (ASDs) and/or communication difficulties.
Currently, one in sixty-eight children are diagnosed with Autism Spectrum Disorder. Identifying high risk infants at this early stage would allow for early intervention to begin much sooner than is currently possible, greatly increasing the potential for such treatments to have a lasting, positive impact on children and their families.  To achieve these goals, we depend on area families who are willing to volunteer.  Read on to learn how you can help.
Who can participate? 
Families who have a new baby who is diagnosed with Down syndrome
Families who have a baby between the ages of 3 and 14 months and have an older child diagnosed with an Autism Spectrum Disorder
What does the study involve?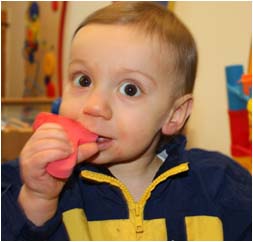 This study involves four visits to Boston Children's Hospital while your child is between the ages of 12 and 14 months. These visits are scheduled at your convenience during the day or on weekends.
Visits to the lab include evaluations on your child's visual perception, motor skills, receptive and expressive language skills, and social communication. Starting at 18-months you will receive a report on the skills and behaviors that your child demonstrated during these assessments.
What will we recieve?
Free parking
Childcare for other siblings
Monetary compensation for travel and participation
A toy for each child
Referral for infants and children to get a formal clinical evaluation through the Developmental Medicine Center at Boston Children's Hospital if concerns for Autism are identified during research
Where does the study take place? 
This project is in collaboration with the wonderful folks in Dr. Nelson's lab at Boston Children's Hospital. All sessions are held at Boston Children's Hospital in the Longwood Medical Area of Boston, MA.
Referrals
Infants that exhibit "concern" on assessments will be referred for more extensive clinical evaluation through the Developmental Medicine Center at Boston Children's Hospital.
To add your child to the list of interested individuals for Infant Screening Project, you can email Linnea Joffe-Nelson at isp@childrens.harvard.edu or call 1-857-218-3005.
Learn more about this research HERE.
This project is supported by the National Institutes of Health.