COVID-19 Resources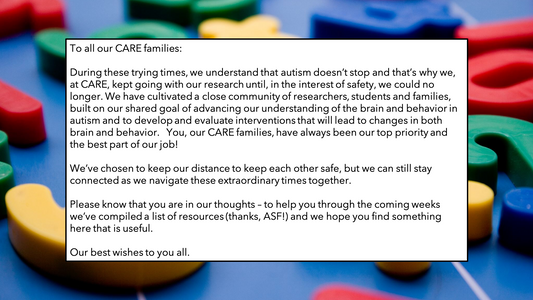 Resources for CARE Families
Compiled from the ASF's Resources and the CARE Team
We hope you'll find some of the resources below helpful as you navigate these very difficult times of establishing drastically different routines for your family.
COVID-19 Resources for The ASD Community
Managing Your Child's Education and Free Time
The Department of Education has published a Q&A focused on providing services to children with disabilities during the coronavirus outbreak, which can be downloaded here.
The National Council on Severe Autism has created an online event for parents and caregivers to share stories, concerns, advice, and questions. Their guest commentators Lee Wachtel, MD, Medical Director, Neurobehavioral Unit, Kennedy Krieger Institute, and Alycia Halladay, PhD, Chief Science Officer, Autism Science Foundation, joined NCSA President Jill Escher and Vice President Feda Almaliti in leading the discussion. Topics included everything from hand washing to mommy guilt during this time. You can view the recorded video here.
The Center for Discovery has shared great ideas for indoor and outdoor activities for families in the time of coronavirus. Click here to view.
The National Autism Association has put together an excellent list of resources including teaching tools for kids, tips for caregivers and how to practice social distancing. Click here for their list.
Interested in taking a field trip without leaving the house? Click here to take a virtual tour of famous museums around the world and here for a virtual field trip lesson plan.
Tamika Cody from News10 in Tampa interviewed local experts about things you can do at home with kids with autism during this challenging time, including dealing with playdates and boredom.
For a full list of education companies offering free subscriptions due to school closures, click here.
Social Stories for COVID-19

The University of Miami-Nova Southeastern University Center for Autism & Relations Disabilities curated a fantastic list of resources such as social stories and visual tools for those working with individuals who have developmental disabilities, including special educators, therapists and families can be downloaded here and here.
There's another great social story to help kids adjust to the disruption to their routine caused by having to stay home from school, released by the Howard County Autism Society, to be found here.
Handling your Autistic Child's Co-morbid Conditions During the Crisis
Anxiety
The Autism Science Foundation's most recent podcast, hosted by ASF CSO Dr. Alycia Halladay, has great tips for handling your child's crisis-related anxiety. You can listen here.
Epilepsy
Infectious disease expert Dr. Stanley Plotkin says epilepsy does not increase the risk of contracting the coronavirus, nor does it add additional risk to someone who is diagnosed.
CURE hosted a Facebook live stream on COVID-19 with neurologist Dr. Jeffrey Loeb, neuroimmunologist Dr. Michael Carrithers from the University of Illinois at Chicago, and pediatric neurologist Dr. Douglas R. Nordli from UChicago Medicine.
The Epilepsy Foundation hosted a Facebook live with Patty Osborne Shafer, RN, MN, Jacqueline French, MD and Elaine Wirrell, MD. A Facebook live in Spanish aired on Thursday, March 19, at 8 p.m. ET with Angel Hernandez, MD and Joe Sirven, MD who answered questions from their Spanish-speaking community.
DEE-P Connections, in conjunction with International Foundation for CDKL5 Research-IFCR and Epilepsy Foundation of America, is pleased to invite you to join us for a webinar specifically geared towards our families. On March 19th, at 7PM ET, they will host a webinar "Protecting Medically Complex and/or Immune-Suppressed Children with Epilepsy from COVID-19." Please register in advance at:
https://www.deepconnections.net/upcoming-webinars
Video modules to improve children's social and communication abilities
Help is in Your Hands is a series of video modules for families of very young children with social communication challenges. Modules include narrated video lessons and examples of real parents and children interacting in their own homes, with suggestions for follow-up activities parents can try.
The Autism Navigator is a unique collection of web-based tools and courses that uses extensive video footage to coach parents on delivering evidence-based tools in a multitude of settings. It includes the Video Glossary that contains over 100 video clips to illustrate common treatments available for children with autism.
Medicaid Rules, Waivers and Changes
The Centers for Medicare and Medicaid Services are taking actions to allow more flexibility for healthcare providers, including expanded telemedicine access, to provide services for those covered individuals.
The Kaiser Family Foundation issued a brief on how Medicaid can enhance state capacity to respond to COVID-19, including how they can broaden accessibility and coverage.
Legal Guidance
Autism Education Attorney Gary Mayerson shares information about how to work with your school district to ensure your child's IEP is being implemented appropriately and remote learning opportunities are being provided.
What to do if Your Family Member with Autism is Diagnosed with Coronavirus and Hospitalized
Psychiatric Mental Health Nurse Practitioner Erin Lopes provides guidance on what to do if your family member with autism is diagnosed with coronavirus and hospitalized.
General Information
The Autism Society of America launched a Facebook Live series dedicated to providing relevant, COVID-19 information for the autism community. The weekly broadcast will feature an expert discussing specific topics like mental health, federal emergency funding, and financial planning.
Autism Speaks has put together a comprehensive list of resources for the autism community organized by topic including for families, for educators and health professionals, non-english resources and WHO guidance for the public. Find the list here.
Green Mountain self-advocates has written a social story about managing symptoms. You can find it here.
Autism Focused Intervention Resources & Modules (AFIRM) has published a guide called Supporting Individuals with Autism through Uncertain Times.